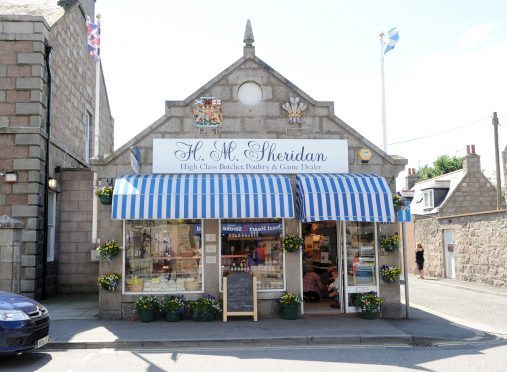 A butcher just minutes from death after getting stuck in a freezer saved his own life by battering his way out — with a frozen black pudding made by the Royal Family's favoured Scots butcher.
Quick-thinking Chris McCabe, 70, thought he was going to die after he got locked in his own walk-in fridge which stores meat at temperatures of -20C.
But with time running out in the freezer which is capable of killing a man in just half an hour he grabbed the only tool he could find — a black pudding.
He battered the lock with the frozen breakfast staple and it eventually gave way and he walked free.
Chris said the Scottish black pudding – HM Sheridan of Ballater, which supplies meat to the Royal Family in nearby Balmoral – saved his life.
The father-of-four – from Totnes, Devon – said: "The black pudding saved my life, without a doubt.  No one could hear me banging because it is outside, round the back of the shop.
"The black pudding was the best thing to hit the button with because it was the right shape.
"I used it like the police use battering rams to break door locks in, that's what I did with the black pudding.
"It was solid, pointed and I could get plenty of weight behind it. I'm lucky really, we sell about two or three each week and that was the last one in there."
The 1.5kg fried breakfast favourite supplied from HM Sheridan of Ballater, was the perfect size, weight and most importantly diameter.
The walk-in freezer, about the same size as a small room, is located round the back of C.M.McCabe Butchers.
Barry Florence, 53, director of HM Sheridan, said: "I'm delighted Chris is alright, and that I managed to play a small part in him getting out his freezer. The quality of the black pudding obviously helped save his life.
"We only use the finest ingredients for our black pudding and that makes the black pudding harder than elsewhere.
"It was surprising that Chris was stuck in a freezer but I'm delighted about the fact that the pudding saved his life.
"We've got the best quality ingredients in our black puddings and what makes us special is the fact that we supply it to the Queen as well."