With Young Carer Awareness Day upon us, Michael Alexander speaks to Fife teenager Dean Watson who has been a young carer since the age of eight.
There are now an estimated 6.5 million people acting as carers for family and friends in the UK – but it is not only adults carrying the burden of care.
The most recent UK census recorded 178,000 young carers (aged under 18) in England and Wales and an additional 17,000 in Scotland and Northern Ireland.
According to children's charity Barnardo's, the average age of a young carer in Scotland is 12-years-old, with these children more likely to suffer from mental health problems, stress and sleep disorders than their peers.
Recent figures also suggest that their duties and responsibilities are preventing around half of them from going on to university or college after school.
But Fife teenager Dean Watson is bucking that trend thanks to local support that has allowed him to go to college and pursue his dream of becoming a petroleum engineer.
The 19-year-old from Leuchars, who has been a carer for his disabled mum since the age of eight, is the inaugural recipient of the Fiona De Angelis Academic Scholarship, which was set up by St Andrews ice cream shop Jannettas Gelateria in conjunction with Madras College.
With support from the scholarship, which lasts up to three years, Dean is currently studying towards an HND in Petroleum Engineering at Fife College, with a view to pursuing a career in the oil industry.
He also holds down two jobs – working at Morrisons supermarket and as caretaker of the Holy Trinity Church Hall in St Andrews – and takes part in volunteer work for the Bethany Christian Trust.
But with Young Carers Awareness Day upon us, the former Leuchars Primary and Madras College pupil believes much more still needs to be done to raise awareness of the impact caring has on young people.
"Probably the biggest impact on me as a child was not going out much with my friends," says Dean, who, along with his dad, took on the role of caring for his mum and three little sisters after his mum became virtually housebound "almost overnight"
"I think if you picture a two adult relationship – I took over my mum's role in the sense of  I was doing the cooking, ironing, washing – all that – and helping look after my sisters because my mum couldn't do it.
"But I don't think it had a proper emotional effect just because I was that young and if I'm honest it probably made me better as a person – I had to mature faster than everyone else."
Dean was nine when he started going to Fife Young Carers – a support group that offers respite one night every two weeks to young carers – including those looking after parents suffering drug or alcohol abuse.
He kept going to the group until he was almost 18.
But he admits that as a teenager, it did become "tough" to juggle school work with the demands of caring.
He says: "I think every situation is different.
"I think the major point to be made is that when you are late with deadlines a lot of teachers think you can't be bothered.
"They think he or she just doesn't want to do the work. But actually it's more you couldn't get the work done in that time frame. Don't get me wrong – some teachers were totally understandable – others were – I think the words would be 'old school'.
"The schools did help out but it's more one on one with the teachers. You could get a teacher who was unhelpful or you could get a teacher who was a great person and understood the need for flexibility."
Leaving school at the end of sixth year in 2016, Dean is now in his second year at Fife College and hopes to go on to university next year. He has ambitions to work offshore and to "see the world".
But with no financial safety net, Dean does not think any of his dreams would be possible without the scholarship.
He also says he's in a stronger position than some of the other young carers he's met over the years.
"There are some people who find it a lot harder," he says.
"Some people have huge falling outs. Some have been at the point where they've been fighting with their parents. They've just been asked to leave the house."
The passage of time has seen his sisters take over some of his young carer responsibilities at home.
He adds: "I wouldn't say I've drifted away from my responsibilities at home but they've got a bit less because I've had to do college and I think my mum and dad have understood that."

Dorothée Leslie, Vice Principal at Fife College, said: "Dean is a remarkable student who, despite juggling three jobs and family caring commitments, manages to excel in his studies – an amazing achievement!
"Scholarships are a fantastic way to support students while they study and we are delighted that Dean is being given some additional support through the Fiona de Angeles Academic Scholarship which we know makes a difference to him.
"Being a young carer can be a very rewarding experience but it can also sometimes be hard juggling caring for family members with going to college, course work, employment and a social life.
"At Fife College we have a range of support available for students and welcome national initiatives such as Young Carers Awareness Day which helps to highlight and promote available support."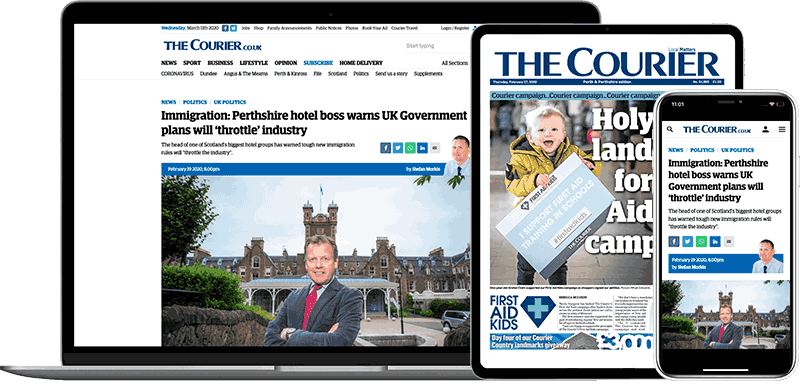 Help support quality local journalism … become a digital subscriber to The Courier
For as little as £5.99 a month you can access all of our content, including Premium articles.
Subscribe