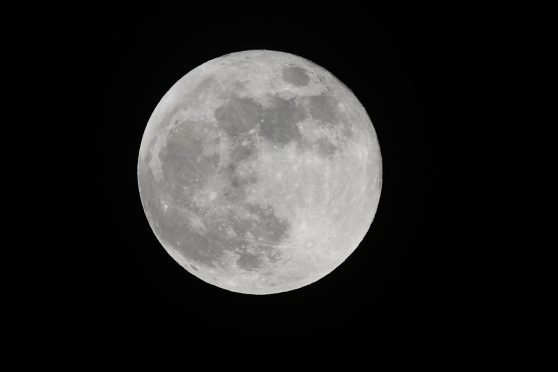 The UK may have missed the rare spectacle of the 'super blue blood moon' on the final day of January, but the country was still treated to a spectacular lunar display.
Scots, including locals in Tayside and Fife, took to social media to post images of the super blue moon, with Dundee given a particularly clear view of the spectacle.
A blue moon is the name given to the second full moon of any month. It is said to have appeared about 7% larger and 15% brighter than normal.
Full moon phases have an average length of about 29.5 days, so two occurrences in one month are very rare. The first one of January was on the 2nd of the month.
The Southern Hemisphere were best placed to view the super blue blood moon, where a total lunar eclipse was visible. It could also be seen across the US.
However as the eclipse was due to start at 10.51am and end at 4.08pm UK time, with totality from 12.51pm to 2.07pm, it was unable to be seen from the British Isles.
Here are some of the photos posted of the blue moon across Scotland last night/this morning:
#SuperBlueBloodMoon #supermoon #moon next to St Andrews' St Salvator's chapel this morning on my way to work #stsalvators #standrews #Fife #Scotland #ScotSpirit @StAndrewsUniLib @univofstandrews pic.twitter.com/k8gWJ3JRrl

— shambles klutz (@shamblesklutz) February 1, 2018
Absolutely #supermoon #nightsky #moon #space #winter #Scotland #Perthshire #nr #Collace @WindyWilson88 @CanonUKandIE #eos6d #photography pic.twitter.com/PeUL7Lx8kI

— Jim Ewing (@sclaff18) January 31, 2018
https://twitter.com/ChouChouJoanna/status/959017144301379584
Tour #Scotland travel photograph of the 31 January #Supermoon above #Kinnoull #Hill on #visit to #Perth, #Perthshire Shot this with long lens during a gap in the clouds around the hour of 10.45pm pic.twitter.com/qKIK9UgPB7

— Sandy Stevenson (@tourscotland) January 31, 2018
A shot from the front door just as the clouds cleared over Moray,#Scotland. #Supermoon #Bluemoon #NASA #Space #Incredible #Wonder pic.twitter.com/ulN30tuBJI

— CrustyDemon (@CrustyDemon999) January 31, 2018
Tonight's moon from Aberdeenshire, Scotland@EarthandClouds @NASA @BBCScotlandNews @BBCStargazing #SuperBlueBloodMoon #ThePhotoHour #supermoon #StormHour pic.twitter.com/033wBcbOcY

— Gordon Robertson (@gordo_rob) January 31, 2018
#Supermoon2018 Poor visibility here tonight, Lethen, Nairn, Scotland @StormHour @metoffice @BBCHighlands @BBCScotWeather #supermoon pic.twitter.com/KdfsR0tM1v

— Lisa@Lethen (@lisawood81) January 31, 2018
Last nights Super Moon over The Balmoral Hotel in Edinburgh. #supermoon #edinburgh #superbluemoon #superbluebloodmoon #edinburghlife #natgeopic #travels #travelpic #instapic https://t.co/L2TE2hSLuZ pic.twitter.com/VByJ8Sc6uE

— Boys Eat Scotland (@BoysEatScotland) February 1, 2018
Some lovely lunar shots of last night's #Supermoon. Thanks to our #WeatherWatchers. pic.twitter.com/Rdx1BN0lur

— BBC Scotland Weather (@BBCScotWeather) February 1, 2018
Stunning #supermoon #Superbright #snow #Scotland pic.twitter.com/PXtAHHmmKg

— Paul Newman (@thymetoeatscot) January 31, 2018
The super blue moon over #Braemar in the #Cairngorms #Scotland tonight #ScotSpirit @wildscotland @TheCairngorms @steamingboots @mtnsofscotland @DeeTour_ @scotland_love @SNHnortheast @visitabdn pic.twitter.com/gtfBQtcLn9

— Braemar Media (@BraemarMedia) January 31, 2018
LIVE NOW: #LunarEclipse2018! The Earth is directly between the Sun and Moon, making the lunar surface appear red. You can watch views of the #SuperBlueBloodMoon from multiple telescopes live online! Take a look: https://t.co/r6X6SoMfLn pic.twitter.com/TBtNOKd5Yw

— NASA (@NASA) January 31, 2018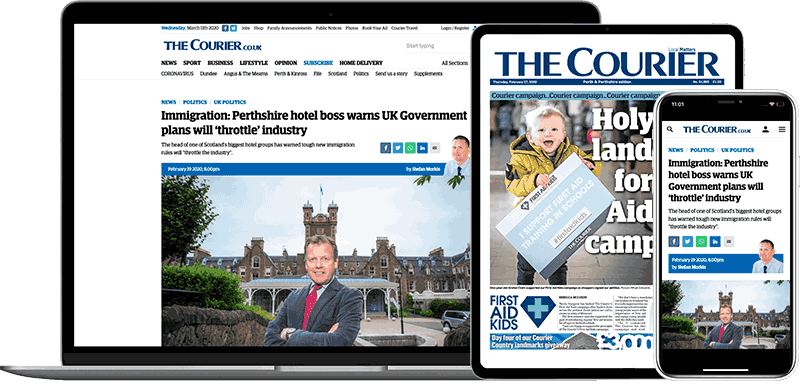 Help support quality local journalism … become a digital subscriber to The Courier
For as little as £5.99 a month you can access all of our content, including Premium articles.
Subscribe