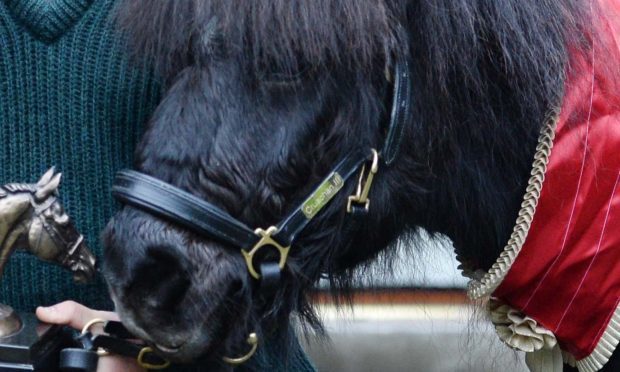 A regiment's retired Shetland pony mascot, who met the Queen and served at Balmoral, has died at the age of 30.
Cruachan III, formerly of The Royal Regiment of Scotland, was suffering from arthritis all over his body and in severe pain despite extensive medical treatment.
Vets made the decision to put him down, in the familiar surroundings of his stable at Edinburgh's Redford Barracks, on Tuesday.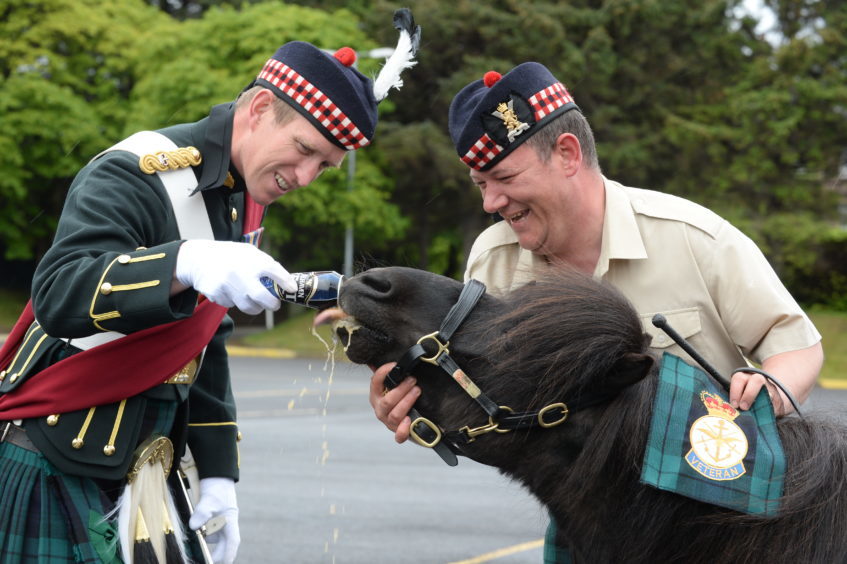 Shetland Pony mascots have been part of the Army in Scotland's history for almost 90 years, since Princess Louise presented Cruachan I to the Argyll and Sutherland Highlanders in 1929.
Cruachan III joined the 1st Battalion the Argyll and Sutherland Highlanders in September 1995 and served with the army for the next 17 years, becoming the first mascot of the Royal Regiment of Scotland when it was formed in 2006.
A Royal Regiment of Scotland spokesman said: "It is with a great deal of sadness that we bid farewell to one of the most memorable characters in the Regiment.
"Always smart and never failing on parade he represented the Regiment loyally and steadfastly for many years.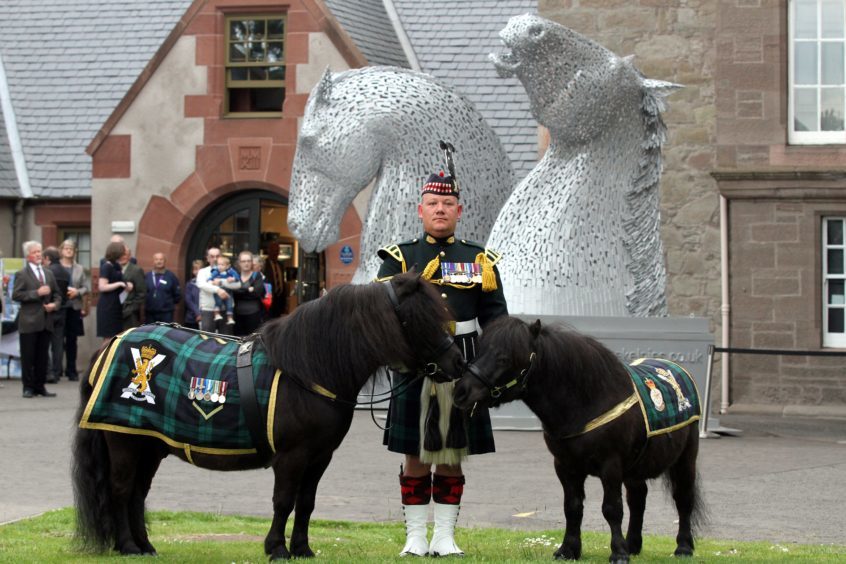 "He embodied the traits of the Scottish soldier; steady, hardy and even- tempered."
Cruachan III served everywhere the Argylls did around Scotland and England, including stints at Balmoral with the Royal Guard.
He also served on several operational tours in the Balkans, Iraq and Northern Ireland.
As Royal Regiment of Scotland mascot he represented the Regiment at State and public duties, parades and events, and was asked to appear in the Diamond Jubilee Pageant, in honour of the Queen's 60 years as monarch, in May 2012.
He retired from service on the last night of the 2012 Royal Edinburgh Military Tattoo and then became stablemate to Cruachan IV, who took over from him as the official mascot.
Corporal Mark Wilkinson, the Royal Regiment of Scotland's Pony Major, looked after both Cruachan III and IV.
He said: "I know for certain Cruachan IV would not have been as easy to train if it had not been for his calming influence, stern demeanour and occasional nip and telling off. I will always be in debt to him for giving me the opportunity to meet so many people, both civilian and military.
"Her Majesty The Queen always asked for him and everyone always smiled when they saw him — this is a testament to how loved he was. He had been challenged with numerous health problems in his later years, which he has always been able to beat. Unfortunately this one was too much.
"An animal first but soldier second, he held all values and standards we would expect in a Scottish soldier coming into work. Nothing was ever a chore and I will miss not seeing his face covered in feed every morning.
"Goodnight Wee Man. Rest easy."
During his service, Cruachan III was awarded the NATO Former Yugoslavia Medal, the Iraq Medal, the General Service medal with the Northern Ireland Clasp, the Accumulated Service Medal and the Jubilee medal and won several awards after his retirement.
An act of remembrance will be held for Cruachan III at Stirling Castle, the historic home of the Argyll and Sutherland Highlanders, in the future.