As churchgoer numbers continue to fall in Scotland, is Christianity in crisis? Michael Alexander reports.
When it emerged that some churches in Scotland are being forced to use karaoke machines for the singing of hymns at services due to a lack of organists, the link was drawn with a decline in the number of people who regularly attend church services.
A shortage of young people learning to play the organ has led some congregations to have to rely on modern technology to provide a tuneful backdrop, at a time when figures reveal that just 7.2% of Scotland's population regularly attend church, down from 17% in 1984.
But is Christianity in Scotland really struggling or is this an opportunity for organised religion to find new relevance in a secular society?
In an era when Easter has seemingly become more about chocolate than the resurrection of Jesus, there's no doubt that the influence of the church as an anchor in Scottish society has changed dramatically over the decades.
The last census in 2011 showed that just over half of the population considered them-selves religious, with 24% identifying as Church of Scotland Christians and 14% as Roman Catholics.
The Scottish household survey in 2016 suggested those numbers were falling, with those who identify as religious now in the minority at 48.5%.
The trend was given further credence this time last year when the 2016 Scottish Church Census revealed that there are now around 390,000 regular church goers north of the border, down from 854,000 in 1984.
The number of congregations dropped from 4,100 to 3,700 during the same period, while the research also revealed that 42% of churchgoers were aged over 65 and predominantly male.
It led lead researcher Dr Peter Brierley to proclaim that the figures indicated a "crisis" for Christianity across Scotland amid predictions that the downward trend will continue.
But according to Scotland's clergy, the challenges also present an opportunity.
Rev Neil Glover, 45, is minister at Aberfeldy parish church, which is linked with Dull and Weem, Grandtully, Logierait and Strathtay.  He is also convener of the Church of Scotland's Ministries Council.
The former outdoor instructor/IT consultant says the church still remains "hugely relevant" beneath the statistics because people are still interested in the "big questions" about life and death.
However, he acknowledges that the church faces challenges – as it has done throughout history – and always had to find ways to deal with them.
"The fortunes of the church have gone up and down over the centuries," said Rev Glover.
"The challenges go back over 1500 years to the time of St Columba.
"Attendances were high from the 1900s to the 1950s. But go back to the 19th century, when more people moved to the towns and cities during the industrial revolution, and attendances were low.
"Where previously the challenges were how to engage with people in the industrial world, the challenges now are how to engage with people in the digital world."
Rev Glover said the church was "brilliant at connecting people" and the Church of Scotland was still committed to every community.
Inevitably some buildings had closed. However, others including St Madoes in Perth, Lethan St Luke's and Inchture Church have been regenerated.
Rt Rev Dr John Armes, the  Scottish Episcopal Bishop of Edinburgh, is the interim Bishop of Brechin.
He said this was a "very interesting time" for the church and inevitably with change "so many things have to go".
But he said the Messy Church – a new kind of family-oriented church held on a day other than Sunday – was a good example of a "new form" of church.
Fewer young people were attending church, but, as with other denominations, more people were engaging online and the church was finding new ways to connect. In the Episcopal Church, a growing number of priests were being ordained and the age was going down.
"I'm not discouraged – God hasn't given up on us yet!" he added.
A spokesperson for the Catholic Church said that over the last two generations religious belief has gone from "being expected to being optional." Social mores no longer dictate church attendance.
However, the spokesperson added: "Attending church today evidences a commitment and depth of belief which may not have been present when attendance was the expected norm.
"Moreover, the continuing hostility of the liberal consensus to religious belief and organised religion has had its effects, particularly on younger generations.
"Whilst there may be a decline in the number of people who regularly attend church, this should not be read as implying they have "no religion".
"From a Catholic perspective, many people continue to have their children baptised and send them to Catholic schools.
"Indeed, non-attendance at Church doesn't mean that people don't pray or live a Christian life with the values that inspire them.
"Spirituality, religious belief, membership and religious practice are not the same thing and need to be measured separately.
"The challenge for the church is to reach out to those who feel unsure about how to express their spirituality."
Retired Broughty Ferry minister John Cameron, now of St Andrews, describes the great cultural religions such as Christianity, Islam, Hinduism and Buddhism as "tidal with periods of decline and revival". Ultimately, they never die out.
However, he says the numbers in church are "depressing" as is the dearth of young people. And in a world of sometimes "dire hymns", he warned there was another factor at play when it came to a shortage of young organists.
"Church youth activities have trouble recruiting adult volunteers because of our oppressive child protection laws with their assumption of guilt," he said.
"In the past young organists were trained by the present incumbent in an empty church.
"I can understand organists avoiding such a risky venture!"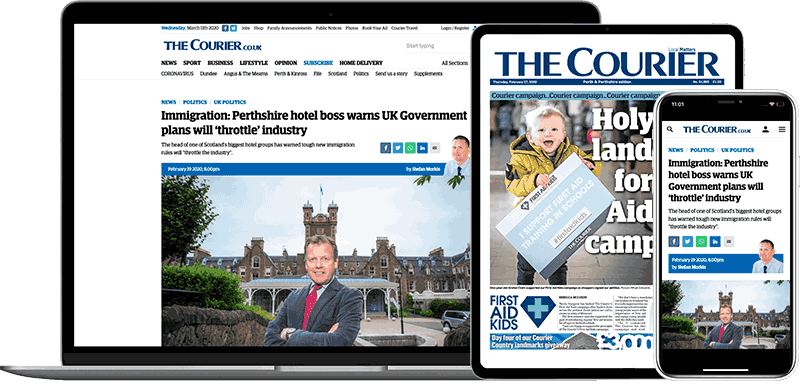 Help support quality local journalism … become a digital subscriber to The Courier
For as little as £5.99 a month you can access all of our content, including Premium articles.
Subscribe