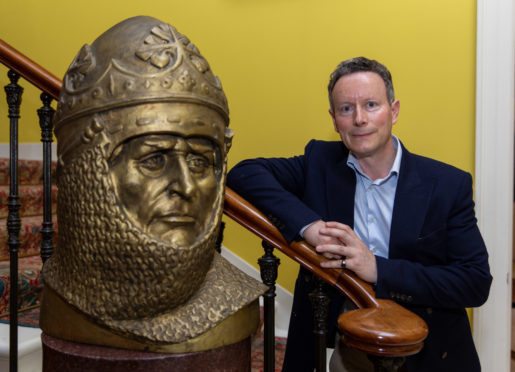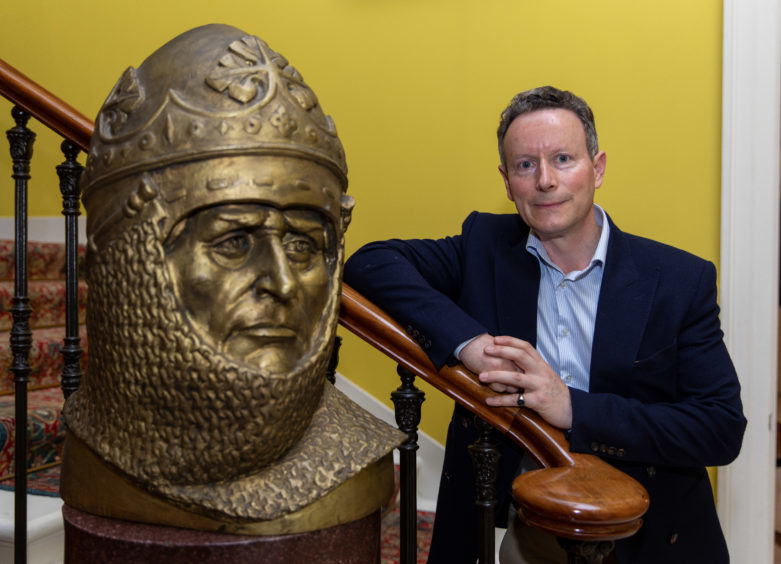 Lord Charles Bruce gives Michael Alexander a tour of Fife's Broomhall House – ancestral home of the Bruce clan which has been opened up to high-end guests for the first time – and explains why politics continue influencing the famous Scottish dynasty.
He is one of the most prominent living descendants of Robert the Bruce – the Scots hero who famously secured Scottish independence from England following the Battle of Bannockburn in 1314.
But Lord Charles Bruce – the son of Lord Andrew Douglas Alexander Thomas Bruce, the 11th Earl of Elgin and 15th Early of Kincardine – has warned against the possibility of Scottish independence in these "uncertain" times.
Lord Bruce is a direct descendent of Thomas Bruce of Clackmannan Tower, who was appointed by the Bannockburn victor as his heir.
Robert the Bruce famously send the English king Edward II "homeward tae think again" after the two-day battle 704 years ago.
But in an interview with The Courier at his family's ancestral home in west Fife, Lord Bruce, 61, said: "I don't think anyone can say this is a good time for Scottish independence.
"I think there's so much uncertainty.
"Anyone who read the recent Growth Commission report would have to conclude that we (Scotland) have all manner of vulnerabilities.
"We are an old mature economy, we have an ageing population, we have very high costs of health care and looking after our elderly people, and we have a very poor new business formation record.
"We lose far too many bright young people, graduates – particularly business people. We have very few public companies listed in Scotland anymore.
"There's an awful lot we need to do to our economy before we can be in a position to even consider independence."
Lord Bruce said it's "quite difficult to translate" what happened over 700 years ago into the modern world. He points out that it was also a Bruce – a diplomatic descendant of King Robert – who helped create Great Britain by negotiating James VI as successor to Elizabeth I.
But it's his opposition to and fears over another constitutional construct – Brexit – that the businessman is now using to fuel a venture which he hopes will help safeguard the ancestral seat at Broomhall for generations to come.
Tapping into the rich and fascinating history of the Bruce family, which dates back to the Norman Conquest of 1066, he has decided to open the Grade A-listed 18th century family home to guests for the first time in its history as a high end venue like no other.
It's a great way to showcase Scottish history to an international audience from the perspective of the Bruce family while bringing investment to the west Fife and wider Scottish economy.
However, it's persisting concerns that Brexit could be an economic disaster for Broomhall's £100,000 per annum upkeep and the estate's 1200 acre farm, that was the "wake-up call" to make use of Broomhall House for cash-generating public visits.
"I voted remain in the Brexit vote," said Lord Bruce, who studied history at St Andrews University.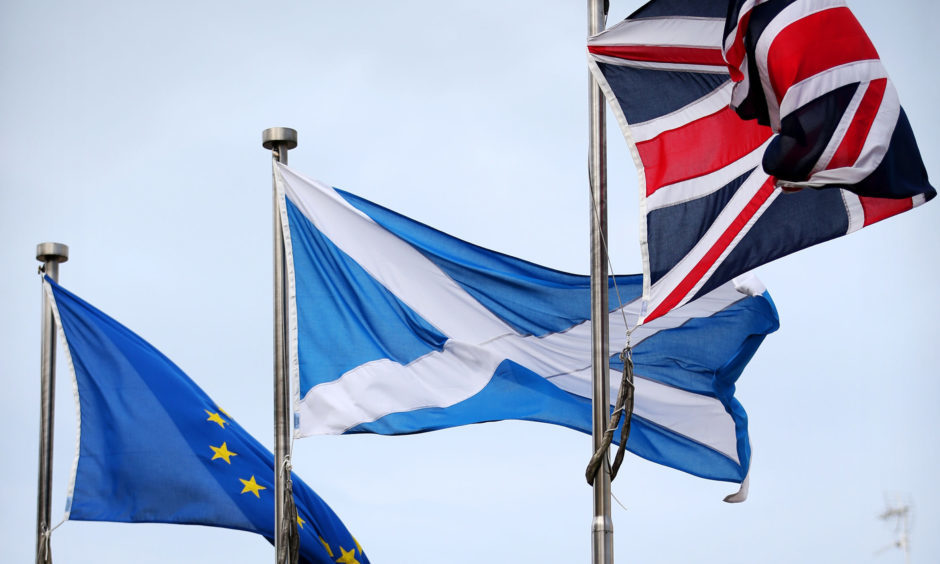 "I'm married to a trade economist who worked for the World Trade Organisation for 13 years and who knows exactly the difficulties that Britain has got itself into over Brexit.  My daughter also works for the Department for Exiting the European Union – although her lips are well and truly sealed about the potential impact!
"But I'm not going to recriminate. We need to accept the Brexit decision and move on.
"This is a small business. We are going to be tremendously affected by whatever happens to the British economy in next 12 months or two years. This is a very pragmatic response I guess."
Describing the family's heritage and ancestral home as a "1,000-year old start up", Lord Bruce opened Broomhall's doors as a high end venue in autumn 2016 and has since hosted McLaren's launch of its 720 supercar; dinners for as few as four people and as many as 70; tours for cruise guests berthed at the nearby Ports of Rosyth and Leith; and many more prestigious events.
With Netflix releasing a film about Robert the Bruce later this year called the Outlaw King, interest in the family seat is expected to spike markedly.
A corporate social responsibility approach ensuring that Broomhall House and the Bruce family remain embedded in the local community is at the heart of the business, hosting pro bono events for such charities as the Polar Academy charity and, later this year, the RAF Benevolent Fund when it will host 100+ supercars.
Lord Bruce hosts these events personally and provides guests with a fascinating insight into the role of members of the Bruce family down the centuries.
Giving The Courier a tour of Broomhall House, it quickly became clear what a rich seam of history and heritage exists there – and how enthusiastic Lord Bruce is to speak about how intertwined his family is with the story of Scotland.
Showing off some of the original schematics in the hallway, he explains how the house was built from scratch in 1702 on land that belonged to Dunfermline Abbey before being rebuilt in 1766 then again in 1798 with a design contemporary with the White House.
He recounts a story of an ancestor going to Istanbul as British ambassador and building the first purpose built British embassy in the world using the same sort of plans – paid for by the Turkish government.
A Greek revival porch designed by Robert Smirk for the house, and quarried from local sandstone, ended up being used as the pillared frontage of Perth Sheriff Court instead.
It's in the library, however, that the real depth of history and the priceless collection of books and paintings comes alive.
A first edition Geneva bible, which belonged to the Rev Robert Bruce who was a Moderator, echoes the early influence of John Knox on Scottish society.
A first edition of the Theory of Moral Sentiments by economist Adam Smith, 1759 leads Lord Bruce to recount the story of his ancestor, the 5th Earl, who married Martha White from Kirkcaldy, and whose father was a very good friend of Adam Smith.
Scotland's evolution into a modern economy – as explained by Smith – could be exemplified by the estate which at that time used borrowed capital to establish the largest lime works in Europe with 14 kilns.
There's a fascinating story of entrepreneurial evolution from 1776 linking the Bruce family to Catherine the Great of Russia. She ordered an audit trail to determine why siege artillery being used to bombard Turkish forts blew up in the face of her soldiers.
The audit trail led back to a problem with Charleston lime that was being used by the Carron Foundry at Falkirk – leading Broomhall to develop their own iron foundry on the estate to get round being blacklisted.
Another story refers to Lord Bruce's grandmother being recruited to the Foreign Office in 1915 – ending up in charge of the secretariat responsible for the break-up of the Austro-Hungarian Empire.
Meanwhile the first British expedition to Everest was run by a Bruce; the first person to climb to 27,000 feet without oxygen was a Bruce; the first Scot to set foot in Antarctica was a Bruce – and there's persistent controversy over the role played by the family in the commandeering of the Elgin Marbles.
The stories chosen depend on the nature of the audience, Lord Bruce explains,
Inevitably, however, it's the infrastructure and those rare tangible links with history that prove the most authentic and enthralling.
A grand piano which overlooks the grounds in the drawing room was played by one of Europe's finest 20th century pianists Benno Moiseiwitsch. He gave a recital to Polish troops in Lochgelly during the Second World War.
A fireplace in the dining room is made from the former four-poster marriage bed of James VI and Anne of Denmark – the birthplace of Charles I, his sister Elizabeth and brother Henry.
But it's the 14the century ceremonial sword of King Robert the Bruce which holds particular fascination to most visitors. A symbol of the king's authority, it was presented to Thomas Bruce of Clackmannan by David II – the only surviving son of Robert the Bruce, in recognition that the Bruce dynasty was going to end, and was famously used by Katherine Bruce to 'knight' Robert Burns in 1787.
The sword is normally kept in a next to a cast of The Bruce's skull. Six moulds were taken after his body was found in Dunfermline Abbey in 1818.
"It obviously has extraordinary talismanic properties," added Lord Bruce.
"It's important to give it a certain amount of respect and reverence. It's not something we wave around too often!"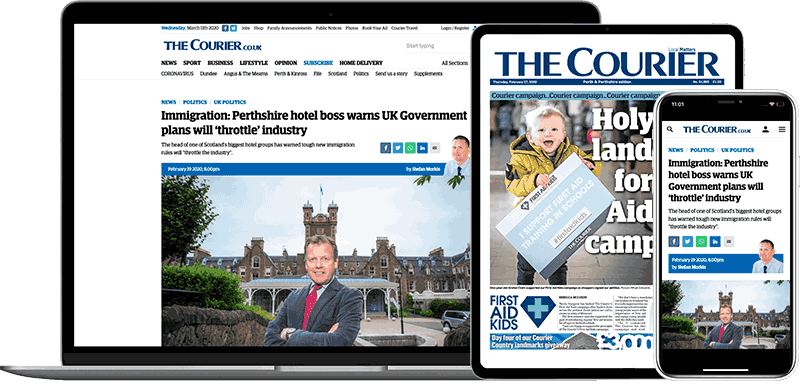 Help support quality local journalism … become a digital subscriber to The Courier
For as little as £5.99 a month you can access all of our content, including Premium articles.
Subscribe