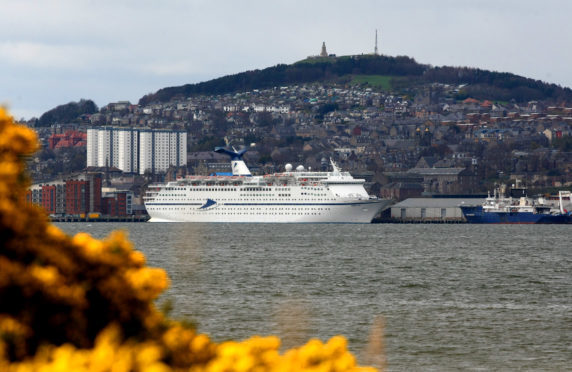 Cruise ships are increasingly setting a course for Scotland – and businesses in Fife, Tayside and Dundee are particularly well placed to benefit, writes Michael Alexander.
Looking more like a floating conglomeration of luxury hotels than a ship – and too large to dock at Leith or Rosyth – the largest cruise liner ever to visit the Forth dropped anchor in the shadow of the famous bridges.
The towering MSC Meraviglia, carrying around 4,500 passengers and 1,000 crew, stayed in the Forth for a 12-hour visit in June.
While the main focus of passengers' travel plans during the visit was Edinburgh, friendly-faced local volunteers from Cruise Forth were ferried out to the liner to ensure that passengers were aware of opportunities to visit local shops and businesses in and around Queensferry and west Fife.
It's perhaps no surprise that the capital was this week named Western Europe's top cruise destination for the first time in Cruise Critic's 2018 Cruisers' Choice Destination Awards – beating other cities including Lisbon, Bilbao and Amsterdam.
The city's attractions are a top draw for the 113 mainly 'Around the British Isles' cruise liners scheduled to arrive on the Forth and Tay this year, bringing 170,000 passengers and up to 51,000 crew with them.
But according to former Fife Constabulary Chief Constable Peter Wilson, who leads the Cruise Forth project – a voluntary organisation that was set up in 2011 to welcome cruise ships arriving at Rosyth – efforts to persuade passengers that they should spend more time exploring Fife, Dundee and beyond is already paying dividends.
Supported by Forth Ports, Fife Council, Leith Chamber of Commerce, Falkirk Council, Fife Chamber of Commerce, Marketing Edinburgh, Abellio ScotRail, and local business networks, Cruise Forth aims to promote local businesses to the rising number of international cruise ships coming into the Forth while also providing information to the passengers disembarking ay Rosyth, South Queensferry, Leith and Newhaven.
It was set up after discovering that many passengers were unaware of nearby tourist attractions or other places of interest. Dunfermline, for example, has proved to be a popular attraction.
With more than a dozen cruise ships calling at Dundee's port in 2017, three coming in simultaneously during the Open Championship at Carnoustie and even more arriving in future thanks to the draw of the V&A – Mr Wilson said that far from being squeezed between Edinburgh/Rosyth in the south and Dundee in the north, Fife was particularly well placed to benefit.
Having recently addressed delegates in Dundee, however, he says more businesses need to realise there are huge benefits from being 'cruise ready'.
"Most cruise ships offer passengers a range of possible itineraries for the time they are in port," said Mr Wilson.
"Around 66% of passengers will take one of these packages at any given point and 33% won't. If you take 3000 passengers, that means 1000 on board will have nothing to do.
"What we do is come abroad and offer friendly advice on where else they might want to explore. It might be as simple as telling them how a hop-on hop-off bus service works. If they don't have the information they can't go."
Mr Wilson said it was not just towns and cities with ports that can benefit from cruises.
Edinburgh and Dundee are becoming "gateways" for the whole of east—central Scotland, and passengers regularly take bus trips to nearby places of interest, such as St Andrews.
Former Madras College pupil Karina MacKinnon knows at first-hand how the cruise industry works.
The St Andrews-raised classically-trained singer – who was a contemporary of KT Tunstall at the Byre Theatre and Scottish Youth Theatre – performed on cruise ships in Europe and the Caribbean for 13 years.
As manager of the Golf Shop of St Andrews for the past few years, however, she is now part of the 'Cruise2StAndrews' group which is tapping in to the cruise ship market by ensuring that Cruise Forth volunteers give out flyers to passengers to attract business.
"The town is only really just cottoning on to the cruise ship market," said Karina, "but there's so much potential. Coach loads by the gazillion arrive in St Andrews – last Saturday we had buses from six ships in – and we offered 10% off for cruise passengers. It does brilliantly.
"They usually get dropped off down at the golf museum and I go down to meet them. They usually have two or three hours in town. They go down to the Swilcan Bridge for the usually photographs, then, because they know where we are, they'll head up here. A lot of the Americans in particular are high end customers with wads of money who want to be treated like royalty, so we ensure that our service is second to none."
Rob Mason, head of cruise for Capital Cruising – part of Forth Ports Ltd – said the whole of Scotland – seen as a geopolitically "safe" destination – was well placed to benefit from the growing international cruise industry.
The key to economic success, he said, was bridging the gap between cruise ships and destinations. Capacity had not yet been reached and fantastic, authentic, passenger experiences were being sought.
In Dundee, for example, Capital Cruising had been working closely with the city council and Broughty Ferry traders with courtesy buses put on for shore trips. The mix of urban and rural attractions within reach of Dundee was very attractive.
The arrival of three liners during the Open had been a "fantastic opportunity" to showcase the port facilities at Dundee, while the billion-pound Waterfront investment was positively changing perceptions of the city within the growing international cruise market.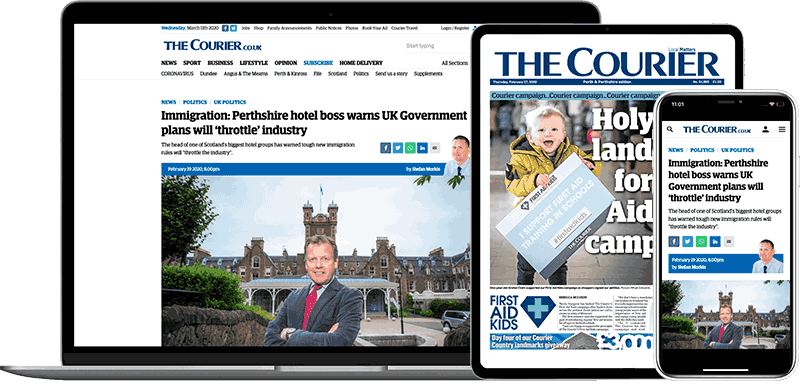 Help support quality local journalism … become a digital subscriber to The Courier
For as little as £5.99 a month you can access all of our content, including Premium articles.
Subscribe