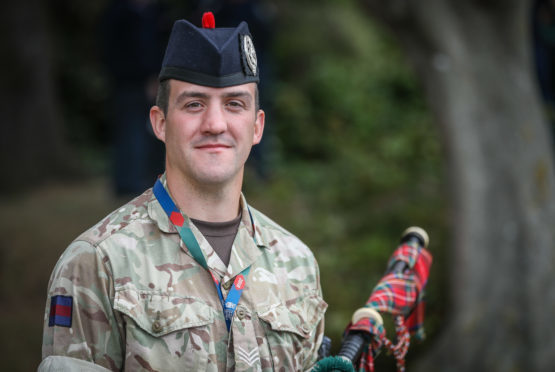 Michael Alexander speaks to several Courier Country participants taking part in the 2018 Royal Edinburgh Military Tattoo.
Lance Sergeant John Mitchell, 25, of the 1st Battalion Scots Guards grew up in Fintry in Dundee.
The piper – a former pupil of Ancrum Road Primary and Harris Academy who joined the Army when he was 15 years and nine months old – is one of seven pipers with the honour of playing solo from the castle ramparts during the 2018 tattoo.
The former Dundee Boys Brigade Pipe Band member and Black Watch cadet, who was taught the pipes in Dundee by Harry Ellis, and who has piped at four previous Tattoos, was inspired to join up through having an uncle who served with the 2nd Battalion Scots Guards in the 1960s and 1970s.
"Ever since I was five-years-old, following up in my uncle's steps within the Scots Guards regiment, I've wanted to do soldiering as well as piping," said the Afghanistan veteran, who is a 'soldier first' and was trained through the Army School of Bagpipe Music and Highland Drumming in Edinburgh.
"My first tattoo was 2011 – this is my third year on the bounce after that – 2014, 16, 17 and 18. I'm filling in for the pipe sergeant at times and one of the jobs I've also got is lone piper on several nights throughout the tattoo. That's up at the top on the ramparts of the castle.
"Those who are pipe major qualified are on a rota to be solo piper. I did it last year and it's a really proud moment when the spotlight just hits you and you are looking over the whole of Edinburgh.
"It's a moment when you just need to take a breath. Before the lights come on you are in the dark and you see all the lights below you – The Last Post is being played and you are just waiting. But as soon as you start playing, you don't think of anything else other than the tune – Flowers of the Forest."
With his regiment going on operational deployment to Cyprus from September, John, whose father was in the RAF for 22 years, said it could be "quite a challenge" prepping for the tattoo as well as soldiering.
However, it was worth the effort and he had also enjoyed band tours of America, Columbia and Korea.
Someone else enjoying the event is award-winning dancer April Hunter, 24, from Arbroath. She is a member of the Tattoo Dance Company – an international assortment of Highland dancers.
The former Arbroath High School pupil who has taken a career break from her job as a teacher at Strathmore Primary in Forfar to do more with the dance company overseas, said there was an application process and audition to get into the team.
The daughter of a former RM Condor Royal Marine, whose dance teacher growing up was Linda Napier, said: "I've been Highland dancing since I was three. That was more competitive. This is more of a different take on it for me. I love it. It's a lot of fun."
April explained that she gave up dancing when she went to university. But she missed it and decided to come back.
"Doing this is a total buzz," she added. "The adrenalin is always going. It's quite intense getting it all prepared. It's great to be performing in front of an audience of that many people and to be part of a show with so many other acts – it's incredible. You feel privileged to be part of it."
The theme of this year's show, which has more than 1,200 cast and crew, is The Sky's the Limit with projections being shone on to the Edinburgh Castle walls during performances.
It's being played out to an audience of 8,800 each evening, running at Edinburgh Castle Esplanade until August 25 – with a multi-million TV audience and 6 – 8 billion media hits beyond that.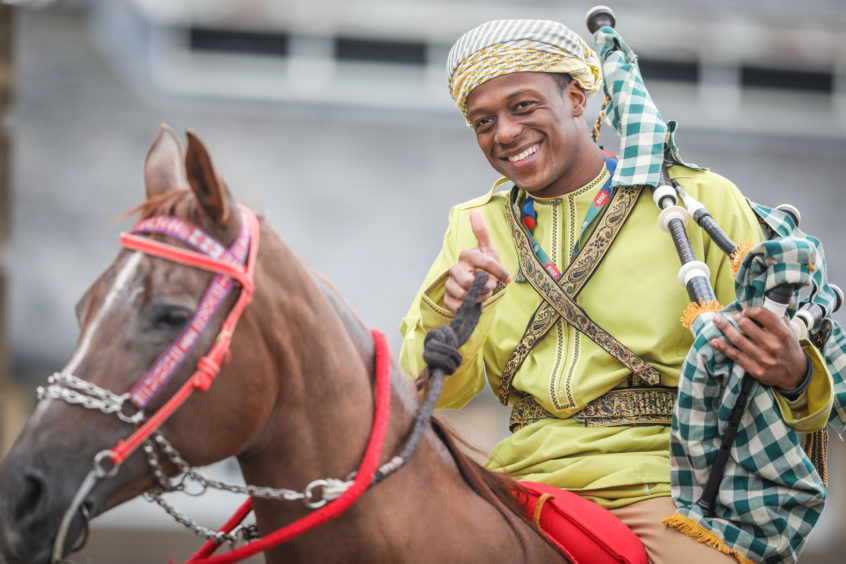 International participants include The Combined Bands of the Royal Cavalry of the Sultanate of Oman and The United States Air Force Honour Guard Drill Team
Brigadier David Allfrey, chief executive and producer of The Royal Edinburgh Military Tattoo, is Colonel of the regiment and former commander of the Leuchars-based Royal Scots Dragoon Guards.
The RAF's 100th anniversary, Scotland's Year of Young People, the 100th anniversary of the Czech Republic and the 100th anniversary of the end of the First World War are all being commemorated during this year's show.
"We are part of a huge celebration to mark RAF100 this year," he said.
"We have the RAF Pipes and Drums, our principal director of music is from the RAF, and you'll see it represented right through with a lot of red, white and blue in the roundels – even the dance act has got a surprise.
"We go right through from the history of flight – we start with flying insects, midges and the honeybee, go up with seabirds of course along the coast of Scotland, but we end going through piston powered flight to jets and finally into space, and the end of the show is actually  about what lies beyond. And it's about human potential. That's what's such fun about this.
"The young people here are seizing the opportunities. It's a complicated old world – people need to have a dream and start moving towards it. During the show you get a real sense of that."
Brigadier Allfrey said it cost between £10 million and £12 million to stage the tattoo each year.
However, he says it "washes its face" bringing in around £77 million to the economy and a further £30 million in terms of full-time employment.
He said: "It's so helpful for Scotland. It brings so many people here and makes a huge difference to the economy. People come to watch the tattoo in Edinburgh. They'll stay in hotels then travel all over Scotland.
"Our gig is absolutely fantastic. I think our investment on this delivers about a 1/10 return for Scotland. We are really proud of that."
The tattoo has been on tour before to Australia and New Zealand.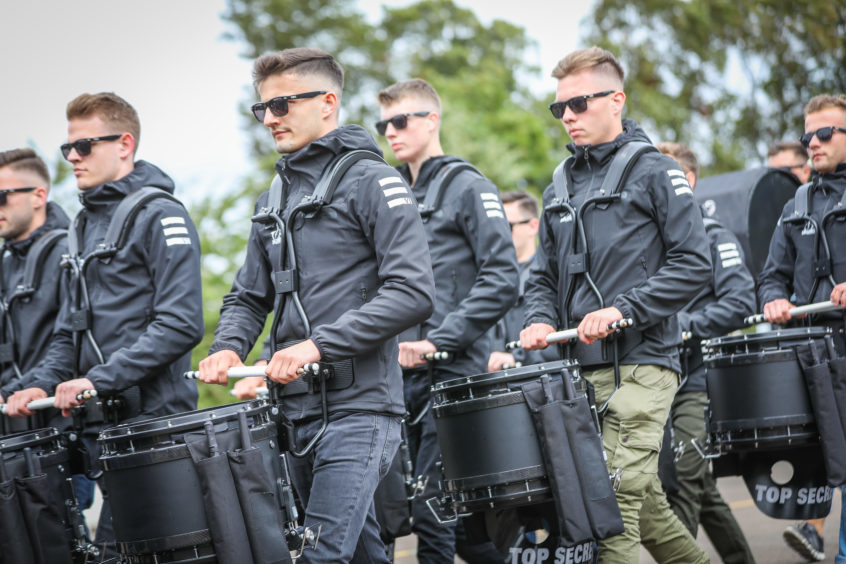 However, the overseas element is being "racked up" with the aim being Australia in 2019, China in 2020, Canada in 2021 and potential visits to India, Europe and North America beyond that.
"The aim is to get the company so that this sort of scale we can deliver anywhere in the world," he added.
"That is the ambition over the next five to 10 years. This is a great Scottish export and that is what we should be doing. When we take it abroad so many other things happen.
"Defence gets a kick out of it, foreign affairs enjoy it, ordinary business, trade and investment benefit, tourism in the countries we go to and back in Scotland benefit and then finally culture: this is not just about Scottish culture but British culture and all the other countries that contribute. We've got Malawi, Switzerland, America…the whole thing is just fantastic."