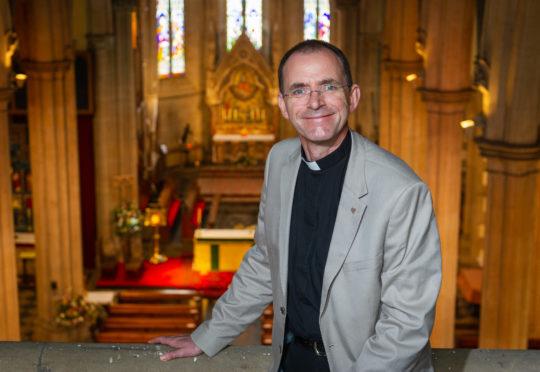 The incoming Bishop of Brechin has expressed "sadness" that one of the largest churches in Edinburgh has voted to split from the Scottish Episcopal Church amid tensions over its decision to become the first Anglican body in the UK to endorse same sex marriage.
In an interview with The Courier, The Very Rev Andrew Swift – Bishop Elect for the Diocese of Brechin who will be consecrated as Bishop of Brechin in a ceremony at St Paul's Cathedral in Dundee on Saturday – said the decision of St Thomas' to quit the official Anglican church in Scotland over the June 2017 equal marriage vote was "really sad" – and there was a danger other churches could follow.
When the Scottish Episcopal Church (SEC) voted last summer to allow gay couples to marry in church, it meant that clergy who wished to officiate at gay marriages would have to "opt-in".
The church said this meant that those who disagreed with gay marriage would be protected and would not have to act against their conscience.
However, the church's decision to permit gay marriage led to sanctions being imposed on the SEC by leaders of the global Anglican Communion last October, with St Thomas' rector Rev David McCarthy recently describing the decision to leave as a "very painful" one, adding: "We have not done it easily. We have had many tears and many sleepless nights. It is a tragic necessity. But it is the Episcopal Church who are leaving us. They are leaving orthodoxy."
Commenting on the issue, The Very Rev Andrew Swift, who is a married father-of-three, and who welcomes equal marriage at St Paul's Cathedral in Dundee, said: "It's really sad.
"The decision last summer was to come up with the process so that those who in conscience felt they really wanted equal marriage – as this church here does – were given a space to be able to marry people of the same gender. We created a space where those who, in conscience, felt they couldn't do that, could also with integrity stay in the church.
"It is just sad (what has happened at St Thomas') because the conversations over the years were to create a space where we could stay together.
"I know the Church of Scotland are trying to go down a route similar where each church, each congregation, each minister, can find a way to follow their own conscience. And a lot of the other Anglican communion churches are doing that as well.
"So it makes me sad if we do split over issues like that.
"It is a secondary issue within the church.
"There is a danger that others in conscience may feel that they can't carry on."
At the meeting of the Primates of the Anglican Communion held in October in Canterbury the Most Rev Mark Strange, Bishop of Moray, Ross & Caithness and Primus of the Scottish Episcopal Church was asked to explain the process undertaken by the Scottish Episcopal Church in its move towards an adjustment of its Canon on Marriage to enable those who felt called to offer marriage to same gender couples the ability to do so.
He explained that the process had included much prayer, theological debate, open and, at times, very personal testimony and that opportunity had been provided for groups throughout the Church to discuss this matter and to pray about it; this included the voice of the youth in the Church, the sharing of powerful words and stories from elderly members and hearing representation from those who hold a traditional understanding of marriage, those who see marriage as including same gender couples and those who have encountered exclusion in declaring their love.
The Primus also explained that the nature of decision reached by the General Synod of the Scottish Episcopal Church, is such as to allow those of different views to continue to "walk together" – recognising that there are different understandings of marriage and that no member of clergy is compelled to conduct any marriage against their conscience.
Only those clergy who wish to solemnise marriages of same gender couples will be nominated to the civil authorities for authorisation to do so, it said.
The Most Rev Mark Strange, Bishop of Moray, Ross & Caithness and Primus of the Scottish Episcopal Church said: "In June the General Synod of the Scottish Episcopal Church voted to change its Canon on Marriage. This decision was ours to take as a self-governing province of the Anglican Communion.
"However, I recognise that this decision is one that has caused some hurt and anger in parts of the Anglican Communion and that the decision taken at the last Primates' Meeting, which was to exclude our brothers and sisters in The Episcopal Church from debate on Doctrine and from Chairing Anglican Communion Committees, is a decision that now also pertains to us.
"We will continue to play our part in the Anglican Communion we helped to establish, and I will do all I can to rebuild relationships, but that will be done from the position our Church has now reached in accordance with its synodical processes and in the belief that Love means Love."