As a crowdfunding campaign is launched to raise funds for a pioneering brain tumour immunotherapy trial at Ninewells Hospital in Dundee, surgeons – and a terminally ill patient – tell Michael Alexander why it could give hope to the hundreds of brain tumour victims diagnosed in Scotland each year.
They are the commonest cause of cancer death in children and adults under 40, yet account for only 2% of national cancer research funding.
Now a revolutionary immunotherapy trial, earmarked for Ninewells Hospital in Dundee, aims to bring hope to Scottish brain tumour patients.
The revolutionary immunotherapy trial for glioblastoma – the most aggressive cancer that begins within the brain – has been launched by charity Funding Neuro.
It will involve 10 patients, whose own immune systems will be used to target their deadly brain tumour.
The trial will use a new vaccine for glioblastoma that was developed in the USA for Cytomegalovirus (CMV) – an ubiquitous beta-herpes virus that infects the majority of humans.
Scientists say this is an "exciting opportunity" to help translate a discovery from the lab into an effective treatment for patients.
Renowned neurosurgeon Dr Kismet Hossain-Ibrahim, based at Dundee University school of medicine, had unprecedented access to the treatment having spent time working with Professor John Sampson and his team at the world-leading translational research laboratory at the Duke University Medical Centre, North Carolina.
Now he hopes that a Dundee trial could move global research on even further and in the meantime bring direct benefits to patients here.
Dr Hossain-Ibrahim said: "There is a real drive to change the currently bleak outcome for patients diagnosed with brain tumours.
"It is a privilege that Professor Sampson is allowing me to utilise Duke University's pioneering immunotherapy treatment for Scottish patients with glioblastoma.
"Immunotherapy offers the best chance of long-term survival for these patients, whose current life expectancy is 12-14 months."
Brain tumours were responsible for 5,250 deaths in the UK in 2016 – making up around 3% of all cancer deaths in the UK that year.
However, the Scottish Parliament heard last year that brain tumour symptoms can be challenging to detect and diagnose accurately.
The parliament heard that brain tumours are the largest killer by cancer of children and adults under the age of 40 in the UK and they also reduce life expectancy by an average of 20 years, which is the highest of any cancer currently known of.
In 2014, 971 people in Scotland were diagnosed with a primary brain tumour with a total of 475 people in Scotland dying from the disease in 2015.
Yet despite the serious consequences of brain tumours, they remain a comparatively uncommon form of cancer and symptoms can be difficult to detect.
Funding Neuro, a charity that supports innovative research for a number of neurological conditions are raising the £500,000 required to complete the Dundee trial.
It hopes to build on the work that was published in the USA last year.
US-based Professor John Sampson, a recognised leader in the surgical resection and experimental treatment of complex brain tumours, said: "There have been surprisingly promising clinical outcomes in small studies of this investigational vaccine, which certainly support these advanced trials. Immunotherapy is giving real hope to those with glioblastoma."
GLIOBLASTOMA RESEARCH
Glioblastoma is among the most stubborn forms of brain cancer, with patients having a median survival time of just under 15 months. However, the previous CMV trial at Duke showed that chances of survival may soon improve.
In a study published by Nature, a group of Duke researchers developed a new treatment for glioblastomas, which represent almost one in five of all primary brain tumours.
The researchers organised a trial that administered a dendritic cell vaccine with high doses of a chemotherapy drug known as temozolomide.
Among the 11 patients in the study, the median survival time was 41.1 months—a staggering increase from 14.6 months for patients given the standard treatment.
"[There were] striking immune responses to the study regimen and very striking survival times for patients with this type of tumour," said lead author Kristen Batich, a graduate in the medical scientist training program.
She noted that the median progression-free time—the amount of time it takes, on average, for the tumour to begin growing again after treatment—lengthened to 25.3 months instead of the typical eight months observed in patients given the standard treatment.
Sharon Kane chief executive officer at Funding Neuro said: "The despair patients and their families feel at diagnosis is overwhelming, especially when there are no treatments offering hope.
"The immunotherapy trial in the US looks very promising. By supporting this trial it will give much needed hope to patients. It is a race against time to raise the funds for this trial. The sooner we have the money the quicker we can get the trial started and help people with this condition."
The trial will run at Ninewells Hospital in Dundee, which has the only Immunassay Biomarker Core facility in Scotland – a specialist facility that allows for rapid immuno-analysis of blood samples, an essential element of the trial.
The trial will recruit patients from Scotland, over a 12-month period, and take two years to complete thereafter.
Dr Hossain-Ibrahim hopes to raise £350,000 of the £500,000 required for the trial within six months – if not the whole amount. If funds are raised this quickly, he will be able to get the trial underway by summer 2019.
DUNDEE CASE STUDY – 'Defying the odds'
He has been described by his consultant neurosurgeon as a "miracle" – a man who, almost four years after being diagnosed with the most aggressive type of terminal brain cancer, continues to live a relatively normal life.
But 3.5 years after undergoing massive brain surgery and being told he possibly had as little as six months to live, father-of-four Derek Tomnay of Piperdam, near Dundee, is defying the odds and remains determined to stay "ridiculously positive" for the sake of his young family.
It was February 27 2015 that Derek, 46, first went to hospital after ignoring six months of subtle "dribbling" down his left-hand side and months of headaches which coincided with the deterioration of his eyesight.
The Glasgow-raised double glazing salesman was in Dundee's Toys R Us to buy a present for his daughter's birthday when he remembers feeling "weird" just hours after he had noticed he was talking with a lisp while working the night before.
"I went into the car and noticed the left hand side of my lip had dropped," he said.
"I went to Ninewells' A&E and they suggested I might have had a stroke.
"It was only after I got a CT scan that they confirmed I had a brain tumour. It wasn't that big – maybe about the size of a grain of rice – but there was a cist covering the whole right hand side of my brain that was putting pressure on the brain and apparently causing the symptoms. The surgeon said he'd never seen a cist like it."
Derek underwent massive brain surgery within days and spent three weeks in intensive care.
It was fortunate the tumour had been caught early. However, it was not possible to remove all the tumour and Dr Hossain-Ibrahim told him straight that he had terminal glioblastoma – among the most stubborn forms of brain cancer – with a suspected survival time of just six to 13 months.
"The biggest bit I struggled with was my kids," he said, revealing that he initially didn't tell his daughter Paige, now 19, about his terminal condition while she was sitting exams, while Freya, 7, Eva, 6, and Skye, 4 are still too young to comprehend its seriousness.
"I wanted to see them all go to school. That's something I've now managed to achieve with the youngest just starting there. But Mr Ibrahim just shrugs when I go for my check-ups because the tumour doesn't seem to be growing. He calls me a miracle. He says I should be dead!"
Derek admits he does have occasional "break downs" when he over-analyses his situation. Usually that's in his car when he's on his own. He also gets very tired.
But he likes to think the reason he is still around is at least partly down to his positive mental attitude and a strong belief that he'll "be ok". His Dundee-born wife Kirsten is also very supportive.
"It has totally changed my view of life," he added.
"I definitely live for the day. I go to the gym at 5 am. Ironically I'm the only person at my work who doesn't take time off. I have a ridiculously positive attitude and try to keep busy. I have to focus."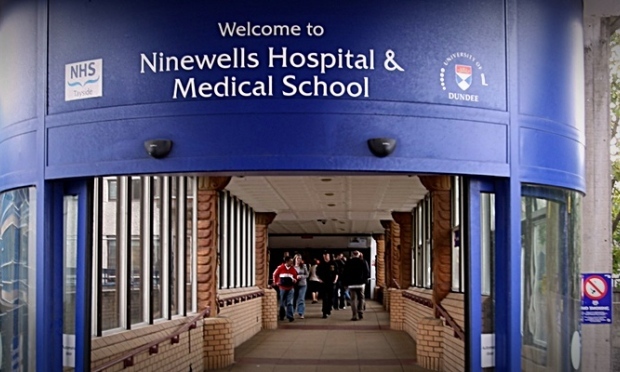 Derek welcomes the launch of the pioneering immunotherapy trial at Ninewells that could give hope to the hundreds of Scots diagnosed with brain tumours each year. Despite his predicament, he realises that in many ways he has been "unlucky but lucky".
"In my case it's a freak of nature that I'm still living – a one in a million chance," he said.
"But something like just 5% of people with brain tumours live for two years. A lot of kids are involved as well. If this trial prolongs lives – if it can double the lifespan of terminally ill children from three-to-six months survival time to six-to12-months survival time, then that's doubling the amount of time they get to spend with their families and double the amount of memories their families retain as a result.
"Anything positive I can do to highlight that is a bonus."
*A crowd funding page has been launched to raise the funds for the Ninewells trial. To donate, go to https://mydonate.bt.com/events/fundingneuroglioblastoma/477342 or go via the website www.fundingneuro.com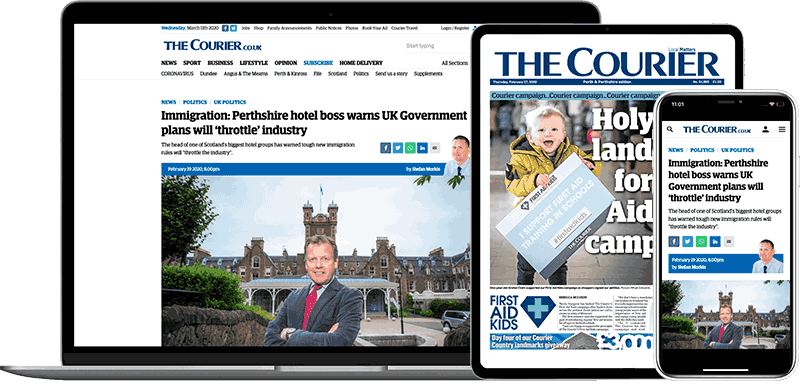 Help support quality local journalism … become a digital subscriber to The Courier
For as little as £5.99 a month you can access all of our content, including Premium articles.
Subscribe