Michael Alexander meets a Kirkcaldy family who benefit from Rachel House at Kinross – and who are looking forward to the next Capital Sci-Fi Con in Edinburgh.
Wearing his favourite Star Wars Christmas jumper and wielding a light sabre in tribute to his favourite films, Adam Meldrum's face lights up when his mum Lynne Scott sits down next to him and she gazes lovingly into his eyes in front of the family Christmas tree.
The 18-year-old, who cannot speak and requires 24-hour care, was born with a deletion of chromosomes, has epilepsy and is registered blind.
However, the loving bond between mother and son is self-evident as Lynne sits down with The Courier in their Kirkcaldy home for an honest chat about the challenges the family have faced, the support they have had from Rachel House – the Children's Hospices Across Scotland (CHAS) facility – at Kinross, and their support for the Capital Sci-Fi Con taking place in Edinburgh in February.
There's no doubt winter is a particularly challenging time for Lynne, 41, her husband Gavin Scott, 39, Adam, and three daughters Leah Meldrum, 16, Lily Scott, 12, and Amie Scott, nine.
There have been a few Christmases when Adam has been in hospital and quite poorly.
The family have managed to get him home on those occasions even for a few hours.
He tends to get ill at this time of year. He's already had two chest infections and a urine infection this winter, and the family have recently taken advantage of a few days' respite in Rachel House during which time staff take care of all his care and medications.
However, with Adam having already outlived his prognosis that he would not live beyond his childhood years, there's also that sense of wondering what the future holds – and making sure every moment counts.
Lynne explained that despite being born two weeks late and being a bit small at 6lbs 1oz, Adam seemed otherwise healthy.
It was only when Adam was around four months old, however, that she noticed he did not seem to be developing at the rate of other babies.
After a number of tests and numerous appointments at the Victoria Hospital in Kirkcaldy and the Sick Kids and Western General in Edinburgh, she and Adam's biological father were told their son had a genetic disorder so rare it did not even have a name.
"We left that appointment not knowing if we were going to have Adam in six months' time," she said.
"We were then told he didn't have good vision, had hearing problems, his chest wasn't too great. Adam had something called craniosynostosis which meant the soft part of the baby's head had fused together. The soft part wasn't as it should be. For a year we were back and forward to see if he would need an operation to separate bones.
"He didn't need that operation in the end because his brain was underdeveloped and smaller than it should have been.
"But that was just the start really. He needed – and still needs – a tube to support his breathing overnight. Epilepsy was picked up. When he was 10 he got cataracts.
"Our geneticist told us it was likely he would die as a child and if not, probably wouldn't live long into adult life. We've been wondering how long we have left ever since."
Lynne said Adam's health had fluctuated considerably over the years. However, it really took a turn for the worse aged around 14 when he struggled to swallow, his breathing got worse, he got more and more tired and he got moved onto a paediatric feed which he remains on to this day.
That was when the family had the discussion about using Rachel House.
"Rachel House is amazing – it's hard to put into words," said Lynne.
"As soon as you go in there's a calming feeling.  It's also very frightening – I'm aware of the Rainbow Room (a family suite with a room kept at a controlled temperature so that if child dies family can stay with them for up to a week or however long until a funeral is).
"That is frightening for us. Over the years I have known a lot of children who have passed away. There's almost that sense of 'oh my god are we next'?
"But I know when that time comes I've got Rachel House."
Lynne explained that around the time of their referral to Rachel House, in 2016 they were also referred to a wish making charity, Rays of Sunshine, and wanted to celebrate Adam turning 16 – a huge milestone they thought he would never achieve.
Adam's wish was granted to have a Star Wars birthday party.
But the family really wanted to have Star Wars characters for him too.
"I put a post on Facebook and, well it just went crazy," laughed Lynne.
"My post was shared hundreds of times and poor Keith Armour – organiser of Capital Sci-Fi Con in Edinburgh was tagged goodness knows how many times.
"And what he and the rest of the Capital Sci-Fi Con team did was completely amazing.
"Jedi's, Chewbacca, Storm troopers, X-wing pilots, Jawa's and more making Adam's 16th birthday a day we will never forget and we will eternally grateful for.
"Now we're in 2018 and Adam celebrated his 18th birthday in August. We don't know how long he will live, we know he won't have a long life but he has done better than expected already and we count every day with him as special."
*The next Capital Sci-Fi Con, with proceeds going to CHAS, takes place from February 15 to 17, 2019, at Edinburgh Corn Exchange.
For more information go to www.capitalscificon.co.uk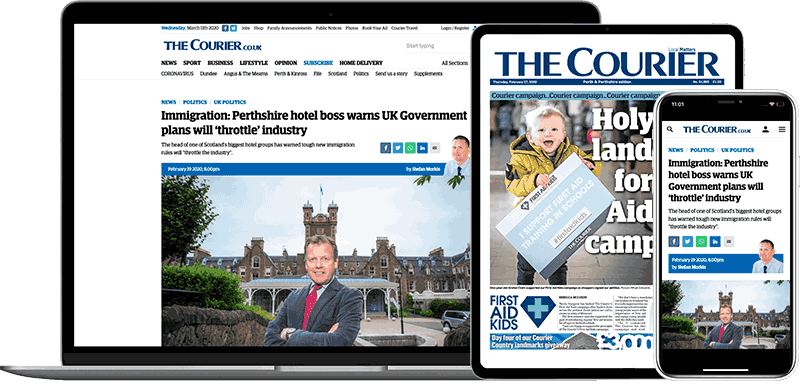 Help support quality local journalism … become a digital subscriber to The Courier
For as little as £5.99 a month you can access all of our content, including Premium articles.
Subscribe