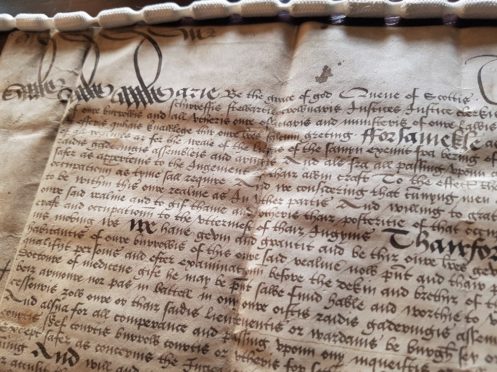 Historic documents have been released showing Mary Queen of Scots protected surgeons from going into battle, paving the way for the Geneva Convention 300 years before it came into force.
The Royal College of Surgeons of Edinburgh (RCDEd) revealed the letters to coincide with the release of a BAFTA-nominated film about the fascinating royal.
In the paperwork, Mary Queen of Scots enshrined in law that surgeons should not be made to bear arms in battle, to allow them to care for the wounded.
Dated May 1567, the letter of exemption was written almost 300 years before the first Geneva Convention protected surgeons from warfare.
Signed 'Mary by the Grace of God, Queen of Scots', the letter is thought to be from the Queen for the whole population.
It puts a responsibility upon surgeons, writing that they must always be "present with our armies ready to do their cure and duty to all sick persons."
Chris Henry, director of heritage at RCSEd, said: "This unique artefact is one of the college's treasured possessions.
"It gives us a fantastic insight into the ethics and civilisation of 16th century Scotland, as well as the standing of surgeons in the capital back then."
The letter is available to view and download on the RCSEd's new online archive. It was revealed by the college just days after Mary Queen of Scots, starring Saoirse Ronan and Margot Robbie, was released in cinemas. The film charts the power politics of Mary Stuart and Elizabeth I as young rival queens.
Mary Queen of Scots reigned over Scotland from December 14, 1542 to July 24, 1567. Mary, the only surviving legitimate child of King James V, was six days old when her father died and she acceded to the throne.
She signed the documents during a time of turmoil in her life, just after her son was born and her husband tried to take her throne and murdered her secretary in front of her. Her husband was then murdered before she was abducted and allegedly raped just months before she signed the letter of exemption.
It rules out surgeons "for the weale of the realme… fra bering of armoure or passing in battell… provyding… that thai be put with oure armyis reddie to do thair cure and dewitie to all sic personis as sall have mister tharof."