Scotland is tackling the longest cold spell for six years with 500 gritters and 100 snowploughs as a five-week chill from Europe sees forecasts of -18C and 10 inches of snow.
The Met Office said the conditions will be so cold this week that this winter's record low of -10.8C – experienced in Braemar on the morning of Friday, January 18 – could be surpassed.
Sunday morning saw -9.6C recorded at Kinbrace in Sutherland.
The Met Office forecasts that the cold weather, which began on Wednesday, will continue for another 30 days.
Temperatures to plunge even further as freezing air from Siberia hits Tayside and Fife next week
That would easily beat last winter's two-week 'beast from the east' to be the longest coldest spell since the five-week chill from late February to the end of March 2013.
It comes as the forecaster issued two yellow warnings for Tayside and said "temporary blizzard conditions" could affect areas of Perthshire and Angus on Monday from the afternoon until the evening.
A yellow snow warning will be in place from 2pm until midnight. A separate one for ice across the whole of Tayside and Fife will be in place from midnight until noon on Tuesday.
The RAC projected this week will see up to 4,000 extra breakdowns daily across all UK providers.
RAC spokesman Simon Williams said "This is the biggest test of the country's winter resilience since the 'beast from the east'.
"Almost all gritters will be out. Motorists should pack a blanket, shovel and phone battery charger in case they are needed."
Met Office issues snow and ice warnings for Tayside as temperatures plummet
A total of 500 gritters in Scotland are digging into a 600,000 tonne salt mountain.
Scotland's airports have around 100 snowploughs on standby.
Network Rail will use 34 de-icing trains.
Michael Matheson, Scotland's cabinet secretary for transport, infrastructure and connectivity, said: "Our teams are fully prepared and ready to respond when difficult conditions set in."
A Met Office forecaster said: "It turns colder and stays cold or very cold to February 2.
"February 3-17 is likely to be cold or very cold and could be interspersed by wetter interludes bringing an associated risk of significant snow and ice."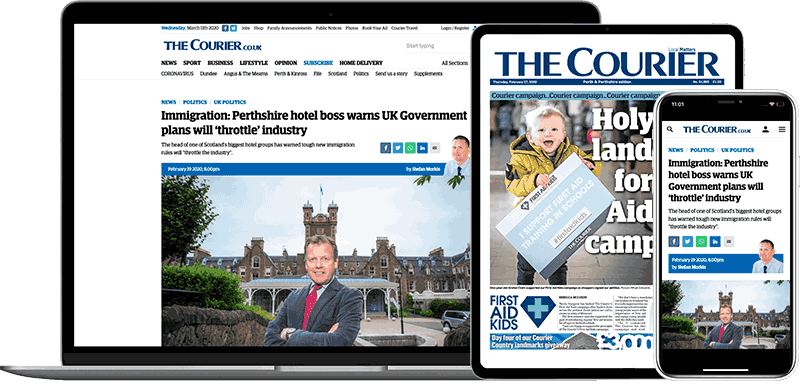 Help support quality local journalism … become a digital subscriber to The Courier
For as little as £5.99 a month you can access all of our content, including Premium articles.
Subscribe