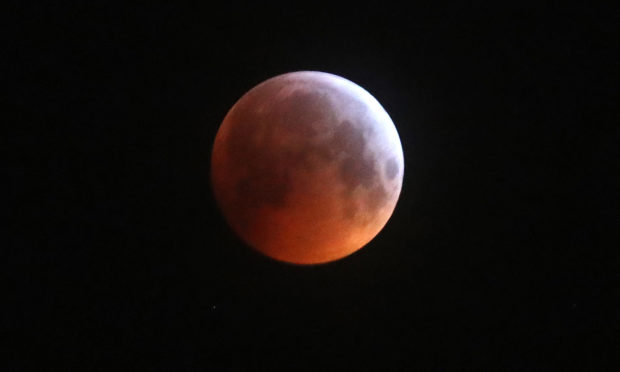 Stargazers across Tayside and Fife were treated to a stunning and rare spectacle in the night sky on Monday morning.
The January full moon, which is known as a "wolf moon", shone in sunset colours during a total lunar eclipse.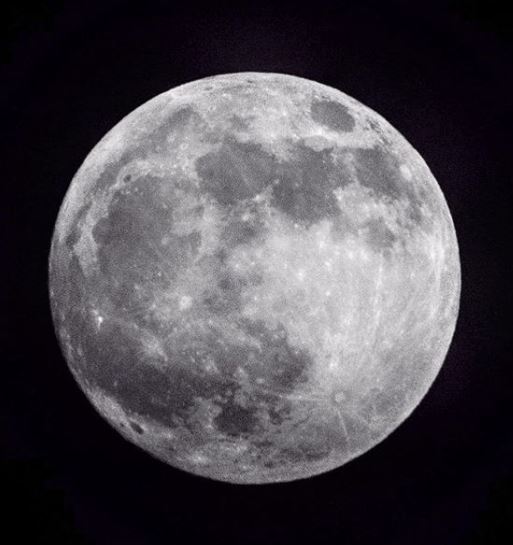 Known as a "super blood wolf moon" – the moon also appeared brighter and larger than normal due to its proximity to the Earth.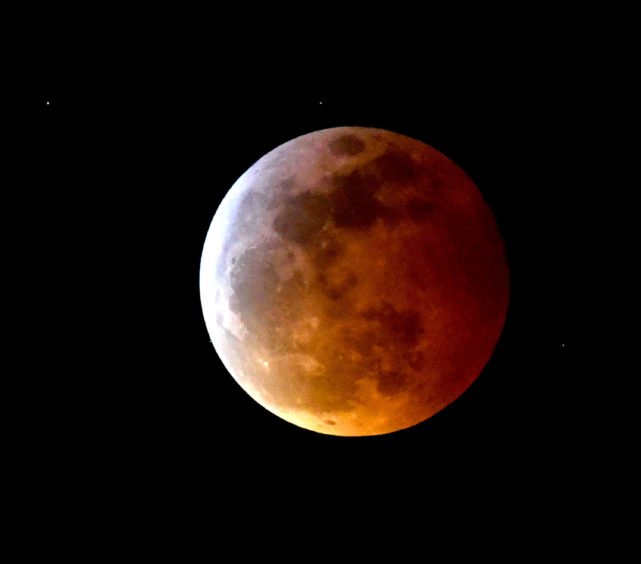 The reddish colours appear on the moon during a lunar eclipse once it is fully engulfed in the deepest part of the Earth's shadow, known as the umbra.
The next total lunar eclipse is expected on May 26, 2021.
Here's some photos of the eclipse from across Tayside and Fife: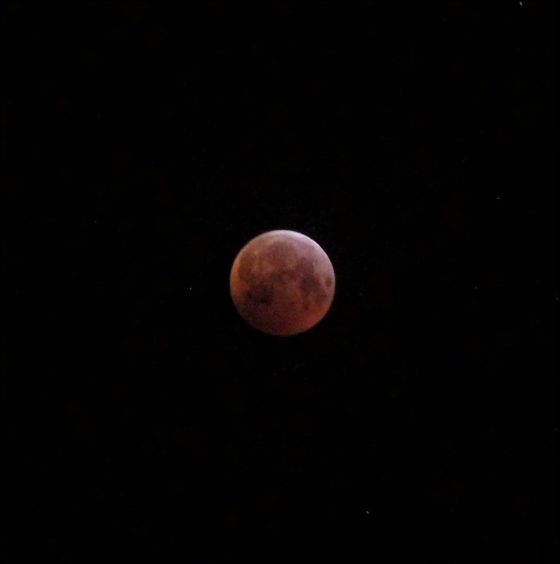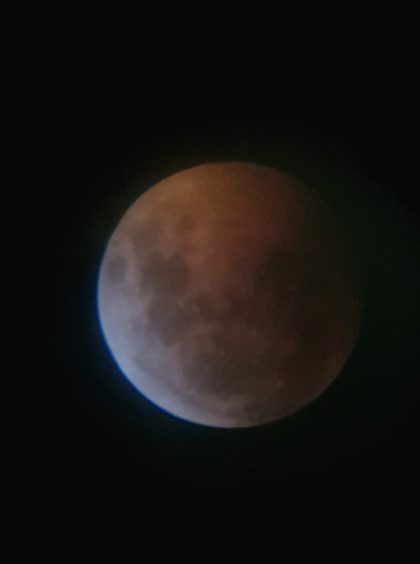 And this is where I gave up on the #SuperBloodWolfMoon #LunarEclipse after totality and before complete cloud cover. #Perthshire pic.twitter.com/vbQIzhHFwZ

— Felicity Martin (@FelicityM) January 21, 2019
Obligatory @TheForthBridges #SuperBloodWolfMoon shot.
It would have been rude not to.@BBCStargazing @welcometofife @BBCScotlandNews @trafficscotland @Walk_Fife @LoveDunfermline #MondayMotivaton @CanonUKandIE pic.twitter.com/RPkhbxjfRv

— PhotoGraphV (@setupshootleave) January 21, 2019
Handheld shot, Fife, 5.45 this morning #SuperBloodWolfMoon #supermoon #moon @VirtualAstro @BBCScotWeather @BBCNews @BBCBreakfast @WindyWilson88 @SeanBattySTV @JudithRalston pic.twitter.com/3tqynlg4ls

— shambles klutz (@shamblesklutz) January 21, 2019
Up and about from 04:30 to see what I could see. Managed to get a few good shots inbetween banks of cloud. The day at work could be a struggle today though #LunarEclipse #SuperBloodWolfMoon #MoonEclipse #moon #Fife #MondayMotivation @skyatnightmag pic.twitter.com/usgHYwvfRx

— PhotoGraphV (@setupshootleave) January 21, 2019
Super blood wolf moon from Scotland #astronomy #moon #SuperBloodWolfMoon #dundee #scotland pic.twitter.com/TubZBRUqes

— Robbie Lynch ????????️‍? (@RobbieLynch1995) January 21, 2019
Moon already looking amazing in #Dundee just now #insTaygram #SuperBloodWolfMoon pic.twitter.com/fv1cAXrAuv

— Strathmartine (@Strathmartine) January 20, 2019
Others across Scotland also took to social media to post photos of the eclipse…
#SuperBloodWolfMoon from clear sky #Aberdeenshire thanks to Jon Ruszka dedicated photographer pic.twitter.com/AVOmLYHXCL

— Cycle Aberdeenshire (@abdnshcyc) January 21, 2019
Some amazing photos of the #SuperBloodWolfMoon from across #Scotland this morning. Thanks to our dedicated @BBCWthrWatchers for braving the cold for this stunning pics! pic.twitter.com/AQN020JKBW

— BBC Scotland Weather (@BBCScotWeather) January 21, 2019
#SuperBloodWolfMoon Bieldside, Aberdeen, Scotland. 5:40 a.m. pic.twitter.com/oYJ5WmsF67

— Gerry Macdonald (@20VTGM3) January 21, 2019
This mornings super blood wolf moon taken in Dumfries Scotland #superbloodmoon #wolfmoon #superbloodwolfmoon #SuperBloodWolfMoonuk #superbloodwolfmoonscotland #dumfries #dumfriesandgalloway pic.twitter.com/1GYAyeIOYN

— KSSImagesUK (@kevinsloan79) January 21, 2019
The lunar eclipse, 21st Jan 2019, 05:45, from Bathgate, West Lothian, Scotland.#bloodmoon #SuperBloodWolfMoon #LunarEclipse #Bathgate #WestLothian #Scotland #lunareclipse2019 #MoonEclipse #moon #themoon pic.twitter.com/TSsoiiDRuR

— Jason Gilchrist (@jgilchrist13) January 21, 2019