As the new Scottish Women's Premier League (SWPL) season kicks off on Sunday February 10, Michael Alexander speaks to several Tayside officials – and the Scottish women's game's executive officer – about the rise of ladies' football and the future of the game.
When St Johnstone Women's Football Club make the short journey along the A90 for the opening fixture of the SWPL2 against newly promoted Dundee United WFC on Sunday February 10, the premier league derby match has the potential to throw up divided loyalties for St Johnstone WFC general manager Steve Grossi whose family are lifelong supporters of the Dundee United men's team.
While the Lochee-raised 52-year-old will of course be cheering on the Saints at the GA Engineering Arena next to Tannadice, he is conscious that the match is an important indicator of how far the girls' – and women's game – has grown right across Tayside, and he hopes to see further development and investment locally and nationally in the years ahead.
With Scotland qualifying for the FIFA Women's World Cup in France this summer, and a clutch of Courier Country-raised players likely to be part of that squad, there's no doubt the tournament is an opportunity for the profile of the women's game to rise further and for even more girls to be inspired to lace up their boots.
But with women's league football clubs still managed predominately by volunteers like Steve, and with crowds in Scotland often measured in the dozens rather than the thousands, can the women's game ever truly hope to operate on a level playing field with men?
The potential for success has already been set high with role models like Lisa Evans, of Perth, Emma Mitchell, of Buckhaven (both formerly of St Johnstone Girls and now both of Arsenal) and Perth-raised Lana Cleland (formerly of Rangers and now of Italian Seria A side Fiorentina) making great careers for themselves.
They have all featured in the Scotland national team, and Steve thinks the opportunities for female players are greater than ever before with the standard of football on the rise.
At St Johnstone WFC, which was created out of a formal partnership between the long established Jeanfield Swifts Ladies and the "very supportive" St Johnstone FC in January last year, Steve said there's "real positivity" with coach Jason McCrindle at the helm – and thanks to this and the hard work of community volunteers, the "pathway" opportunities for girls in Perth are now second to none with the club doing very well in an increasingly tough league.
Steve is pleased that good players now have the opportunity to play at the highest level and stay in Perth rather than "drain away" to other clubs.
Three St Johnstone WFC players are in the frame for the Scotland under-19s squad in June, and he's also pleased with the measures that Scottish Women's Football (SWF) have taken to attract sponsorship and restructure the premier league in their quest to create a "sellable product".
It follows a significant development last month when Celtic made history by becoming the first Scottish club to field a full-time professional women's team.
The game's potential was also illustrated last week when Athletic Bilbao smashed the all-time attendance record for a women's football match in Spain as over 48,000 fans showed up for their cup game against Atletico Madrid.
However, Steve believes there's still a lot of work to be done to make women's football a commercially viable spectator sport in Scotland.
"What Scottish Women's Football have done is great," said Steve, who first got involved as a "dedicated dad" coach at Jeanfield Swifts when his daughter Chiara, then aged 10, started to play.
"They've tried to professionalise the game, they've tried to market it better, they've changed the league structure, brought in new sponsors, games are live on BBC Alba now – it's fantastic.
"They've got this exposure from a domestic point of view. They've put criteria in for the top two leagues and standards have improved. A lot of players have started playing in other countries – and low and behold we've qualified for a World Cup!
"But they've still got the same problem – even some of the officers at SWF are volunteers.
"At this moment, the majority of people who will watch a women's game are people who are associated with the team. The challenge is to make it a spectator sport. Then it can try to finance itself. But making that move from where it is now is a real challenge because at the end of the day it's a business. It's got to viable."
While girls and recreational football remain central to the Jeanfield set-up and with more female coaches also now involved, Steve said St Johnstone had been "brilliant" allowing the former Jeanfield Swift Ladies team to take on the club name.
This helped greatly with sponsorship and commercial opportunities, and a price could not be put on their use of the McDiarmid Park club's astroturf and gym for training and games, which allowed the women's team to meet SWPL2 criteria.
However, due to the commercial pressures facing everyone in the game, Steve, who has worked in finance, does not think it should automatically be a pre-requisite for all professional football clubs to inject money into a ladies' team unless it "stacks up".
That said, with money "bound to come out of the World Cup", he thinks it would be "great" if financial support came from the SFA.
"It's still bums on seats at the end of the day," he said, adding that St Johnstone WFC currently get an average 70-100 spectators per game.
"How do you get people to come and watch it? Do we look at the whole match-day experience?
"Some teams might think money should come from the club. But it's a business. Unless we can attract 4000 people to women's league games, I personally don't see how it's going to be on the scale of the men's game. Maybe the demand is out there, but that's down to marketing."
As chairman of the girls' section at Dryburgh Athletic football club in Dundee, John Beatt says it's "refreshing" to be involved in the women's game.
Dryburgh Athletic Girls is the official partner of Dundee United Women's Football Club, and the 46 year-old Dundee Dental Hospital technician works closely with DUWFC head coach Gavin Beith to help recruit and sustain a ladies' team.
However, while John firmly believes that women's football will continue to grow and flourish, whether or not it ever matches the men's game as a commercially viable product is a "different thing".
"For me the women's game is really refreshing to be involved in," he said.
"It's a different kind of atmosphere at games.
"If you go to international games it's such a friendly welcoming atmosphere.
"Both sets of supporters will mingle – similar to rugby.
"Players will come across at the end and chat. The girls all know each other. They all socialise together. There's a real friendly feel about it.
"When it comes to the coaching side as well, there are some real friendly people involved.
"It's still competitive but there's a friendlier edge to it. I think that's a great thing.
"I know the SWF have worked really hard at the marketing side.
"But whether it will ever match the men's game is a different thing. I just don't know – especially in a small country like Scotland.
"I don't know if there's enough money to support it. But certainly the product on the park is getting better and better all the time.
"The quality of the player you are seeing is increasing all the time. We've got a fantastic (Scotland) manager in Shelley Kerr who I think will eventually get poached and end up in the men's game to be perfectly honest. She's that good."
John has been involved with Dryburgh Athletic for about six years. Like so many volunteers, he got roped in when his daughter's team needed a coach – and before he knew it he was chairman!
Today, Dryburgh has 120 registered female players across all age groups – coincidentally including John's 18-year-old daughter Alix who signed for newly formed Dryburgh Ladies last year after a decade rising through the girls' ranks.
The pathway with Dundee United WFC has been "great", he said, with the Tannadice club's ascendancy all the more remarkable given that it only played its first competitive game in March 2016 – gaining promotion to the premier league after clinching the SWFL1 North trophy in October.
The tie-up between Dryburgh and DUWFC came out of a conversation between John and Gavin three years ago when they discussed how to "grow the game" in the city.
But some of the younger players are already showing they can take on the boys' at their own game.
Scarlett Brady is currently captain of the Dryburgh Athletic 2006 boys club and both she and her twin sister Klara, who also plays for the boys' club, have just signed for Dryburgh Athletic Girls U14's too. Dryburgh Girls U14's players Olivia Hurrell (Broughty United) and Amy Smith (Celtic Boys) also captain the boys' teams they play in.
"It shows just how far the girls' game has come," said John.
"In the five or six years I've been involved, the difference in the game is unbelievable; the professionalism in the game, right down to youth level is second to none really. It exceeds the boys game in fact."
John believes the SWF are trying really hard to support the game.
He hopes money will eventually cascade down to clubs and he's sure that eventually the game will go professional.
It bodes well for the future, he said, that Tayside has three SWPL clubs in the form of Dundee United and St Johnstone in SWPL2, and Forfar Farmington who play in the top division SWPL1.
But in the meantime he is really excited by the exposure the forthcoming World Cup will give to the women's game.
"The World Cup is going to help," he added. "It's only going to enhance the women's game – especially being on mainstream TV. And the great thing is we've got England v Scotland. What other game do you want?!"
Women's football maybe stepping out of the shadows of the men's game today – but this was not always so.
In the early 20th century, women's football grew almost as quickly as the men's game, and reached new heights when the nation's men left for the First World War.
However, in 1921 the FA took the decision to ban women's football, essentially outlawing the game in England.
By the time women's football saw a resurgence in the 1970's, the sport was already viewed as a male-dominated sport having lost out on 50 years of development.
Fiona McIntyre, executive officer for SWF, said this context cannot be overlooked.
However, the important thing now, she said, is that the sport has grown and is being recognised by young girls as an option.
"I think we need to cater for everyone," she told The Courier.
"Everyone is interested right now in the premier league and the high end of the game, and rightly so because the women's national team have done so well.
"It's important that we continue to develop that end of the game, create role models for our young players.
"But it's also important to remember that we are here to cater for the grass roots – kids, women, that just want to go out and play and have fun."
Like youth and amateur football, the SWF is an affiliated national association (ANA) to the SFA – recognised as the non-professional part of the game.
It means the SWF gets a vote at the SFA AGM.
However, Fiona said there's "no parity" because despite having something like 200 clubs and 500 teams, the SWF only has one vote while every male club gets their own vote.
Unlike other ANAs, the SWF is responsible for elite performance players right down to primary school age children trying football for the first time.
Yet unlike the men's game, the SWF is very much self-funded with the main income being commercial sponsorship.
Compared with the set-up at many English premier league clubs where millions have been invested by the FA and matched by clubs, only a handful of professional contracts have been signed in Scotland.
This means Scotland has to be more innovative and find ways to work within the parameters that do exist.
However, more investment is coming from many Scottish clubs.
"I think at the moment the women's game here probably mirrors what you see in amateur and youth football," she said.
"It's all willing parents and volunteers. The game at this point in time wouldn't survive without them – there's no two ways about that.
"But if you are talking more about the performance and the elite end of the game, then what we are seeing now is some of the clubs making big announcements.
"Aberdeen, Hearts, Celtic, Rangers are four clubs in the last five or six months who have made big announcements from the men's or 'main' club saying 'we are going to invest more in our women's section'. I hope we see more of that. That should take the pressure off these volunteers, because I feel now they are asking volunteers to do too much.
"I think if there's a bigger infrastructure around in them in terms of a professional club that can take all that burden off them.
"But saying that, I think the clubs have got to want to do it. I'd never like to see it as a tick box exercise.
"At this moment in time without player compensation coming through from FIFA or without huge chunks of prize money or without huge chunks of funding, if you are doing it for a return on financial investment, right now that's a difficult sell. I'd be dishonest if I said that was the reason to do it.
"But there's a bigger picture about what their obligation is to their wider society.
"They should be catering for the girls and women in their area as a football club because they are part of that community."
Fiona says there is likely to be a spike of interest in girls and women's football during and after this summer's FIFA Women's World Cup – just as there was a huge spike at the 2017 Euros that continued into 2018.
However, she said it's important efforts are made to keep players in the game from a young age.
"If any girls want to play football, there's got to be somewhere where they can do that and get quality experience and want to stay," she added. "I absolutely anticipate that we'll see growth."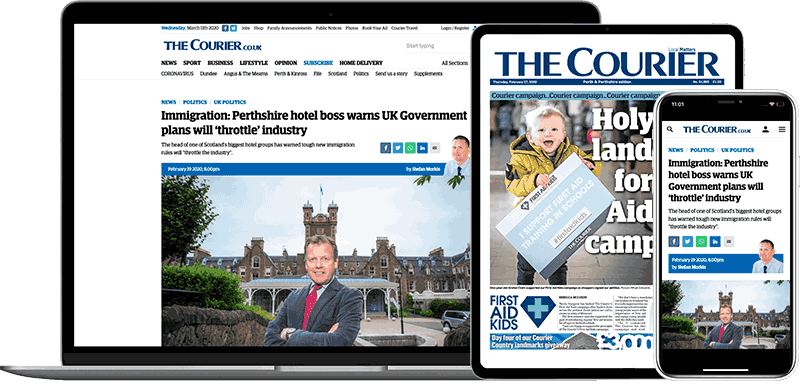 Help support quality local journalism … become a digital subscriber to The Courier
For as little as £5.99 a month you can access all of our content, including Premium articles.
Subscribe