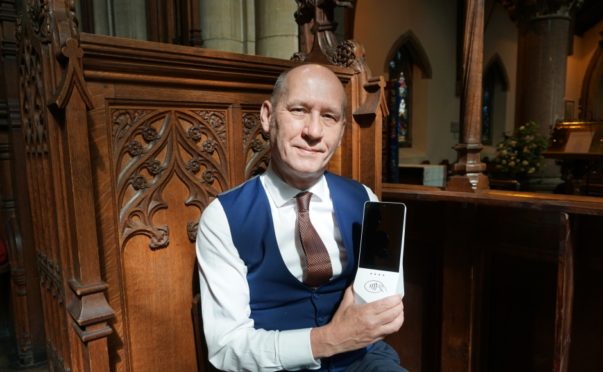 Churchgoers could soon be able to make donations with a tap of their card as kirks are being urged to move with the times and introduce contactless payments.
New technology is being rolled out across Church of Scotland congregations in a bid to boost donations and modernise the organisation.
Officials are asking ministers to introduce a GoodPlate terminal, which can sit in a traditional bless collection plate or bag, allowing worshippers to make a card donation or drop in cash.
It comes ahead of the Church of Scotland's General Assembly this weekend, when leaders will reveal plans to address last year's £4.5 million loss.
Congregations already using the technology have seen an increase in donations from people who do not normally give.
David Lynch, Church of Scotland's national stewardship coordinator, said: "Digital giving shows the church is willing and able to embrace modern technology and it recognises we are living in changing times.
"It fully understands the need to look at new and emerging methods of income generation.
"The purpose of encouraging congregations to adopt a system is to provide those people looking to donate with the widest possible options.
"They could be one off visitors to services, event attendees, tourists or regular church members who have moved to a cashless lifestyle.
"It will also give congregations the option of a new portal of income generation for events and hall rentals."
Reports for the General Assembly, which opens on Saturday, say the Kirk had a £4.5 million deficit last year and membership numbers are declining by an average of 4% a year.
Plans to reform the organisation include merging presbyteries and cutting administrative costs by almost a third.
Contactless technology, including the brass plate facility by GoodBox, will be demonstrated at the Assembly's Heart and Soul Festival in Edinburgh on Sunday.
Mr Lynch insisted contactless will not replace the option of giving cash and that money given electronically will be used in the same way as traditional donations.
"I think what we will see going forward, particularly with GoodBox's brass plate, is a merger of the two," he said.
"Some churches already have terminals and enquiries are increasing.
"We are hoping that having examples of the technology available at Heart and Soul will increase the uptake."