Ahead of a new BBC Scotland charity bake sale contest programme, Three Sisters Bake entrepreneur and series judge Nichola Reith reveals to Michael Alexander the influence of her granny's Kirriemuir sweet shop in deciding upon her chosen career.
As the middle sister of Renfrewshire-based business Three Sisters Bake, Nichola Reith is a self-confessed cake fanatic.
Her obsession started at an early age as Nichola's mum Alison, a home economics teacher, insisted that all cakes and treats needed to be home made.
But when the 37-year-old, who is the judge on new BBC Scotland baking show Flour Power, thinks back to other 'foodie' influences in her life, then visits to her granny's sweetie shop in Kirriemuir as a child are up there on the top shelf of memories alongside her granny's famous tablet which was famous for miles around.
"My grandparents Lilian and Alistair McCallum owned a shop in Kirrie," said Nichola, whose parents Alison and Harry Reith grew up in Kirriemuir.
"They sold a lot of sweets and my granny would do home baking in shop as well.
"The baking for my granny was like her own little business within the business. I think the money that was generated from the baking was hers to keep.
"When we were up visiting in Kirrie we would help her in the kitchen.
"It was a newsagent that sold toys and sweets.
"They had the big jars of sweeties on shelf and an old fashioned set of scales.
"That definitely had an influence on me. But so did my dad's dad who worked on a farm just outside Kirrie. That was probably another foodie influence. Grandad would take us out and show us the pigs and cows. He grew lots of vegetables. I think, again, it was the familiarity of being around food and growing food. The realisation it doesn't just materialise in a Tesco truck!"
Nichola, who grew up in Bridge of Weir, holds a masters degree in chemistry.
But a short stint in a "grown-up" career in the pharmaceutical industry, affirmed that baking was where her passion lay.
After working as a pastry chef for a year, Nichola and her two, equally food obsessed, sisters Gillian and Linsey founded the 55-seater cafe Three Sisters Bake in Quarriers Village, Renfrewshire in 2011.
The trio opened their second café in the equally beautiful village of Killearn in 2014.
Most recently, the sisters have added "Cake Bar" on Great Western Road in Glasgow to their family of cafes. The company employs 50 staff, with Nichola heading up their team of six bakers.
It was the company's back-story and reputation that got Nichola involved in the new BBC Scotland series Flour Power, which starts on Wednesday June 5.
Over 10 episodes, the show visits 10 very different workplaces to watch four colleagues compete against each other to be their company's official charity bake sale champ, and to raise money for good causes.
From distillers to vets and language schools to lawyers, not only are these amateur bakers determined to make amazing cakes and bakes, they really want to be able to brag to their workmates.
Flour Power follows each competitor at home as they create their cakes, buns, bread or savoury pies and pasties.
Then they'll be revealed at a bake sale to the critical eye of their colleagues and, more importantly, to the judges.
In each episode, Nichola is joined by a local judge to taste, debate, berate and celebrate each of their competitors' efforts.
At the end of the bake sale, the workplace winner is revealed  followed by presentation of the Flour Power Trophy.
In the first episode, the focus is on the Forres branch of Moray Coast Vets.
However, Courier Country is well covered in future episodes.
On June 12, the focus is on Perth city centre hairdressing salon, John Gillespie and on July 17 its Cair O'Mohr Winery at Errol which is in the spotlight.
And on July 24, the episode focuses on 'Cake Thursdays' in Broughty-Ferry where a converted open-plan church houses graphic and brand consultancy Avian and web design and development agency Blue2.
Combined, these two companies are a cake-making force with employees following a rota to bring in home baking every week.
Joining Nichola to decide will be Dundee baker Alan Clark who knows a thing or two when it comes to cake.
Nichola said of the judging: "I really really enjoyed it. I guess I initially wondered if I would feel a bit nervous about it.
"I think having been running my business now for eight years and baking being such a central part of that, I guess it's something I probably do anyway for making sure the baking we are putting out is good enough and a good enough quality. Getting to bake all day is a nice way of life!
"It's also great that every episode has a winner.
"The money from the bake sale at the end goes to a charity of choice for the group taking part. They are the real winners!"
*Flour Power, Ep 1/10, airs on Wednesday June 5, BBC Scotland, 8.00-8.30pm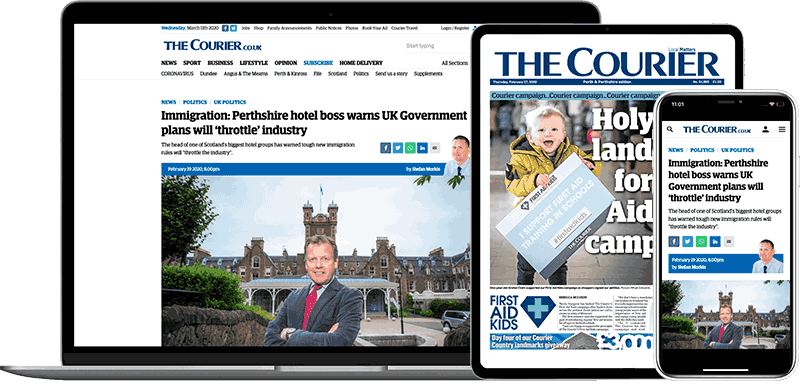 Help support quality local journalism … become a digital subscriber to The Courier
For as little as £5.99 a month you can access all of our content, including Premium articles.
Subscribe