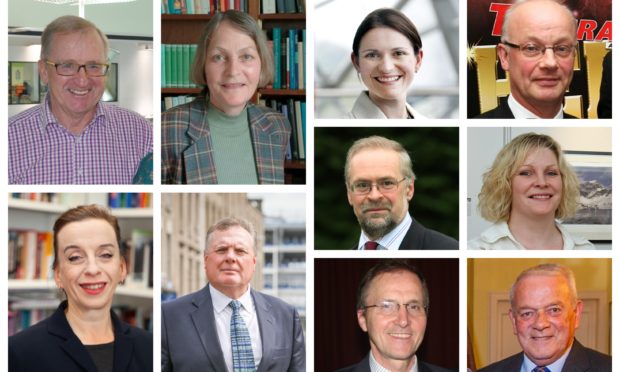 Locals from across Tayside and Fife have been recognised in the 2019 Queen's Birthday Honours List.
Prominent scientist Professor Ian Boyd, chief scientific adviser to the Department of Environment, Food and Rural Affairs, is to be awarded a knighthood.
He is formerly director of the Scottish Oceans Institute at St Andrews University and the Sea Mammal Research Unit.
In addition to his DEFRA brief, he holds a part-time post at St Andrews advising the principal's office on policy.
Dundeee's former executive director of city planning Mike Galloway has been made an OBE.
Mr Galloway masterminded the £1 billion redevelopment of Dundee's waterfront, including the V&A.
He retired shortly after the £80 million museum opened in September last year.
Born in Aberfeldy, the 62-year-old attended Perth Academy before completing a BSc (Hons) Town and Regional Planning from Dundee University, graduating in 1979.
He spent the next 18 years working across the UK on various urban regeneration projects.
Christine Sloan, 78, of Perth, was made an MBE for services to people with disabilities and to tourism.
Mrs Sloan is the founder of Crathie Opportunity Holidays in Aberdeenshire which she set up between 1996 and 2002 by renovating old stables in to disability focused holiday homes.
Mrs Sloan, who is now retired in Perth, said she was "overwhelmed" with the award.
Richard Brickley, president of Disability Sport Fife, was awarded an OBE for his services to disability sport.
Already an MBE, Mr Brickley, of Cupar, has helped to develop sporting opportunities for disabled people in the region since the mid-1970s.
A keen rugby player in his younger years, Mr Brickley as was assistant principle of the Fife Institute for Physical and Recreational Education in Glenrothes.
Ian Findlay, 58, from Comrie, has been awarded a CBE for services to healthy lifestyles and outdoor activities.
Mr Findlay is currently the Chief Officer of Paths For All where he has been in position for 16 years.
William Thomson, of Dunfermline, was made a CBE for services to the Scottish public sector.
Solicitor Mr Thomson was the Commissioner for Ethical Standards in Public Life from April 2014 until March, responsible for investigating complaints into conduct of MSPs, councillors and representatives of public bodies.
Professor Sarah Broadie, of St Andrews University, receives the OBE for services to classical philosophy.
Regarded as the world's foremost authority on Aristotle, Professor Broadie's 50-year career has included publishing seven books and 75 articles and reviews on classical and modern philosophy.
Professor Alison Watson, of St Andrews University, gets the OBE in recognition of her services to education.
She is an expert in international relations and co-founder of the Third Generation Project, a human and community rights think tank dedicating to empowering communities affected by climate change.
Alison Neil, South Georgia Heritage Trust (SGHT) chief executive officer, has been made an MBE for services to conservation.
SGHT was founded in 2005 to help conserve and protect wildlife as well as species of indigenous fauna and flora in South Georgia.
Callum Farquhar, of Low Valleyfield, was awarded the OBE for services to the Scouting movement.
He is regional commissioner for east Scotland and has dedicated three decades to building links with scout groups in Japan.
Charlie Brown, the national chairman of the Royal British Legion Scotland, was awarded an MBE for voluntary service to veterans in Scotland.
Mr Brown, from Forfar, has been involved with the Forfar branch for over 25 years.
Susan Peters, of Perth, was made an MBE for services to the economy and customer service due to her work as customer advisor at Aviva.
Christina Fraser MacDonald of the Carnoustie branch of the Royal British Legion Scotland got a British Empire Medal for voluntary service.
Eileen Joyce Lindsay. a dance teacher from the Lindsay School of Dance in Laurencekirk, has been awarded a BEM in recognition of services to dance and to the community in north-east Scotland.
Also receiving the BEM is Margaret Hall, of Dunfermline, for services to the Dunfermline community and the Kuvela Othandwen charity.
Fellow Fifer, Anne Hoggan, of Cupar's BEM is for services to her local community and to the Dr Graham's Homes charity – a cause of the which pays for the education, board and lodgings of around 250 children in Kalimpong, India.
Mary Conacher, 79, of Blairgowrie, was made BEM for services to kayaking and canoeing in Scotland.
David Smythe, chairman of the Association of Scotland's Self-Caterers, from Methven, was made an MBE for services to the tourism industry.
Michael Antony Robertson. conductor of the Carnoustie and District Youth Brass Band, has been awarded the BEM for services to music in Angus.
Mr Robertson was also conductor of the Carnoustie High School Brass Band which last year became the first such British school band to to perform in China.
Former Labour MEP and Catherine Stihler, a past rector of St Andrews University, has been awarded an OBE in the Queen's Birthday Honours for her service to politics.
Dundee-born woman Maggie Berry was made an OBE for services to women in business and technology.
Ms Berry, who has lived in London since 2000, was given the accolade for her work with WEConnect International as executive director for Europe.
The global venture supports female-owned businesses, encouraging supply chains to buy from businesses owned by women.
Ms Berry said: "I still don't know who nominated me, but I'm really chuffed.
"I've known for a while now that I was nominated, but I had to see it in black and white before I believed it.
"It's really exciting and if it helps promote the work of women then that's great."
Ms Berry grew up in Broughty Ferry and went to Grove Academy. She still has two brothers who live in Dundee.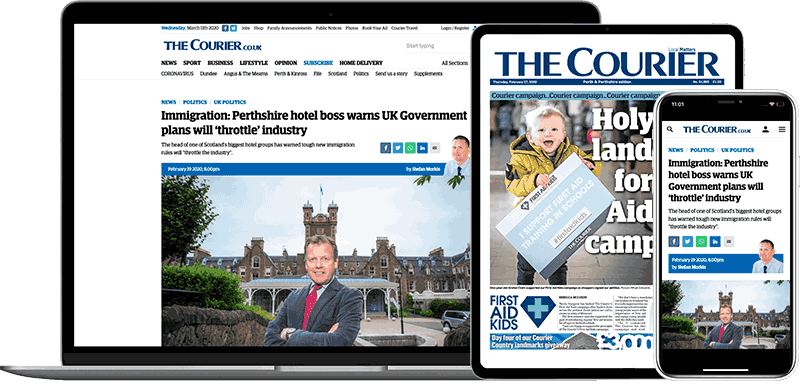 Help support quality local journalism … become a digital subscriber to The Courier
For as little as £5.99 a month you can access all of our content, including Premium articles.
Subscribe