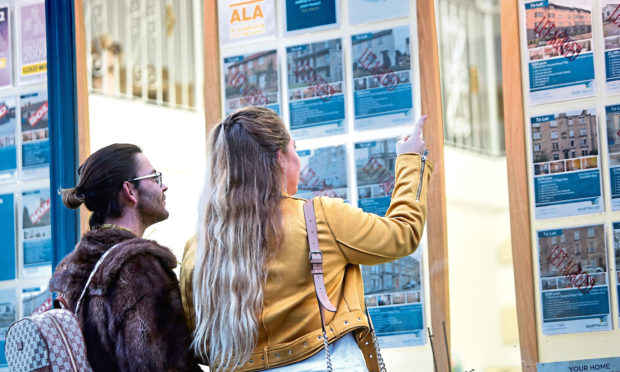 Dundee was the only city in Scotland to see a jump in the number of houses sold in the last year, as part of a V&A-inspired boost.
Residential property sales in the City of Discovery went up by 1.4% in the last financial year, while there was a slump in all six other Scottish cities.
Prices are also climbing in Dundee, rising 3.5% in the last year, while they fell by 3.1% in neighbouring Perth.
Registers of Scotland's Property Market Report for 2018-19 showed Perth was one of just two cities to suffer a drop in property value, along with Aberdeen, although average prices remain around £13,000 higher than in Dundee.
The report said: "In Dundee, the average price of a residential property for 2018-19 was £136,466, up 3.5% on 2017-18.
"Only semi-detached properties saw a decrease in average price between 2017-18 and 2018-19, with all other house types increasing over this time.
"Dundee was the only city where the volume of sales increased between 2017-18 and 2018-19, rising by 1.4% to 2,464 sales."
This comes after Scotland's Property Monitor research released last year showed the price of a home in Dundee is increasing faster than anywhere else north of the border.
At the time, the opening of the V&A was credited for the healthy market, along with first-time buyers snapping up homes while they were below the national average.
Elsewhere in Courier Country, some of Scotland's most expensive properties have been sold in St Andrews, with 41 fetching more than £1 million over the last 10 years.
Although St Andrews had a lower number of houses selling for £1m or more than in the capital, it had the highest average price at £1,564,376 – more than £136,000 higher than in Edinburgh's most expensive postcode
Concerns have been raised about the cost of a home in Fife, particularly around St Andrews, Cupar and the East Neuk, with politicians claiming local people are being priced out by an increasing demand for holiday homes.
Scottish market at 11-year high
The Scottish property market was worth £18.2 billion in 2018/19, according to a report.
Figures from the Registers of Scotland's Property Market Report 2018-19 indicate a 1.6% increase in value compared with 2017-18.
It marked an 11-year high, but is still below a pre-financial crisis figure of £23.1bn in 2007-08, as the average price of a residential property in Scotland hit £178,991.
The average price is a 2.2% rise on 2017-18 and 16% compared with 2007-08.
The volume of sales in 2018-19 fell slightly by 0.5% to 101,628 – but was still 44% up since the recent low in 2011-12.
Of the residential sales in 2018-19, 12% were new-builds and 28% were in Scotland's seven cities with the most sales in Glasgow.
In the non-residential market the total value was £4bn for 2018-19 with 81% in commercial sales.
The remainder was made up of sales from forestry, agriculture and land.