On the 10th anniversary of Scotland setting ambitious targets to cut carbon emissions, and as protests for greater change continue, Perth-based Royal Scottish Geographical Society chief executive Mike Robinson tells Michael Alexander what he thinks has to be done next.
It was 10 years ago on June 24 that the Scottish Parliament unanimously voted for a target to cut greenhouse gas emissions by 42% by 2020, the most ambitious climate change legislation at the time.
The vote to support Scotland's 2009 Climate Change Bill, set world-leading climate change targets and was even praised by the then Governor of California Arnold Schwarzenegger who said: "Scotland's ambitious and comprehensive targets encourage other nations to step up…it sends a message to the world that we must act now and we must act swiftly".
Measures included restrictions on the use of carbon credits, inclusion of aviation and shipping emissions, commitments on sustainable land use, public engagement, energy efficiency, renewable heat, warm buildings, micro generation and waste prevention.
It also established duties on all public bodies, and the requirement to reflect the carbon impact of national budget decisions. It even contained a charge for plastic carrier bags.
In production terms at least, those targets set in 2009 have already been exceeded and Scotland has developed an international reputation for leadership on this issue.
But with a Climate Emergency recently being declared in Scotland and more and more young people taking to the streets to express their concern, how can it be ensured the new 2019 Act, currently going through the Scottish Parliament, is as robust and cutting-edge as the last?
Chief Executive of the Perth-based Royal Scottish Geographical Society Mike Robinson played a significant role in shaping the 2009 Act as co-founder and chair of Stop Climate Chaos Scotland, the largest cross-sectoral, cross-party pressure group ever formed in Scotland.
He believes the first priority for the new Act, as identified by the recent UKCCC Net Zero report, is transport which has shown has little, if any, reduction in emissions.
"To date, there has been limited joined-up thinking on transport," Mr Robinson said, "but to tackle an issue as complex as this, we need to get better at collaboration between rail, road, aviation, public and active travel.
"One of the best examples of under-investment in this sector is the fact that trains from Edinburgh to Perth and Dundee are slower than they were in the late 19th century!"
Mr Robinson said the second key area is agriculture. To this end, he has recently been invited to co-chair a new independent climate change inquiry with the NFUS and Nourish Scotland to explore how a low carbon landscape can support a bright future for farming and food.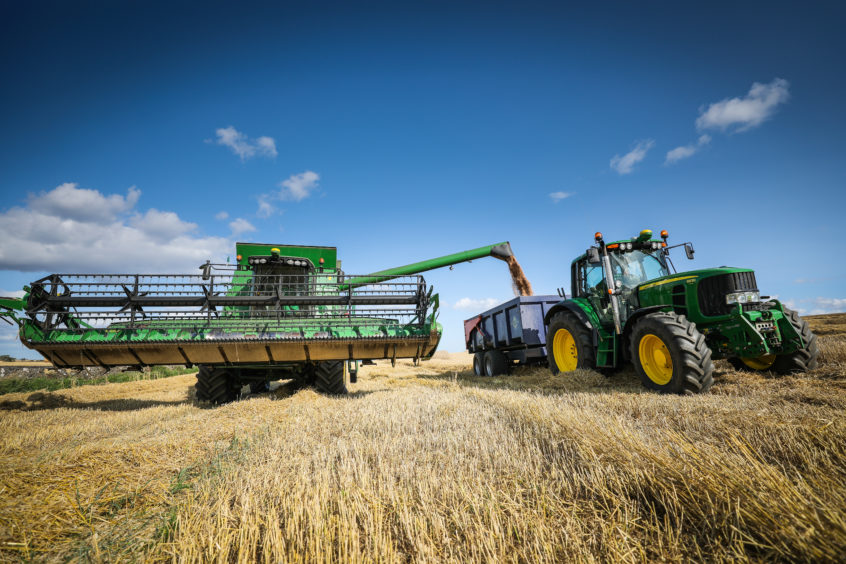 Over the next 12 months the panel will hear from a wide range of witnesses and bring together evidence and views from many different sources.
Its final report will propose agreed targets for reducing net greenhouse gas emissions from Scotland's agriculture and related land use while continuing to produce high quality food and will identify the specific measures needed to achieve these targets.
The third key area where Mr Robinson believes there has to be change is climate literacy – something the RSGS are leading with the development of a new Climate Solutions programme due to pilot this summer.
It aims to provide a quick, simple and rounded introduction to the fundamentals of climate change, its main solutions, and help explain how everyone and every organisation can play a role to reduce their emissions.
The project, which is being specifically written for businesses and managers, is being backed by big names such as environmentalist and explorer, Bertrand Piccard, the Cabinet Secretary for environment, climate change and land reform, Roseanna Cunningham, and the architect of the Paris Climate Agreement, Christiana Figueres.
She said of the project: "Climate change and its associated impacts will drive our markets and behaviours over the next few years and decades, influencing national and global trade, legislation, innovation and opportunity.
"Any organisation which does not understand this issue is at severe risk of losing competitiveness and even becoming obsolete."
With the support of Stirling and Edinburgh universities, the Institute of Directors, and backing by Scottish Government, the course will be delivered via three online modules and one face-to-face workshop.
Mr Robinson added: "It's been written with 'time poor' managers in mind with the hope that as many people as possible can improve their understanding. Climate Solutions will shortcut vast amounts of literature and learning with the aim of providing a good basic understanding of – and confidence in – the science, focusing on the minimum essential information.
"The longest module is about solutions – and what individuals and their organisations can do to help."
Swedish schoolgirl and instigator of the recent wave of global school strikes, Greta Thunberg, recently stated: "There is simply not enough time to wait for us to grow up and become the ones in charge."
This is something that Mr Robinson is keenly aware of, adding: "As a number of recent reports have made clear we are running out of time to tackle climate change, so it is vital that our generation takes action.
"We all need to understand the key solutions as we all can play a part in their delivery."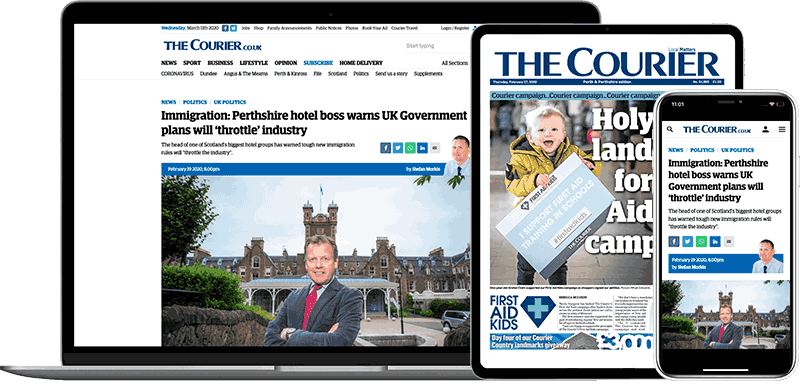 Help support quality local journalism … become a digital subscriber to The Courier
For as little as £5.99 a month you can access all of our content, including Premium articles.
Subscribe