Tayside and Fife could bask in the heatwave due to hit the UK later this week, according to an updated forecast.
Earlier this week the Met Office said locals were likely to miss out on the sweltering conditions, which were initially expected to peak in the Central Belt and west coast on Friday with highs of up to 28C.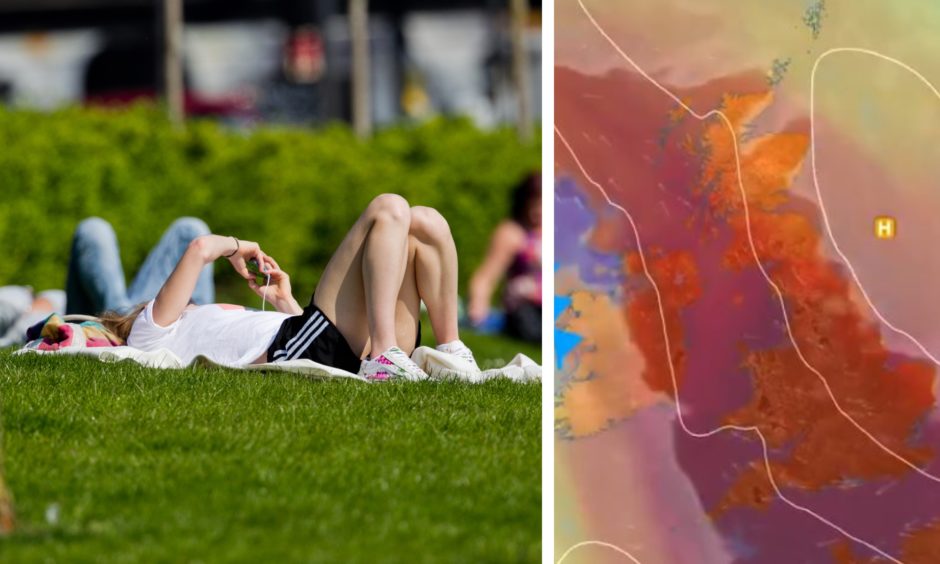 The east coast is due to be hit by fog and low temperatures on Friday.
Now the forecaster says the fine summery weather could move from the west to the east on Saturday with temperatures of up to 27C not ruled out.
The heatwave is arriving in the UK from Spain and France with potentially record-breaking highs possible in England, where 35C heat is predicted in the south-west.
The temperatures expected in Scotland on Friday and Saturday could surpass those of Tenerife and Lisbon in Portugal.
Heatwave to 'peak' on Friday with Scotland forecast to be hotter than Tenerife
Met Office meteorologist Greg Dewhurst said inland areas of Tayside and Fife could enjoy the heat on Friday as well.
Showers of rain, some of them "thundery", are possible on Saturday morning but will make way for warmer conditions.
Mr Dewhurst added: "On Thursday it will be about 21C. We are looking at max temperatures of about 22C-23C and then on Friday we will be up to inland temperatures of about 26C-27C.
"On Friday and Saturday we are seeing really seeing nice temperatures.
"Towards the east coast it will be a bit cloudy on Friday. There will be some cloud around during the day but as soon as you come inland it is sunny.
"On Friday in Scotland, away from the east coast and inland, anywhere could see 27C-28C.
"Generally it will be nice and sunny and warm and then similar on Saturday as well. It starts to turn fresh after Sunday.
"There is a risk of showers on Saturday morning that could turn thundery, one or two showers.
"On Saturday it becomes fresher in the west and the peak of the heat will be in the east where it will be in the mid-20s or even 27C-28C.
"It will be 27C towards Inverness-shire and Lossiemouth and 26C in Edinburgh. Those (temperatures) could be anywhere in the east.
"As soon as you get sunshine it is going to be lovely.
"Overall on Thursday, Friday and Saturday there is a lot of sunshine across the whole of the UK."