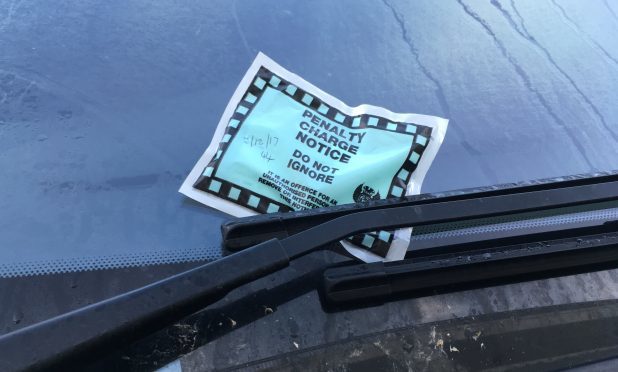 Motorists in Courier Country have been hammered with more than £2 million in parking fines in a single year.
Dundee City Council raised almost £850,000 through penalties for parking in the 2017/18 financial year, however this was down more than £67,000 on the previous year.
Perth and Kinross Council saw the biggest increase in income in 2018, taking in £471,000 in fine revenue – a rise of more than £124,000 from 2017 – which some critics believe could be linked to persistent problems with private parking firms in the Fair City.
Angus and Fife Councils saw more modest rises in fine income between 2017 and 2018, rising £23,000 and £16,000 respectively. The figures were revealed under Freedom of Information legislation as part of research led by insurer confused.com.
Scottish Conservative spokesman and Shadow Minister for Local Government, Alexander Stewart MSP warned councils should not see parking fines as an easy boost to their budgets.
He said: "Whilst on the surface it seems right and encouraging that councils are being proactive and gaining additional revenue through penalty charge notices; they need to be careful not to be seen as merely issuing tickets for anything and everything, with the position being that if you don't like it you can appeal.
"Care must also be taken for any renewed focus on PCNs not to act as a deterrent for visitors and tourists to our towns, as that is one of the risks of this increased activity.
"As council budgets are increasingly squeezed by SNP Government cuts, of course there is onus on councils to seek further necessary revenue by other means, however it is potentially wrong to view the motorist as an easy target."
Perth and North Perthshire MP Pete Wishart, who has previously campaigned against private parking firms, said he now intends to meet with bosses from Perth and Kinross Council to investigate the rise.
He said: "Now that we are starting to iron out some of the issues with private parking companies, I would be keen to meet with Perth and Kinross Council officials to discuss what has caused this dramatic rise in council parking fines."
Scottish Conservative MSP Liz Smith added: "The general public will be very suspicious that this happened at the same time as the recent controversy over some of the privately managed car parks wrongly issuing PCNs to motorists who had not, in fact, breached the regulations as had been alleged."
Perth and Kinross Council blamed the rise on increasing abuse of Blue Badge spaces.
A spokeswoman said: "There has been an issue in the past year with drivers not entitled to use disabled parking bays, which has led to an increased number of PCNs being issued; we continue to work hard to make sure drivers with Blue Badges can get into disabled spaces when they need.
"We have also, in the past year, recruited additional parking attendants who have identified and issued PCNs to more vehicles parked in contravention of the parking restrictions in place."
Confused.com said it had found three-quarters of PCN appeals were successful last year and urged drivers to challenge their tickets if they felt they had been targeted unfairly.