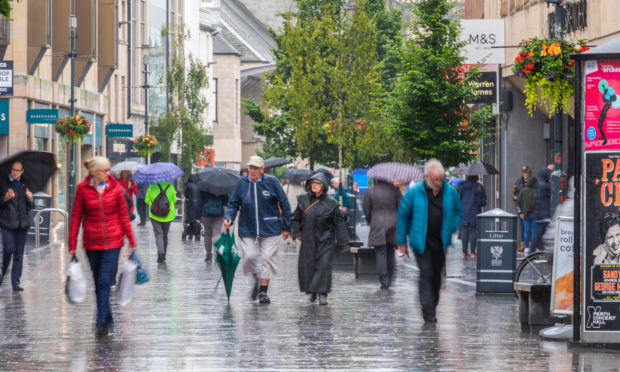 High street sales have fallen by the biggest margin on record this summer, leaving business owners in Tayside and Fife questioning how to survive an uncertain future.
The British Retail Consortium (BRC) described the state of the UK high street as "bleak", and also revealed that average total sales in the three months to June have fallen into negative territory of 0.1%.
Total sales fell 1.3% in June – the worst June since records began in 1995, or 1.6% on a like-for-like basis.
Brexit uncertainty has been blamed for the slump, although local issues including parking charges and poor weather have been blamed by companies in Courier Country.
Bruce Robertson of Angus Business and Retailers Association (ABRA) said high street shops have been hit with a "double whammy", adding: "We have had poor weather and parking charges imposed on us.
"People haven't got out into their gardens and they haven't bought the things they do when there is a good weather.
"But obviously parking charges are having a big effect and there is no doubt about that. Having experienced them for six months everybody is feeling their effect.
BRC cited last year's heatwave as a reason for unfavourable sales this summer but also blamed unease over Brexit.
Helen Dickinson, BRC chief executive, said: "Overall, the picture is bleak. Rising real wages have failed to translate into higher spending as ongoing Brexit uncertainty led consumers to put off non-essential purchases."
Bill Harvey, from Fife business improvement group Kirkcaldy4All, agreed both people and businesses are being more cautious when it comes to money.
"Uncertainty over Brexit undoubtedly has had an effect on the level of investment with less companies willing to make that sort of serious financial commitment in a time of such uncertainty," he said.
Dundee does not appear to have been hit especially hard last month, although community leaders say challenges remain.
Colin Clement from the Stobswell Forum, which campaigns to protect the area's main thoroughfare, Albert Street, said: "It's more over the last 18 months Albert Street has been struggling.
"The closure of three banks and a local health centre really hit us hard."
Perth is also riding out the storm, although city centre councillor Andrew Parrot pointed out independent traders are struggling to fight online retail giants.
"It's difficult to say if Perth is comparable to these figures, but our city centre does have one of the lowest vacancy rates in Scotland," he said.
"There are some serious problems facing high streets across Scotland and the UK, mainly the prevalence of internet shopping."