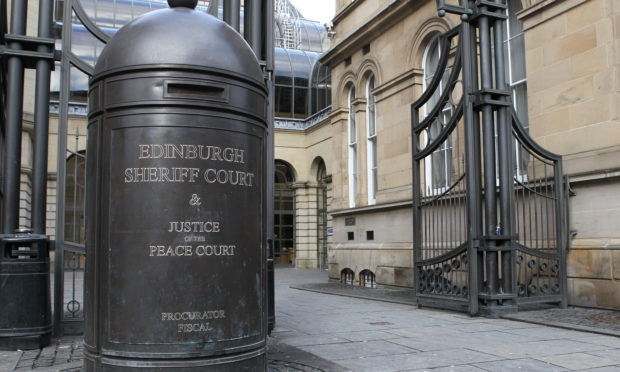 A prolific thief who stole more than £80,000 of books from three university libraries, which he sold on to online book stores, has been jailed for 25 months.
Darren Barr, 28, targeted colleges in Edinburgh between October 2017 and September 2018 and pocketed £30,450 in the scam.
At the capital's sheriff court, Sheriff Kenneth McGowan was told Barr stole thousands of texts from Edinburgh University, and Napier and Heriot-Watt universities.
He sold the texts on e-commerce sites like Webuybooks and Ziffit for a profit.
Barr was caught after a PhD student went to borrow a book. The court heard there were supposed to be six copies of the text but none were available.
After buying a copy from Webuybooks, the woman discovered it had actually come from her college library.
Barr, from Kinross, had pled guilty to four charges of theft.
Sheriff McGowan said: "What I have before me here is a course of conduct continuing over a lengthy period of 11 months during which a very substantial number of books were stolen from Napier University in particular.
"These were of a high value. There was clearly careful planning on your part. In my view a custodial sentence is appropriate."
The head of information services at Napier University was made aware of possible thefts from libraries at its campus sites at Craiglockhart and Sighthill in Edinburgh.
The witness was made aware of a student who had purchased two textbooks online through Amazon. On arrival both books were found to have a Napier University stamp.
A full stock check was conducted which confirmed between 4,000 and 4,250 books had been stolen, with a value of approximately £72,800.
He was arrested in September 2018 and officers found university textbooks in his car and home.
Similar scams were uncovered at Heriot Watt, from which 230 books valued at £9,200 were stolen, and Edinburgh University, with 26 books worth approximately £1,000 stolen.
Police discovered that WeBuyBooks paid the accused £10,612 for 1,995 books.
Ziffit paid £18,600 for 4,488 books and Zapper paid £1,238 for 253 books.
Barr's solicitor Murray Robertson acknowledged that the thefts caused significant loss to the universities involved but argued for unpaid work over a custodial sentence.
However Sheriff Buchanan jailed Barr, who now faces a proceeds of crime action later this year.