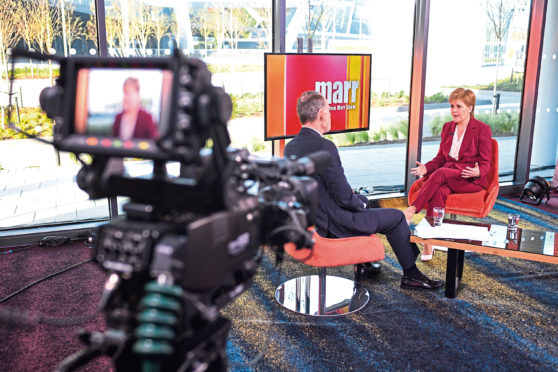 First Minister Nicola Sturgeon would not be drawn on whether a hard border would be put in place in the event of Scottish independence post Brexit.
Ms Sturgeon said she did not wish to see "any borders" when asked whether physical checkpoints would need to be established should Scotland be a member of the EU while England was not.
The SNP leader also said Jeremy Corbyn should not "even bother picking up the phone" to ask the SNP to support a Labour government unless he backed a second independence vote.
Ms Sturgeon said she would favour a "progressive type of alliance" if the Tories were ousted from power.
It comes as a poll in the Sunday Times showed 50% support for independence.
Speaking yesterday on the Andrew Marr Show, Ms Sturgeon said: "I say this to Jeremy Corbyn or any Westminster leader who's looking to the SNP for support, if you don't accept Scotland's right to choose our own future at a time of our own choosing, don't even bother picking up the phone to me."
When questioned on whether there would be a border between England and Scotland, the first minister said there were too many "ifs" to answer before she could say.
Mr Corbyn has previously stated a second Scottish independence referendum would not take place in the "formative years" of a Labour government.
Scottish Conservative leader Jackson Carlaw said: "Ms Sturgeon's comments simply underline that the SNP have always and will continue to use Brexit to further their own nationalist agenda.
"Sturgeon also knows both Corbyn and McDonnell would happily agree to indyref2 for a chance to get to Number 10.
"Only the Scottish Conservatives will stand up for the majority of Scots who do not want another divisive referendum."
The 50% figure backing independence marks a five point increase on the 45% Panelbase registered on average in its polls last year, which mirrored the 45% yes 55% no result of the 2014 independence referendum.
It is up on the 49% recorded in the paper's last poll in June and is a record high for its regular Panelbase polls on the issue.
Given a choice between a no-deal Brexit and an independent Scotland, there was a 54-46 lead for independence, up two points since April.
The poll of 1,003 voters in Scotland carried out between Wednesday and Friday indicates large gains for the SNP at the next general election, with the party on 39% – up one percentage point since June.
The Conservatives are also predicted to gain at 21%, up three percentage points since June, while Labour are on 19% – up two.
The Liberal Democrats are unchanged on 13% and the Greens unchanged on 2%, while the Brexit Party was on 5%, down four percentage points since June.
Scottish Labour leader Richard Leonard said: "We need to resolve the constitutional crisis – not create another one."