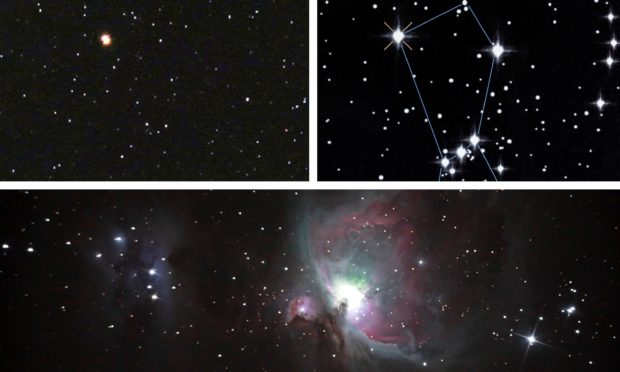 Locals across Tayside and Fife have been urged to look to the sky as the fascinating activity of the one of the most famous stars in the night sky draws increased intrigue from scientists.
Betelgeuse, in the Orion constellation, has dimmed to its lowest level of light in recent memory – and astronomers across the globe have taken note.
One of the galaxy's brightest stars is fading
One of the most notable stars in the night sky, it is located on the right shoulder of Orion and noted for its red-orange flicker.
Also one of the brightest stars in the galaxy, its famous glow has become fainter than it has been for generations after first dimming in October 2019.
By December, The Astronomer's Telegram reported that the star was the faintest it had been since photoelectric observations began, so much so that Betelgeuse went from our sixth brightest star to the 21st.
In his report, Edward Guinan of Villanova University said the star was "unusually cool and faint".
Betelgeuse is a variable star, and dimming is expected.
However this hasn't stopped the astronomy community from taking note, including members of the Dundee Astronomical Society who are watching the star with great interest.
Red supergiant's death will be spectacular
Once a super-massive star, Betelgeuse has expanded to become a red "supergiant" as it nears the end of its life.
And Betelgeuse's death, when it arrives, will be spectacular.
Nasa call supernovae "the largest explosion that takes place in space".
The light from Betelgeuse's final act will be visible from huge distances across the galaxy.
On earth, its death will bring the light of a full moon and could lead weeks, even months, of brightness.
'It does appear to have dimmed significantly'
Ken Kennedy of the Dundee Astronomical Society, and a director at the British Astronomical Association, said the coming months would be perfect for locals to observe the fascinating star.
Due to its huge size, Betelgeuse has a smaller lifespan than our nearest star, the sun.
While the centre of our solar system has a lifespan of up to 12 billion years, Betelgeuse will only last between eight-10 million years.
Mr Kennedy explained that the faintness of the giant star in the night sky is due to pulsations caused by the burning of chemicals in its core.
He added: "Betelgeuse has a short lifespan. When it becomes old like it is now, pressure in the core will vary as each of its layers starts to peel.
"It starts to pulsate at night and that is what is happening. It has been happening for some time.
"It does appear to have dimmed significantly in the past while. We don't know how long.
"Members of our society do look at variable stars. Betelgeuse is such a star that we can't compare it with anything. There is nothing to compare it with. There aren't the stars to compare it with.
"We can see the difference. My impression is that Betelgeuse is less bright than usual.
"It is like when a candle comes to an end. Its flame starts to flicker when it goes out. The star is doing the same.
"A red star is difficult to compare with similarly bright blue stars but it seems to me that Betelgeuse is not much brighter than Bellatrix (also in Orion).
"Bellatrix is around magnitude 1.6 and in comparison, I would estimate Betelgeuse to be around magnitude 1.3, not much brighter than Bellatrix and probably as dim as it has ever been.
"It usually sits at about magnitude 0.5 – the lower the magnitude number the brighter the star). That would make it around 2 to 2.5 times fainter than average.
"The explanation of this dimming is that the star is likely to be expanding in diameter following a previous contraction which allowed the core to heat and rebound."
Last supernova observed from earth was in 1054
A supernova hasn't been witnessed from earth since 1054, an event which was documented in ancient records in China, Japan and the Middle East. It was visible for about two years.
Mr Kennedy said: "Only two occur in the galaxy in a century. The last one noted was in 1054. I have photographed the remnants of that."
When will Betelgeuse 'blow'?
So are we about to witness Betelgeuse going supernova?
The truth is, nobody knows.
Mr Kennedy said Betelgeuse could disappear from the night sky tonight – or in ten millenniums time.
He added: "The most Interesting thing is: when is it going to 'blow'? What happens next is open to debate.
"When the surge has passed it will again contract, and become brighter, but eventually there will not be sufficient burnable fuel at the core; at which point it will collapse catastrophically when the temperature will rise extremely and the star will simply explode as a supernova.
"Will this happen on the next collapse? That's the real question, and it could, but I'm not going to speculate on that.
"If Betelgeuse goes it will be something special. When it does go it will probably be the brightness of a full moon. It might happen tomorrow, it might happen in 10,000 years.
"It is quite an interesting and difficult concept. I would love to see this happen, but in some ways I wouldn't. Betelgeuse is a red star I have used so often to point out to people."
So when is best to get view of the red giant?
When can I see Betelgeuse?
"Now is brilliant for viewing Betelgeuse," said Mr Kennedy.
"At about 9pm for the next two months or so at least. It is quite high in the south. Late evening just now is a brilliant time to see it."