One of the world's leading health experts says coronavirus-imposed lockdowns in place across Europe are only "buying time" in the fight against the pandemic.
The World Health Organisation's (WHO's) director-general Tedros Adhanom Ghebreyesus has called on countries to increase their testing capabilities and "attack" covid-19 while they can.
Earlier this week the whole of the UK was put into lockdown with Brits only allowed out of their homes for vital shopping, one daily exercise, to carry out medical care, or for travel to and from essential work.
However Dr Tedros has warned the lockdown could be for nothing if urgent action isn't taken against covid-19 – adding that closing schools and businesses alone "will not extinguish epidemics".
He said: "To slow the spread of covid-19, many countries have introduced unprecedented measures, at significant social and economic cost – closing schools and businesses, cancelling sporting events and asking people to stay home and stay safe.
"We understand that these countries are now trying to assess when and how they will be able to ease these measures.
Media briefing on #COVID19 with @DrTedros. #coronavirus https://t.co/4xooJ592ys

— World Health Organization (WHO) (@WHO) March 25, 2020
"The answer depends on what countries do while these population-wide measures are in place.
"Asking people to stay at home and shutting down population movement is buying time and reducing the pressure on health systems; but on their own, these measures will not extinguish epidemics.
"The point of these actions is to enable the more precise and targeted measures that are needed to stop transmission and save lives.
"We call on all countries who have introduced so-called 'lockdown' measures to use this time to attack the coronavirus".
He said: "You have created a second window of opportunity."
Dr Tedros called on countries enforcing lockdowns to "deploy healthcare and (the) public health workforce" in order to create a system which will find "every suspected case at community level".
He also said countries in lockdown should "ramp up the production, capacity and availability of testing".
Dr Tedros added: "Identify, adapt and equip facilities you will use to treat and isolate patients.
"Develop a clear plan and process to quarantine contacts. Refocus the whole of government on suppressing and controlling.
"These measures are the best way to suppress and stop transmission so that when restrictions are lifted, the coronavirus doesn't resurge.
"The last thing any country needs is to open schools and businesses, only to be forced to close them again because of a resurgence.
"Aggressive measures to find, isolate, test, treat and trace are not only the best and fastest way out of extreme social and economic restrictions – they're also the best way to prevent them."
The latest figures for the UK, released on Tuesday, show that 8,077 patients across the country have tested positive for covid-19. A total of 90,436 were screened for the virus.
Updated figures for Scotland on Wednesday showed 719 people have contracted coronavirus north of the border, with the death toll rising to 22.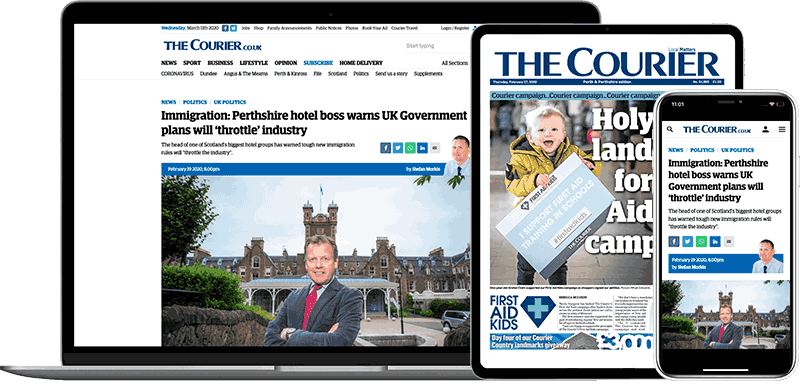 Help support quality local journalism … become a digital subscriber to The Courier
For as little as £5.99 a month you can access all of our content, including Premium articles.
Subscribe