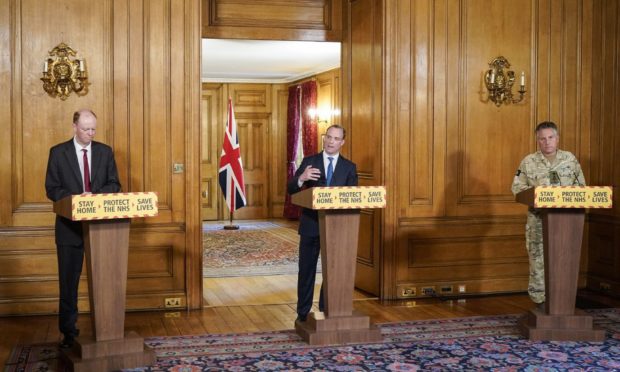 The head of the Armed Forces has described the support the military has been giving to the NHS as the "single greatest logistic challenge that I have come across".
Chief of the Defence Staff, General Sir Nick Carter spoke during yesterday's daily UK coronavirus press conference.
He said: "We've been giving support to the Department for Health and Social Care, and of course the NHS.
"First and foremost this has been a logistic task and I would say that I think in all of my 40 years of service this is the single greatest logistic challenge that I have come across."
He said in 25 days the NHS had gone from 240 customers they deliver to normally to nearly 50,000 customers, which involved creating 260,000 sq ft of distribution warehousing. Gen Carter added: "Our role has been entirely in support of the heroic healthcare workers on the frontline – that's the NHS and social care –with humility very much being our watchword in the way that we give that support."
The force is also preparing mobile pop-up testing centres in a bid to roll out more Covid-19 testing.
"We think the innovative idea of pop-ups, rather like mobile libraries, would be a very useful way of going," he said.
"What we are trying to do at the moment is up-scale that idea so that we have enough capacity to get out into those areas which are harder to reach."
He told the briefing more armed forces personnel could be deployed in the fight against coronavirus if required.
General Carter also praised Second World War veteran Captain Tom Moore, whose fundraising for the NHS "embodies the sense of service and duty ingrained" in Britain's military.
Captain Moore has raised more than £28m for the NHS by walking 100 laps of his garden before his 100th birthday on April 30.
General Carter said: "I think everyone would agree that Captain Tom Moore embodies the sense of service and duty ingrained in our Armed Forces."
During the briefing, England's Chief Medical Officer Professor Chris Whitty said the wholesale lifting of the lockdown is a "wholly unreasonable" expectation, as ministers work to calculate a balance between restrictions and freedoms.
Professor Whitty said a trade-off must ensure any easing of the measures does not allow the disease to spread and overwhelm the NHS".
His remarks at the Downing Street press conference yesterday came after Health Secretary Matt Hancock said large-scale contact tracing of cases was a way of easing restrictions.
With the UK believed to have reached the peak of the crisis, the government is trying to work out how measures can be eased to boost the economy and improve lives under strain by the lockdown.
Professor Whitty explained that any alterations must ensure the R value, or the average number of cases spread by an infected person, stays below one otherwise the NHS will be quickly overwhelmed by a rapid spread.
"We have to be very realistic. If people are hoping it's suddenly going to move from where we are in lockdown to where suddenly everything is gone, that is a wholly unrealistic expectation," he said.
"We are going to have to do a lot of things for really quite a long period of time, the question is what is the best package.
"If you release more on one area you have to keep on board more of another area so there's a proper trade-off and this is what ministers are having to consider."
Professor Whitty said social distancing will have to stay until either a vaccine or highly effective drugs that prevent deaths are deployed on a large scale. But until that point, that is what we will have to do but it will be the best combination that maximises the outlooks but it's going to take a long time and I think we need to be aware of that," he added.
Ministers have a range of options available. For instance, they could allow a return to school, permit certain industries to resume, or allow limited social gatherings.
But if the combination introduced allows infections to spiral then a second lockdown would need to be enforced.
Mr Hancock earlier told MPs that the country had "reached the peak" of the Covid-19 outbreak.
"We are ramping up our testing capacity and our capacity for contact tracing in a matter of weeks," he told the House of Commons.
Tracking down cases would allow new infections to be identified so individuals and anyone they have been in close contact with could go into isolation so they do not spread the virus further.
But Mr Hancock has weathered criticism that the UK is a long way off its 100,000-a-day target for testing by the end of the month.
The latest figures showed less than half the testing capacity was used in the 24 hours up to 9am on Tuesday. Capacity stood at 41,398 but only 18,206 tests were carried out over the period in England, Wales and Scotland.