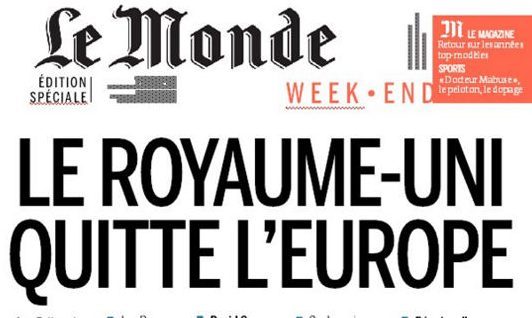 Britain's decision to leave the European Union "stunned the world" and dominated headlines internationally.
The headline on the front of Europe's biggest selling newspaper Bild simply said 'OUT!'.
The German publication, which this week promised to accept Geoff Hurst's controversial 1966 World Cup goal if Britain voted to stay in the EU,, said: "The British referendum must lead to a reform of the European Union!" and went on to list eight things the EU must do to recover.
Another influential German publication Spiegel said the result was the "big bang", adding: "The unimaginable has happened."
In France, Le Figaro warned fear could spread across Europe in a domino effect starting with France and the Netherlands.
As French papers focused on panic spreading across Europe in the wake of the historic vote Le Monde wrote: "Brexit: The entire European project put into question" as La Liberation declared: "UK, torn apart, votes to leave the EU."
In Belgium La Libre said the decision to leave has put an "untenable pressure" across Europe.
As the far-right celebrated in Austria, it's national paper said "Deep black day in the history of Europe".
In Italy, La Stampa said there is a "profound risk" that the anti-Brussels sentiment will spread across the continent.
La Repubblica led with "Great Britain to leave the EU, Farage rejoices" and online added "Rumours of Cameron's resignation. Sterling plunges, financial markets in panic".
The editor of La Repubblica Mario Calabresi tweeted: "Britain is leaving. It always kept one foot outside Europe, but Europe will now be smaller and more fragile".
In the USA, the New York Times declared "British stun world with vote to exit EU" shaking markets".
In a bleak opinion piece the LA Times said: "British voters willfully walked off a cliff when they decided to leave the European Union. The "Brexit" victory is a defeat for Britain, Europe and the global economy."
The West Coast US paper added "Britain is once again an island" and highlighted how the vote divided the UK.
Meanwhile, in the Moscow Times, the outspoken leader of Russia' s LDPR Party Vladimir Zhirinovsky called the decision of the British people "a great act of bravery."
"Following Britain, NATO, Schengen and the euro will collapse, " said Zhirinovsky.
"Long live the Russian ruble and the development of relations with all the democratic countries of Europe!".
The mayor of Moscow Sergei Sobyanin wrote on Twitter that "Without the U.K., there will be nobody in the EU to defend sanctions against Russia so zealously."
malexander@thecourier.co.uk