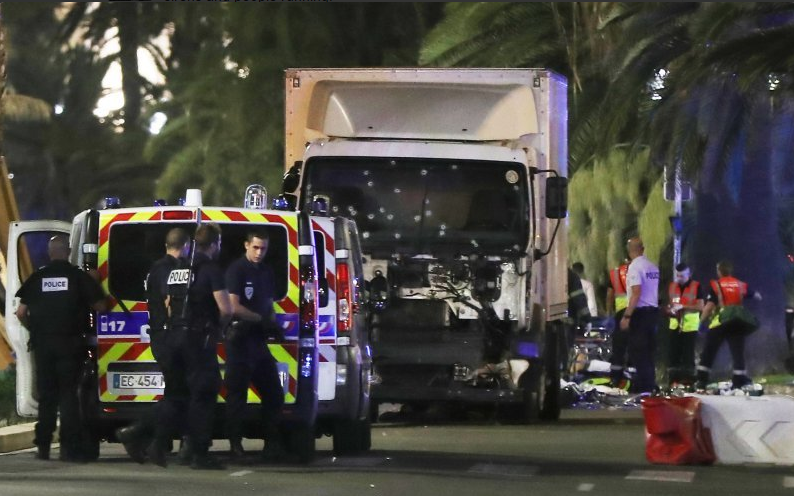 At least 84 people have been killed and dozens more seriously injured in a lorry attack on a Bastille Day celebration in Nice.
Chaos erupted on the streets of the Mediterranean city on Thursday night after the lorry ploughed into revellers who had gathered to celebrate the French national day.
French prosecutors said they had launched a terrorism investigation after the truck was driven through crowds of people for more than a mile, zig-zagging to cause maximum carnage.
The driver was shot dead by police who opened fire on the cab and ended the slaughter.
A Perthshire woman who was there on holiday told of her lucky escape.
Sandra Kinloch, from Stanley, said: "We were two metres away from the truck as it went past at speed.
"Really scary moment and horrid to see so many people dead. In our
apartment now safe."
A Scottish couple from Helensburgh  reported missing by their family following the incident have been found safe and well.
Ross and Carole Annie Cowan were in Nice on holiday.
Nice regional president Christian Estrosi, who was at the celebration when the atrocity happened, called the attack "the worst tragedy in the history of Nice".
"We want to present to all the families our sincere condolences," he said.
Mr Estrosi said the truck was loaded with arms and grenades.
Nice prosecutor Jean-Michel Prette said bodies were strewn about along the roadway. There are 15 critically injured.
Interior Ministry spokesman Pierre-Henry Brandet told BFM TV: "It's going to be a very high toll."
Pictures and footage shown on social media showed crowds fleeing in terror from the scene on the Promenade des Anglais, which was busy with revellers celebrating and watching fireworks.
Witnesses reported hearing gunshots, and pictures on social media showed armed police with weapons trained on a badly damaged white lorry with what appeared to be bullet holes in the windscreen.
It is being claimed the driver of the lorry was a 31-year-old French-Tunisian man.
Sources were cited as saying the suspect was known to police in connection with common law crimes but not to French intelligence services.
In a press conference at the scene, French interior minister Bernard Cazeneuve said identification of the criminal was in progress, refusing to confirm reports that an ID card was found.
Nice Matin journalist Damien Allemand, who was at the waterside, said the fireworks display had finished and the crowd had got up to leave when they heard a noise and cries.
"A fraction of a second later, an enormous white truck came along at a crazy speed, turning the wheel to mow down the maximum number of people," he said.
"I saw bodies flying like bowling pins along its route. Heard noises, cries that I will never forget."
Prime Minister Theresa May has said Britain must redouble its efforts to defeat"brutal" terrorist "murderers" after the "horrifying" attack in Nice, France, and has called a meeting of senior officials in the Government's emergency Cobra committee.
Mrs May said the Government was working to establish whether any British nationals were caught up in the attack.
"Our hearts go out to the French people and all those who have lost loved ones or been injured," she said.
"While the full picture is still emerging, it seems that at least 80 people are feared dead and many others have been injured.
"It was innocent victims enjoying a national celebration with their friends and families.
"We are working urgently to establish whether any British nationals were caught up in the attack.
"Our ambassador is travelling to Nice today with consular staff and they will be doing all they can to help anyone affected."
France is still on alert after the Paris terror attacks on November 13, in which 130 people were killed.
Police in Scotland have reviewed security arrangements as a precautionary measure following the attack in Nice.
The force stressed there is no specific information which suggests the country is at risk, but the UK threat level remains at "severe".
At least 84 people, including several children, were killed when a terrorist drove a truck through crowds celebrating Bastille Day in the French city.
First Minister Nicola Sturgeon wrote on Twitter: "My thoughts are with all those affected by this senseless attack on Nice. Scotland stands in sadness and solidarity with France."
Two Americans are among those killed in the terror attack in Nice.
The US State Department did not identify the pair by name but it has been reported the two Americans who died are Sean Copeland, 51, and his 11-year-old son Brodie.