As English apple producers suggest Brexit could provide them with an economic boost, could Tayside and Fife's historic orchards have a bright future of their own? Michael Alexander found out.
English apple growers are reportedly hoping that a late but bountiful season will be met with renewed enthusiasm from consumers wanting to support local producers post-Brexit.
The English apple season started yesterday in earnest, two weeks later than last year in large part because the poor spring weather in much of England, held blossom growth back.
Producers say the long, hot summer has led to a crop that is full of flavour and juice and fruit that is particularly vibrant in colour because of the high levels of sunlight, particularly over the last few weeks.
Common sense
But just weeks after it was reported that Tesco was removing the Saltire from packs of Scottish strawberries and replacing them with the Union Flag for "consistency", is Brexit likely to have an impact on the apple trade in Scotland?
Not according to Dan Connolly, owner/manager of independent company Fìor Fruit Merchants near Collessie in north Fife.
The company sources apples for its fruit juices from a single farm in Kent.
And rather than being a question of patriotism, Mr Connolly says it's a question of "common sense" – if there is a consistently good quality and price.
He says: "We always use the same farm in Kent to get that consistency, high sugar level and quality for our products.
"My feeling about sourcing in general is that if you have great strawberries across the Tay, then get them there. It's the same with apples. Kent being the 'garden of England', why ship them in from the US or South America?"
Biodiversity
With its high sunshine averages, the Carse of Gowrie was synonymous with apple, pear and plum growing for 800 years.
From the medieval monastery orchards in the 12 century and the revival of interest in such fruit during the Victorian era, it was only in the 20th century that soft fruit became more dominant in the Carse.
Today, the important role that orchards have for biodiversity is recognised by the Historic Orchards Forum which works within the Carse to encourage the safeguarding and maintenance of the old traditional orchards, together with the creation of new orchards and fruit tree plantings.
However, according to Simon Fewster, head forager at Cairn O'Mohr fruit wines at Errol, many mass produced apples sold in the UK like Cox, Gala and Braeburn are grown in England anyway. And Cairn O' Mohr, by contrast, sources everything much closer to home.
"From our point of view we use apples for our cider and apple juice that are locally sourced in the Carse of Gowrie with the furthest away from Newburgh and a couple from Coupar Angus," explains Simon.
"Will Brexit affect us? I have to say I don't think so. We don't commercially buy any of our apples. We knock on doors and ask if we can use apples from peoples' gardens. We used something like 46 tonnes last year."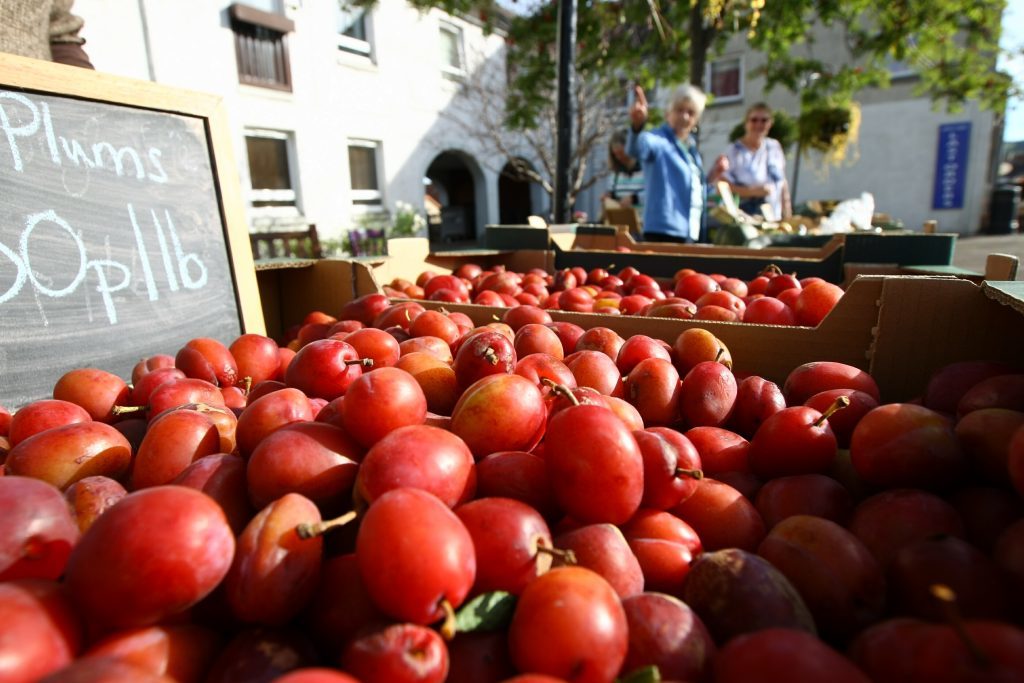 Back over in north Fife, Newburgh Orchard Group (NOG) was created by local people in June 2002.
Its aims include to preserve, maintain and develop Newburgh's centuries-old heritage as an historic fruit growing area and to enable local people to gain enjoyment and economic benefit from fruit growing.
Every year, NOG organises markets to sell the fruit from the local orchards. The last of this season's three plum markets was held in Newburgh on Saturday with the next apple market to be held from 9.30am to 12.30pm on October 1.
Supermarkets
Paul Dodman, who has been involved with the group from its early days, also doesn't see Brexit having an impact on either local fruit or the wider industry.
"A lot of the fruit bought by the big supermarkets comes from the EU and further afield," he says.
"They tend to source produce from wherever they can to satisfy demand.  I don't see that changing."
Paul said that for a lot of people, the chance to buy locally-grown fruit – sometimes including misshapen examples and varieties not commercially available – was down to "curiosity".
However, Fife-based environmental consultant Crispin Hayes, 50, believes the east of Scotland's potential for a resurgence of orchards goes much further. This is less to do with politics and more to do with sustainability – and a consequence of global warming which is likely to see the east coast become even drier.
Commodity
As part of Orchard Revival, he is working with community organisations to map Scotland's historic orchards.
He adds: "We will never compete with commodity products in supermarkets – the stuff from the likes of Italy, France or Poland which is one of the biggest apple producers in the world. But we thoroughly believe there can be a resurgence of the commercial orchard industry in Scotland. There's a big difference between the climate on the east and west, and while I'm not saying global warming is a good thing, it might actually help the east coast to become a centre of the orchard industry in future."
malexander@thecourier.co.uk