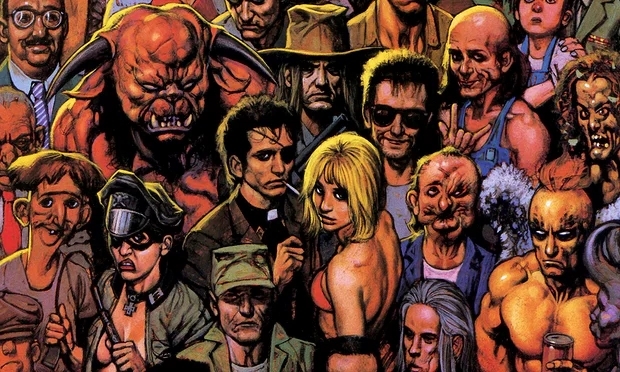 Comic book genius Steve Dillon, who is best known for his artwork on Judge Dredd, Preacher and The Punisher, has died at 54.
His brother Glyn, who wrote the graphic novel The Nao Of Brown and was co-costume designer on the film Rogue One – A Star Wars Story, confirmed on Twitter that his "big brother" and "hero" had died.
He wrote: "Sad to confirm the death of Steve, my big brother and my hero. He passed away in the city he loved (NYC). He will be sorely missed. Cheers x."
Dillon, who was born in Luton, Bedfordshire, started his career by drawing Nick Fury for Hulk magazine when he was 16.
He went on to become a much-loved artist to generations of comic book fans.
Actor and film-maker Seth Rogen wrote: "Devastated by the loss of Steve Dillon. My favorite comic artist who drew my favorite comics. RIP."
Tributes have been made by various notable figures from the comic book industry, including author and onetime collaborator Neil Gaiman, who added: "Just heard about Steve Dillon's passing. It's been so long since we've talked, but he was kind to a young writer long ago, and a good guy."
Wonder Woman artist Liam Sharp wrote: "My old friend Steve Dillon has died. He was like my industry big brother. Pragmatic to the core, casually cool, and effortlessly brilliant."
Not from this date, but a classic cover in memory of Steve Dillon. 2000 AD Prog 328 (6th August, 1983). RIP Steve. pic.twitter.com/804k50KxWv

— 2000 AD (@2000AD) October 22, 2016
We're sorry to learn of the sad passing of Steve Dillon. A big loss to British comics – and comic fans worldwide. pic.twitter.com/Vqe8zmj8K8

— Beano (@BeanoOfficial) October 24, 2016
Steve Dillon was one of our best quiet dramatists. Will miss him RIP https://t.co/5W7DBv2sKm

— Frank Miller (@FrankMillerInk) October 22, 2016
Legendary #Preacher co-creator & amazing artist STEVE DILLON has passed away. I had a meal with him in TriBeCa years back. Such a great guy.

— KevinSmith (@ThatKevinSmith) October 23, 2016
Marvel Entertainment, which ran much of Dillon's best known work, said: "Marvel is saddened by the passing of Steve Dillon, a great storyteller. We offer condolences to his family and remember his incredible work."
Doctor Who Magazine tweeted: "We're saddened to report the death of Steve Dillon, one of Doctor Who Magazine's earliest artists, and co-creator of Abslom Daak. RIP Steve."
Vertigo Comics tweeted: "We lost a giant among creators and artists today. Steve Dillon will be missed by us all here at DC and Vertigo."