A divisive BBC comedy sketch portraying 'The Real Houswives of ISIS' has provoked a stir online.
The parody, which is being used to trail a new BBC Two series called Revolting, mocks British women who have ejected from their western lives to marry ISIS fighters.
It portrays four jihadi brides who offer a tongue-in-cheek look behind the scenes of life in Syria, presented in the style of a popular American series which follows wealthy housewives in Beverly Hills.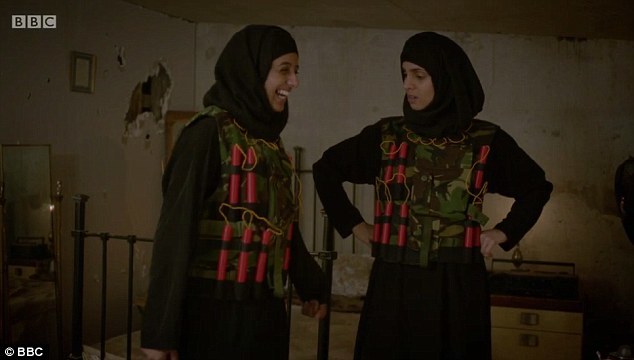 The two-minute skit sees the women modelling suicide vests, questioning one another's sartorial choices, expressing mock satisfaction with their new domestic situation and ultimately lamenting the life they leave behind.
Some observers have taken exception, one Twitter user named Ash Kane saying that the BBC are "adding to the negative stereotype" of females dressed in Islamic attire.
'Real Housewives of ISIS' will make Hijabis feel more isolated n targeted by Islamophobes. Thanks @BBC for adding to the negative stereotype

— asʜ (@AshKaneSkittles) January 4, 2017
Selin Kara questioned its categorisation as 'satire' and 'comedy material.
. @BBC airing a show based on a terrorist group who has killed and continues to oppress and kill those in the ME is not comedy material.

— Selin Kara (@selinkxv) January 4, 2017
Political commentator Sunny Hundal said that he believes many of those aggrieved by the sketch would have taken umbrage at the hit radio and TV show Goodness Gracious Me, which explored the conflict and integration of Indian culture and British life.
I have a feeling most of those criticising Real Housewives of ISIS would have earlier declared Goodness Gracious Me as a racist outrage too

— Sunny Hundal (@sunny_hundal) January 5, 2017
Another commentator under the name Sardonic Sun God said that such satire was "valid criticism infused with the power of sardonic and irreverent humour."
Political satire is often valid criticism infused with the power of sardonic and irreverent humor. Real Housewives of ISIS is a great skit!

— Glass Half-Full Kinda Guy (@iam_probably) January 6, 2017
A representative for BBC comedy said: "It's satire, and the BBC has a rich history of satire."
BBC Two has form for nurturing and producing close-to-the-bone satire, having helped launch the television careers of black humoured surrealists The League of Gentlemen and cult Glasgow comic Brian "Limmy" Limmond.
Revolting dubs itself as a 'Comedy series satirising the state of the nation' in the spirit of Spitting Image and Brass Eye, which both pulled no punches in lampooning current affairs and moral crises throughout the 80s and 90s respectively.