It's no secret that bees are in trouble, but what's killing them? As St Andrews University statisticians debunk the latest research as 'misleading' and statistically unsound, Michael Alexander investigates.
It was renowned American biologist Edward Osborne Wilson who once said: "If all mankind were to disappear, the world would regenerate back to the rich state of equilibrium that existed 10,000 years ago. If insects were to vanish, the environment would collapse into chaos."
It's been well documented that the world's bumblebee populations are declining – and the potential implications for the human race and wider ecosystem, if left unchecked, could be catastrophic.
As pollinators, bees have a key role in producing much of the food that we eat – so the fact there are now just 25 native species in the UK compared with 50 in the 1950's should be cause for great concern.
Abandonment of traditional farming practices, the subsequent loss of 97% of Britain's flower rich grasslands since the 1930's and invasive bee species have all been cited as fundamental reasons for the change.
What's been more difficult, however, is landing on a definitive cause-and-effect between pesticides and the death of honey bees.
Now fresh debate has ignited after statisticians at St Andrews University described research from a global agrochemical company as "misleading".
A major study published last year by Switzerland-based Syngenta concluded there was only a "low risk" to honey bees from neonicotinoids, which it described as some of the most effective forms of crop protection available.
This followed a European Union-wide moratorium being put in place after some studies showed the pesticide caused significant harm to bees.
But research at the St Andrews Centre for Research into Ecological and Environmental Modelling (CREEM) has described the Syngenta research as "misleading" and not up to statistical scrutiny.
An investigation conducted by St Andrews academics Dr Robert Schick, Professor Jeremy Greenwood and Professor Steve Buckland shows even large and important effects could have been missed because the Syngenta study was statistically too small.
Their findings were published on January 23 in the international journal Environmental Sciences Europe.
The Syngenta study involved two experiments: an oil seed rape experiment conducted at two locations and a maize experiment at three locations.
At each location the experiments used pairs of fields – in one field the crop was treated with thiamethoxam at levels normally used by farmers, in the other field the crop was untreated.
The St Andrews team believe this is fundamentally wrong because formal statistical analysis is only potentially misleading if the wrong method is used and because the mere, subjective, inspection of the results is always potentially misleading.
Professor Greenwood said:"In order to reach valid conclusions about the results of an experiment such as this, one needs not just to estimate the effect of the treatment but also to measure the precision of the estimate.  That is what we have done, using standard statistical techniques.
"What we found was that the estimates of the treatment effects were so imprecise that one could not tell whether the effects were either too small to pose a problem or, in contrast, so large as to be of serious concern.
"In effect, the experiments were on such a small scale that little useful could be concluded from them."
A spokesman for Syngenta said in a statement: "The study published by researchers at St Andrews University focuses on the argument that due to the low statistical power of the study design this study cannot be used to rule out the possibility of an adverse effect.
"However, they fail to acknowledge the wealth of informative data generated from these field trials that equally provides no evidence for an adverse effect either.
"Pilling et al.'s paper was extensively reviewed by five referees during the original review process, followed by a second post-publication independent editorial review, where it was concluded that this paper was a useful addition to scientific literature.
"In the end, the conclusion of low risk in Pilling et al. was informed by an expert analysis of the full biological and chemical data generated in this study as well as the supporting literature quoted at the time.
" Importantly, it should be noted that subsequent published honeybee field effect studies conducted with thiamethoxam seed-treated oilseed rape have reported similar conclusions to Pilling et al., i.e. a low risk to honeybees under field conditions of use."
Greenpeace UK chief scientist Dr Doug Parr said:"This is yet another blow to the credibility of corporate-funded studies purporting to show that neonicotinoids are safe for bees.
"A growing body of independent research has shown that the opposite is true. These neurotoxic pesticides do pose a risk to bees while also spreading and building up in the environment where they can impact other wildlife.
"Bees are a vital pillar of our food chain and our environment, and we should take no chances with their well-being.
"The EU will decide later this year whether to renew a ban on neonicotinoids. Based on the available evidence, the UK government should be pushing for an extension and a widening of the current ban to fully protect our bees and wildlife from harmful pesticides."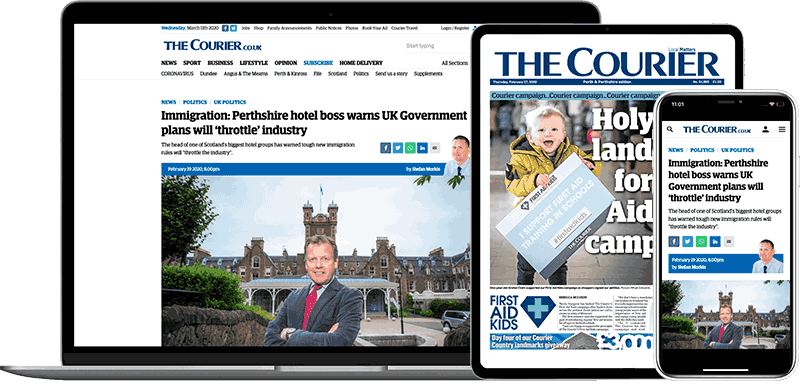 Help support quality local journalism … become a digital subscriber to The Courier
For as little as £5.99 a month you can access all of our content, including Premium articles.
Subscribe