As the US Senate votes to shoot down regulation that would prevent the mentally ill from buying firearms, an Angus man's photojournalism project is targeting gun violence in the United States. Michael Alexander reports.
When Donald Trump was sworn in as the 45th president of the United States on January 20, few breathed a greater sigh of relief than the five million members of the National Rifle Association of America (NRA).
The powerful gun lobby, which represents around 6% of America's estimated 81 million adult gun owners, regarded Trump's election as an important means of protecting the US Constitution's Second Amendment – the principle that in a government of laws, and not of men, ultimate power and authority reside with the people.
That includes the power of self-defence, so that no person is left to depend solely on the state's good graces for his or her very life.
But there's a heavy price to pay for the estimated 300 million guns circulating within the USA.
According to the American government's own statistics, an average of 11,737 people are shot dead annually by fellow Americans, including 21 shot dead accidentally each year by armed toddlers.
The "madness" of the situation is central to the work of Angus-based lawyer and photographer Jamie Hunter, whose new photojournalism project – Guns in America: Where Do You Go From Here? – showcases a series of 84 frank images and text that explores both sides of the gun issue: survivors of gun violence and advocates of gun control in Chicago, juxtaposed with images of gun owners in the affluent suburb of Southlake, Texas.
Until recently, Jamie, 35, of Edzell – a former Banchory Academy pupil and Aberdeen University law graduate – worked as a planning specialist on projects across the UK including the Trump Organisation's controversial golf course development in Aberdeenshire.
"I was involved latterly with the application for the second golf course – not the initial controversy – although we did have a few stooshies over a flagpole and the clubhouse," he said.
Deciding to take a sabbatical from work as a planning consultant, however, it was his long standing interest in photojournalism, and a desire to better understand the impact of gun violence and the continued resistance to gun control in America, that led him to travel to the US in October and December 2016.
"It was something that always interested me," he explained.
"The whole debate about gun control and how the USA and UK were very similar in many ways but so different when it came to the attitude to guns.
"It was after the Pulse Nightclub shootings in Orlando last summer (when 49 people were killed and dozens more wounded) that I decided to do something about it.  I was on holiday with the family in France. I remember watching the news and thinking 'here we go again…'. The reaction from politicians was always the same but nothing ever changes."
Jamie travelled to Chicago and Texas where he aimed to capture the faces and stories behind the headlines. They included the Chicago mothers who are grieving lost sons, the Texans who rushed to buy guns in reaction to Obama's election, and those caught in the middle.
"Americans have succeeded in killing more Americans than anyone else," added Jamie.
"They worry about terrorism, they worry about who's going to attack them from the outside, when in fact the most lethal person for an American is almost guaranteed to be another American."
Jamie admits he found the logic of gun owners in Texas difficult to follow.
"Something I heard several times in Texas was, ʽAn armed society is a polite society," he said.
"People are more polite to each other around here than they would be in other states, because you never know who's got a gun in their car.' Lots of these people genuinely feel that they are safer with guns."
Squaring pro-gun arguments with the grief and pain left in the wake of gun violence seems impossible, but he was surprised to learn that the gap between supporters of gun rights and gun-control advocates is not as wide as it seems.
"It would be nice for the two sides to understand each other a little better, because I don't think that the gulf that they perceive between them does actually exist," he said, noting that most gun owners he met were open to the idea of background checks and psychological evaluations, and most were okay with tighter federal controls.
"That's really all that most of the gun-violence-prevention advocates I met are asking for," he said.
Jamie, who went shooting at a Texan gun range during his trip, met Donald Trump at the opening of his Aberdeenshire golf course.
However, he sees no sign that the president will do anything to tighten gun control.
On the contrary,  the evidence so far suggests that gun controls might get looser.
*Guns in America: Where Do You Go From Here? will be exhibited in galleries in the UK and US in late 2017.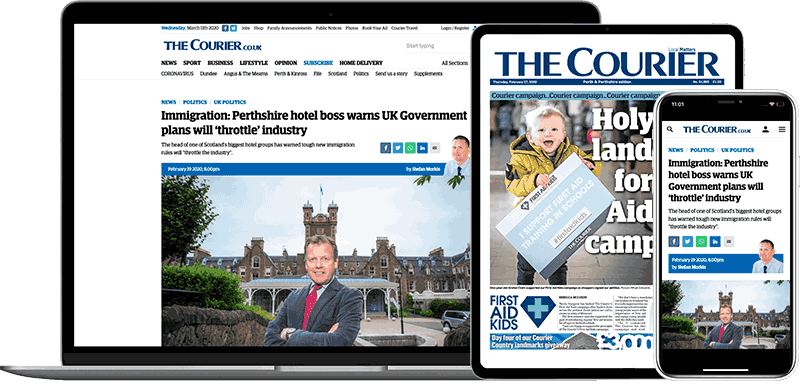 Help support quality local journalism … become a digital subscriber to The Courier
For as little as £5.99 a month you can access all of our content, including Premium articles.
Subscribe