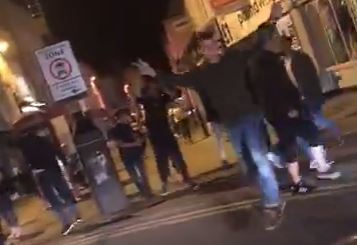 A group of Brits have become internet sensations after being filmed enjoying a night-time rave to the Vengaboys.
The group were spotted dancing and singing to the 90s hit "Boom, Boom, Boom, Boom!!" in Cheltenham.
"The UK is reeling…" pic.twitter.com/r4wLzrWSgi

— Amy La Porte CNN (@AmyALaPorte) June 6, 2017
It came just days after neighbouring London was targeted by terrorists, with many on social media saluting the ravers as a symbol of the British spirit.
Forty-eight people were injured – 21 critically – after a van was driven through crowds on London Bridge, after which the three extremists responsible began stabbing people in the city's Borough Market.
In the video, the Vengaboys song is played from a car before coming across a group of people dancing in the street to the tune.
They then proceed to approach the car, and even mount its bonnet as they are caught up in the moment.
The video was posted to Reddit by user "Black_Badger" and shared on social media by Australian CNN reporter, Amy La Porte.
Though hilarious, many have pointed out how the video is also "heartwarming" in light of the events of the past week.
Ridiculous that's it's heart warming, but is so damn is.
Thanks for sharing.

— Andy Lycett (@AndyLycett) June 6, 2017
Yes! And when it pans to the guy dancing on top of the car, my heart leaped! You lads are allllright!

— Amy La Porte CNN (@AmyALaPorte) June 6, 2017
Other said they were "very proud" of the ravers.
Is this Cheltenham? It makes me very proud

— Seán (@seanonhere) June 6, 2017
Isis…'are the infidels quaking with fear?'
Nah pal they're raving to the vengaboys…

— James Steel™ (@jimimanovsteel) June 6, 2017
Meanwhile, in Scotland, this piper united people on a late train following the London terror attack: