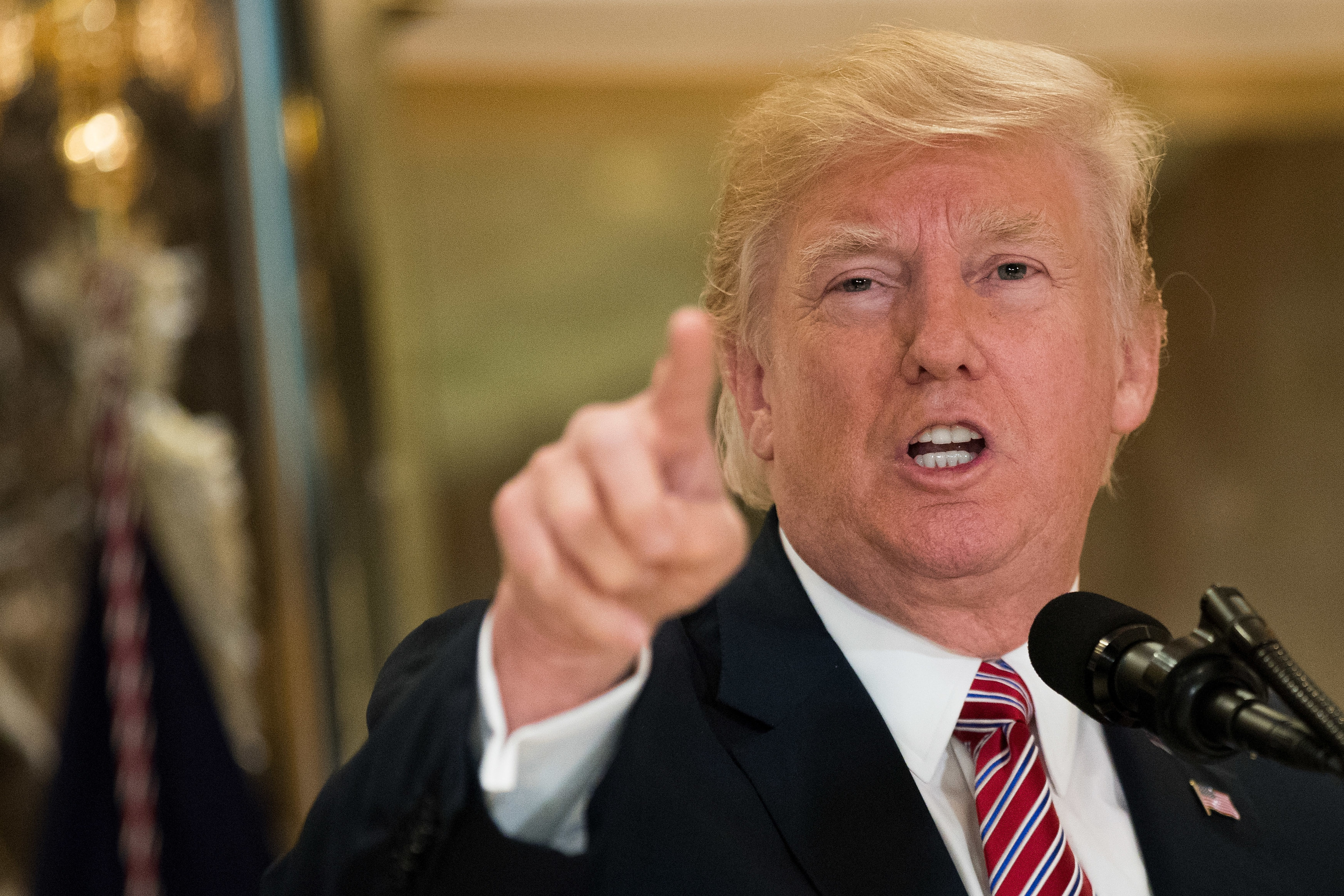 Thousands of people are calling for the impeachment of US president Donald Trump following his response to a violent rally in Charlottesville, Virginia.
Senior Democrats were among those to demand congress impeach the country's leader following a press conference in which he blamed "both sides" for the scenes in the city.
The rally was organised by white nationalists in protest to the city's decision to remove a statue of Confederate American Civil War general Robert E Lee.
A state of emergency was declared when the scenes between protesters and counter-protesters turned bloody, with 32-year-old Heather Heyer killed when a car was driven into a crowd.
A total of 34 people were injured during the events.
President Trump had initially condemned the violence and called for the country to "come together as one".
We ALL must be united & condemn all that hate stands for. There is no place for this kind of violence in America. Lets come together as one!

— Donald J. Trump (@realDonaldTrump) August 12, 2017
However speaking yesterday at a press conference in Trump Tower he said there is "blame on both sides" and compared Robert E Lee to America's founding fathers.
Representative for California's 14th congressional district, Democrat Jackie Speier, said it is "time to invoke the 25th Amendment".
The 25th amendment deals with matters regarding the succession of presidency, and gives the vice-president and the cabinet the power to remove a president who is considered unfit for office.
POTUS is showing signs of erratic behavior and mental instability that place the country in grave danger. Time to invoke the 25th Amendment.

— Jackie Speier (@RepSpeier) August 16, 2017
Elsewhere the "Impeach Trump" hashtag went viral, and has been one of the top trends on the social media site all day.
To every member of Congress – harsh words are not enough. You cannot allow a neo-Nazi defender to remain in power. #ImpeachTrump

— Beau Willimon (@BeauWillimon) August 15, 2017
As American's go to sleep, we in the UK need to watch and keep #ImpeachTrump trending, for the sake of our shared history against fascism.

— Graham Webb (@DrGW0) August 16, 2017
Not many Presidents could make threatening nuclear war the second worst thing he did in a week #ImpeachTrump

— ~U2R~ (@_U2R_) August 16, 2017
Let's keep #ImpeachTrump trending until it happens. Don't forget to call your representatives!

— Channing McKindra (@ChanningTweets) August 16, 2017
The hashtag #ImpeachTrump has been the number-one trend for HOURS. People are rightfully angry. Let's keep it going all night. #bindasladki

— Bindas Ladki (@bindasladki) August 16, 2017
I voted for you, and I was wrong. I let my fellow citizens down. Racism and intolerance are NOT what this country stands for. #ImpeachTrump

— Bindas Ladki (@bindasladki) August 16, 2017
Americans deserve better than a president who can't denounce racism.

— ACLU (@ACLU) August 15, 2017
Alt-left, violently coming at the alt-right, circa 1944. pic.twitter.com/K9J9MoXvX0

— Scott Gilmore (@Scott_Gilmore) August 15, 2017
We must #ImpeachTrump

— Katya (@katya_zamo) August 16, 2017
Meanwhile, former US president Barack Obama's tweets following the riots have become the most liked in the history of Twitter.
He quoted Nelson Mandela in a series of messages following the events.
"No one is born hating another person because of the color of his skin or his background or his religion…" pic.twitter.com/InZ58zkoAm

— Barack Obama (@BarackObama) August 13, 2017
"People must learn to hate, and if they can learn to hate, they can be taught to love…"

— Barack Obama (@BarackObama) August 13, 2017
"…For love comes more naturally to the human heart than its opposite." – Nelson Mandela

— Barack Obama (@BarackObama) August 13, 2017