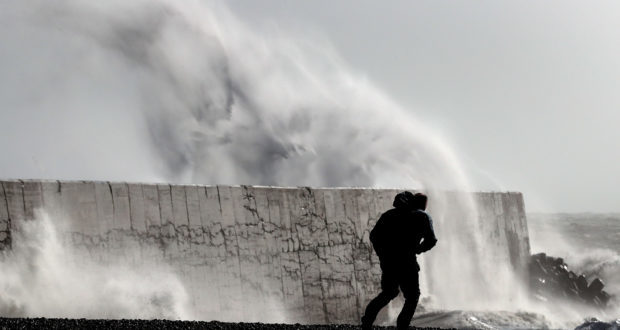 The UK is due to be battered by an overnight storm which could bring with it winds in excess of 70mph to parts of the country.
An amber warning of heavy rain has been issued by the Met Office for south-west Scotland, Lothian and the Borders from today into tomorrow as Storm Aileen hits the nation.
Between 1.2in and 1.5in of rain could fall within six to nine hours, and may lead to flooding on roads.
Tayside and Fife looks likely to miss out on the worst of the weather.
#StormAileen has officially been named & will bring severe gales to central parts of the UK. More here https://t.co/b5tJBGZGiT #WeatherAware pic.twitter.com/1OoA7zIYNY

— Met Office (@metoffice) September 12, 2017
However the worst of the weather will be south of the border where a Met Office amber wind warning has been put in place for Wales, the East Midlands, the West Midlands, Yorkshire and Humber, and the north-west and east of England.
All of these areas are also affected by the yellow warning for rain.
The Met Office said: "Storm Aileen will bring a brief spell of very strong westerly winds with gusts of 65-75 mph during the early hours of Wednesday.
"Longer journey times by road, rail and air are looking likely, with restrictions on roads and bridges.
"Damage to trees and perhaps buildings, as well as power cuts are expected. Flying debris and large coastal waves are possible, and these could lead to injuries."
On the rain warning affecting Scotland, the forecasters added: "Heavy rain is expected later on Tuesday and early on Wednesday.
"This may cause flooding on the transport network, with spray and difficult driving conditions due to the combination of rain and wind.
"There is also a small chance of flooding affecting homes and businesses."
Storm Aileen is being caused by a deepening area of low pressure across the UK and is not connected to Storm Imra – which has devastated parts of the US and the Caribbean.
Met Office chief forecaster Frank Saunders said: "Storm Aileen is expected to bring strong winds of up to 75mph to a central segment of the UK and an Amber weather warning has been issued.
"As well as the strong winds, there will be some heavy rain pushing eastwards overnight which could see accumulations of 30-40mm.
"The low pressure system that is bringing these strong winds will move fairly swiftly from west to east over the UK and although there will still be some disruption through Wednesday morning, the winds will ease by the afternoon leaving a day of blustery showers."
Met Office Deputy Meteorologist Chris Tubbs added: "There are no links between the very strong winds we expect to see here in the UK and the hurricanes affecting the United States and the Caribbean at present.
"This system originated well north in the Atlantic Ocean, independent of the current Caribbean hurricanes."