British Virgin Islanders say they are "terrified" of the prisoners who escaped because of the damage caused by Hurricane Irma.
Around 100 "very serious" prisoners fled prison on Tortola, foreign minister Sir Alan Duncan told the Commons on Tuesday.
He said the convicts pose a "serious threat of the complete breakdown of law and order".
Those living on the British Virgin Island have said looting has been "terrible" and that escaped prisoners have committed a rape while they have been on the loose.
Shanelle Williams has taken 15 people into her home following the fury the hurricane unleashed on the island, leaving others without somewhere to live.
She told the Press Association: "You go into the town, they crash and they open up and stealing everything.
"But since the military came it has calmed down, but the only issue right now is these prisoners are out.
"They have already raped someone and they have already tried to steal from people, it is terrifying."
Bibi Alli, 37, said everything in her house has gone and that along with her daughter Nerrize, 14, they hid in the bathroom during the hurricane.
"It sounded like a tornado, when the windows went everything was gone. I will never forget that in my life," she added.
She has been taken in by Ms Williams, along with Manicka Mangaroo who was also left homeless when her property was destroyed.
Of her decision to help out others, Ms Williams said: "You can't just sit down and watch persons out there suffering, it was so crazy there were people running on the road.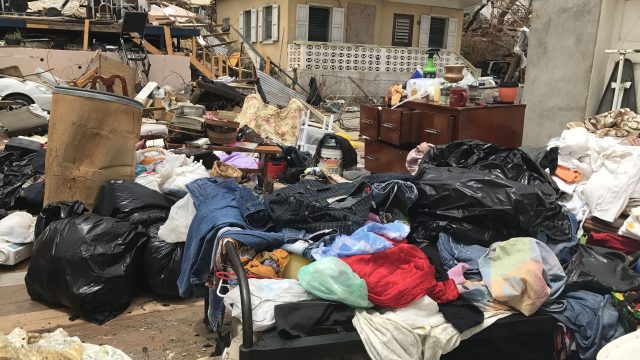 "I have lived through one hurricane in the 90s and it was never like this… this is the worst."
One woman who did not want to be named said Irma was "one of the most traumatic experiences of a lifetime".
"Every time the pressure went down your ears pop… then the winds came and you would hear windows shattering and you would hear banging.
"Every roof in my area went, even those that had hurricane shutters and were boarded up… And the water, the wind and the rain, people were screaming.
"All my neighbours came and sheltered in my bedroom. It was very traumatic."
// <![CDATA[
(function(i,s,o,g,r,a,m){i['GoogleAnalyticsObject']=r;i[r]=i[r]||function(){
(i[r].q=i[r].q||[]).push(arguments)},i[r].l=1*new Date();a=s.createElement(o),
m=s.getElementsByTagName(o)[0];a.async=1;a.src=g;m.parentNode.insertBefore(a,m)
})(window,document,'script','//www.google-analytics.com/analytics.js','ga');
ga('create', 'UA-72310761-1', 'auto', {'name': 'pacontentapi'});
ga('pacontentapi.set', 'referrer', location.origin);
ga('pacontentapi.set', 'dimension1', 'By Associated Press');
ga('pacontentapi.set', 'dimension2', 'd4e0e220-e8d2-4539-aa20-ec18ec62f6a5');
ga('pacontentapi.set', 'dimension3', 'paservice:news,paservice:news:world');
ga('pacontentapi.set', 'dimension6', 'story-enriched');
ga('pacontentapi.set', 'dimension7', 'composite');
ga('pacontentapi.set', 'dimension8', null);
ga('pacontentapi.set
// ]]>