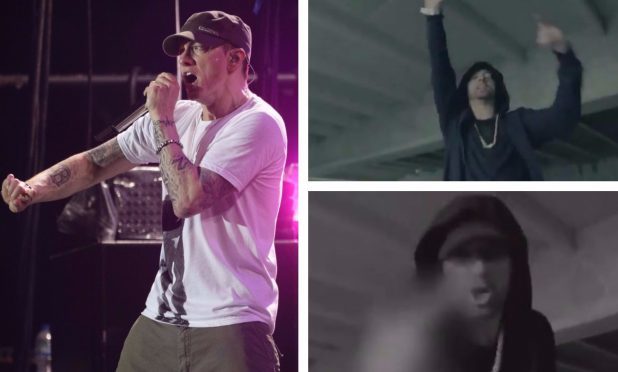 Hip hop superstar Eminem has tore into the US President in an angry, politically-charged rap.
A video of the rapper performing expletive-ridden The Storm in a Detroit car park went viral after being streamed as part of the BET Hip Hop Awards.
The FULL verse that EVERYBODY is talking about! @eminem BODIED THIS! #HipHopAwards pic.twitter.com/zoS0wEwjQF

— BET (@BET) October 11, 2017
The rapper referenced President Donald Trump's stance on immigration and the politician's commitment to building a wall between the US and Mexico in the angry freestyle rap, posted to Twitter by BET.
In the clip Eminem tells any of his fans who support Trump to "pick a side" calling the president "Donald the b***h".
He adds: "Any fan of mine who's a supporter of his/ I am drawing a line/ You're either for or against/ And if you can't decide who you like more in your split/ On who you should stand beside/ I'll do it for you with this."
He rapped "like him and politics I'm using all of his tricks".
Eminem, whose real name is Marshall Mathers, also reference Trump's ongoing spat with NFL players – who have been taking part in protests against racial injustice during the US national anthem before games by kneeling.
He said: "Now if you are a black athlete you're a spoilt brat for trying to use your platform or your stature/ To try and give those a voice who don't have one."
He also namedrops former player with the San Francisco 49ers Colin Kaepernick, who kickstarted the NFL protest, by saying "this is for Colin, ball up a fist".
Eminem said: "From his endorsement of (Steve) Bannon, support for the klansmen, tiki-torches in hand for the soldier that's black and comes back from Iraq and is still told to go back to Africa."
President Trump is yet to respond to the video.