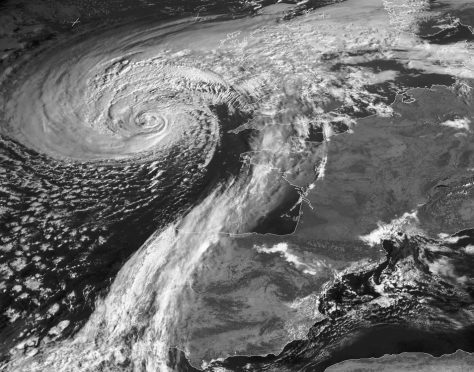 A string of planes have been forced to divert across the UK today as Storm Ophelia swoops into the country.
Aircrafts have been forced to turn around midway into flights, many being met by firefighters on arrival at terminals, due to the smoke smells in cockpits.
Flight Alerts, a Twitter account which monitors journeys across the country, claims that five emergency landings have taken place at Heathrow Airport alone.
A flight between Aberdeen and Manchester is said to have declared an emergency on board while flying above Edinburgh.
The smoke in the atmosphere is believed to be caused by wildfires in Portugal with dust from the Sahara, picked up by Ophelia, causing strange lighting in the sky across the UK.
EasyJet said four of its flights were diverted due to "atmospheric circumstances".
A British Airways spokeswoman said the carrier has had "some reports of smells on board" but the aircraft continued to their destinations.
Liverpool John Lennon Airport stated that "atmospheric conditions" are believed to be causing flights to divert.
An easyJet spokeswoman said: "EasyJet can confirm that four of its flights flying in the west of the UK have reported smoke smells in the cockpit today, believed to be linked to atmospheric circumstances due to storm Ophelia.
"Two flights returned shortly after take-off and two flights requested an expedited landing as a precaution only.
"We understand other airlines have experienced similar events and we continue to liaise with the Met Office as to the likely cause.
"The safety and welfare of our passengers and crew is EasyJet's highest priority. We would like to apologise for any inconvenience experienced by the diversions."
BA said in a statement: "The safety of our customers and crew is always ourpriority.
Our flights have been operating and landing normally, but we have been liaising with the Met Office about atmospheric conditions."
Five full emergency landings at London Heathrow today with smell of smoke in the cockpit due to dust from Sahara and Iberia Fires ?

— Flight Alerts ⚠ (@FlightAlerts777) October 16, 2017
#BE1040 Flybe. Aberdeen-Manchester has declared an emergency near to Edinburgh ?

— Flight Alerts ⚠ (@FlightAlerts777) October 16, 2017
Update. Virgin Atlantic 747' also reported fumes in the cabin on the South West coast https://t.co/fh0dQ7G83S

— Flight Alerts ⚠ (@FlightAlerts777) October 16, 2017
Easyjet flight from Manchester Airport to Hamburg declared an emergency with a burning smell in the air. pic.twitter.com/dXpzfR1XMl

— Flight Alerts ⚠ (@FlightAlerts777) October 16, 2017