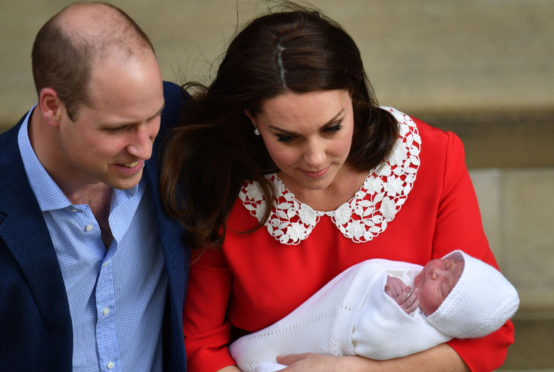 After days of intense speculation, the name of the Duke and Duchess of Cambridge's third child has finally been revealed.
Prince William and Kate, known as the Earl and Countess of Strathearn in Scotland, have named their newborn son Louis Arthur Charles.
The duchess gave birth to the young royal, weighing 8lb 7oz, on Monday at 11.01am at St Mary's Hospital in Paddington, London.
He was first revealed to the world at just before 6pm on the day.
A huge crowd of wellwishers had gathered outside the gates of Buckingham Palace after the duchess went into labour to await news on the arrival of the prince.
Punters were frantically trying to guess what the duke and duchess would choose to call their baby.
Bookmakers reported a late flurry of bets on Albert – the name of Queen Victoria's beloved consort and the true first name of the Queen's father George VI.
On Wednesday afternoon Coral said Albert was 5-1, but Prince Arthur remained the favourite at 5-2, closely followed by James at 4-1.
Philip – in tribute to the Duke of Edinburgh – was at 8-1, Alexander 10-1, Henry 12-1, and Frederick, Edward or Thomas 16-1.
Prince William stoked interest after making a comment about the name of a guest while attending the Anzac Day service in London on Wednesday.
As he met Sir Jerry Mateparae, New Zealand High Commissioner to the UK in Westminster Abbey, the Dean of Westminster joked about the eagerly anticipated name, saying: "Jerry would like it to be Jerry."
PICTURES: First photos of baby prince as Kate Middleton leaves hospital
William replied: "Jerry's a strong name."
Asked how the duchess and the baby were, the duke replied: "They're very well thanks."
He said they are "in good form, luckily", and added: "Sleeping's going reasonably well so far, so he's behaving himself which is good news."