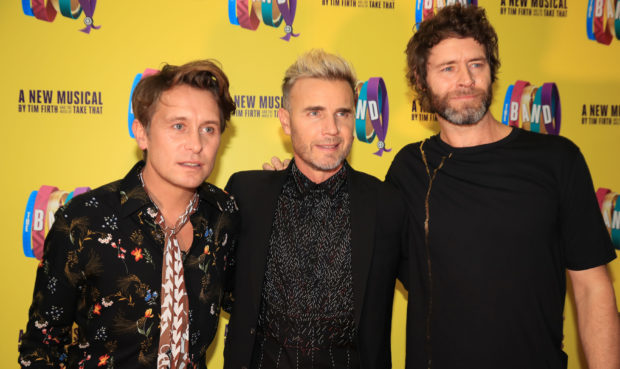 Take That fans were left furious after missing out on special pre-order tickets on Wednesday morning.
A deluge of orders caused the See Tickets website to crash at 9.30am as fans sought the early-bird deal for the forthcoming Greatest Hits tour.
The band are playing three April gigs in Glasgow.
Had a Take That pre-sale code. Got to check out numerous times and system threw me out while taking my payment. Now the system says I've already used my code to purchase tickets! What's going on? #tt30 @takethat

— PFS (@lippichick) September 26, 2018
I lost my damned tickets because the site couldn't cope with the demand and took too long and timed out.
Now I'm get this, can't use code "again" which means j now can't get pre-sale tickets.
How is that fair @takethat and @seetickets ??? pic.twitter.com/Mz6cnE7etW

— Rachel Blackley (@rachiebaby84) September 26, 2018
Fans who bought the three piece's latest album, Odyssey were given the first chance to buy seats for the arena tour next year.
But the volume of people logging on when they went on sale caused the site to crash at the payment section, causing special codes which came with the album, to be lost.
Right @seetickets @takethat who do I need to speak to re pre sale today. Had tickets in my basket but transaction wouldn't go through. Timed out but then would not let me reuse my promo code. I am a very annoyed fan!!! Please can someone contact me about this.

— TT Lisa ?? (@Its_LisaJane) September 26, 2018
Nicola Robertson, 38, from Dundee, was poised to snap up four tickets for the April 20 concert at SSE Hydro in Glasgow.
She said: "I knew how popular these would be so I bought the album, which I didn't really want, as it was the only way to get the code.
"It looked like I had four tickets but the site crashed when it came to payment and I lost my order, and was told I could not enter the code again.
"The while thing has been a farce. I'll try my luck with the general sale but I don't fancy my chances – even if the website works."
Sorry to hear of all the problems this morning. We're being told it's due to high demand. You'd think they'd know this by now. Hope you all get sorted #tt30

— Gary Barlow (@GaryBarlow) September 26, 2018
Sorry for that our management are on it! It's basically a system crash because we are so mega!!!
Next time we will personally deliver them to you door in the morning with warm croissants and a pot of tea!? https://t.co/fcUxAcYGpd

— Howard Donald (@HowardDonald) September 26, 2018
Tickets are released for general sale on Friday at 9.30am.
The tour, featuring remaining band members Gary Barlow, Howard Donald and Mark Owen, begins in April.
A statement regarding the Take That tour pre-sale. For any queries, help or support, please direct message us on Twitter or e-mail us at customercare@seetickets.com pic.twitter.com/CTTgJieWHx

— See (@seetickets) September 26, 2018
A spokesman for See Tickets said: "We are aware there have been some problems buying tickets during the pre-sale of the take That tour, these problems are being looked into but please keep trying.
"We apologise to any fans who have had issues buying their pre-sale tickets this morning."
Were you affected by the website crash? Contact The Courier via online@thecourier.co.uk or by calling 01382 575290.
Alternatively, you can message us via Facebook.