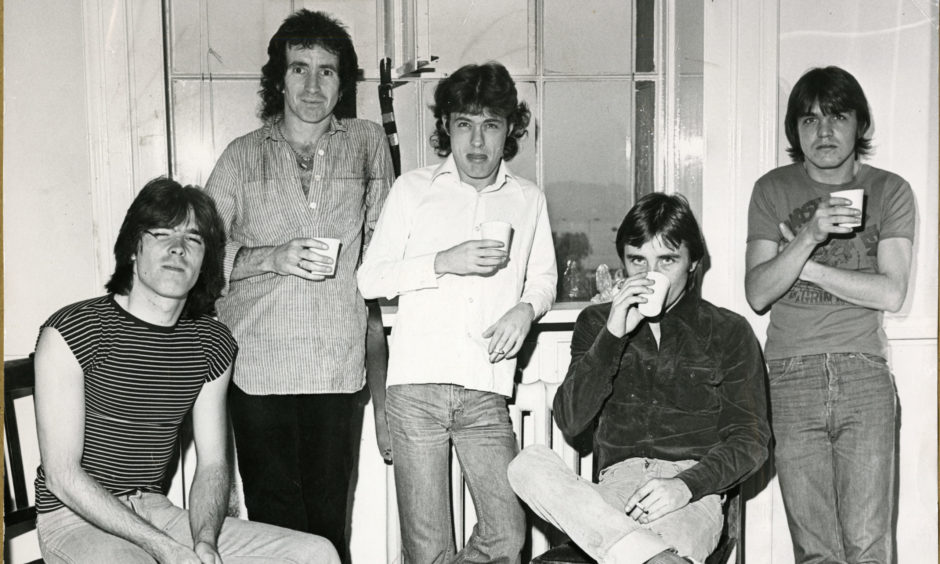 Our feature on the legacy of Bon Scott to mark the weekend's 'virtual' BonFest brought back happy memories of the time AC/DC played Dundee's Caird Hall in 1978. Today we take a look back at the time Scott returned to Tayside and tried to get his hands on some Forfar Bridies…
Rock legends AC/DC were on a roll.
With Kirriemuir-born Bon Scott charming his way into the band's affections and joining as lead singer in September 1974, the future was looking bright.
They were doing brilliant business in Australia, winning fans like there was no tomorrow, and by 1978 they'd had three hit albums in the UK with Let There Be Rock, Powerage and the live recording If You Want Blood You've Got It.
They played a string of UK dates as part of their 1978 Powerage tour, including Dundee's Caird Hall on May 29. It was a wild, crazy, sweaty and unforgettable night.
Tickets were £2.50 and many fans were delighted when they got to meet their idols in person backstage. Some were even lucky enough to shared Bon's bottle of whisky!
High energy
Dundee pals Ross Niven and Sam McMillan were among those at the gig.
"Bon was a really nice bloke and talked about Kirriemuir and gave me a swig from his bottle of whisky!" recalls Ross.
Meanwhile, Sam, a photographer who left Dundee in 1980 and now lives in Edinburgh, says the concert was "high energy" with Angus Young bobbing non-stop and totally lost in the music.
"He was using a wireless guitar link, which no one else at the time was doing," he said.
"It gave him way more freedom than anyone using a lead.
"He used it to great advantage as at one point in the concert, he disappeared off stage and then reappeared through side doors midway back in the Caird Hall, sitting on Bon Scott's shoulders, still playing away furiously.
"Of course, they were mobbed by the crowd and struggled to make their way back to the stage. It was a great spectacle but they stopped doing it once they started playing bigger venues as it became pretty well impossible."
When Sam met Bon Scott, who he describes as a "lively character", he mentioned his girlfriend's parents lived in Kirriemuir.
"Bon asked me if you could still get the Forfar Bridies that he used to have as a kid before going to Australia!" he added.
"He had very positive memories of living in Kirrie, and was very friendly and chatty, with a great sense of humour. The first time I tasted whisky was from a bottle that he had with him and freely shared. It was such a tragedy that he died less than two years later."
Incredible showmen
Former Courier and Evening Telegraph reporter Ralph Barnett was 17 when he went to the gig.
"At the time, AC/DC were gaining a reputation as one of the best and loudest rock bands in the world and the fact they were Scottish – Bon from Kirrie and Angus and Malcolm Young from Glasgow – made it even more exciting, I guess." he says.
"I was on the point of leaving Montrose Academy and going to Glasgow Uni and a crowd of us got the bus through from Montrose.
"The concert itself was unforgettable and the atmosphere was amazing. Bon and Angus were incredible showmen – Angus still is – and to see the band doing songs like Whole Lotta Rosie and Let There Be Rock live was a real experience.
"You hear about the fashion crime of double denim these days. That night I was in quadruple denim – Levi shirt, Wrangler waistcoat and jacket and Lee Cooper jeans with desert boots…I suppose you had to be there!
"I remember being quite upset at the news of Bon's death, but the way his memory has been honoured with BonFest in Kirrie is fantastic – I've been a couple of times and was planning to go this year.
"The only other time I saw the band was in June 2009 at Hampden, when Brian Johnson was singing with them and they were one of the biggest stadium bands in the world. It was great, but without Bon they were never the same."
You hear about the fashion crime of double denim these days. That night I was in quadruple denim – Levi shirt, Wrangler waistcoat and jacket and Lee Cooper jeans with desert boots."
A sea of denim
Photographer Gareth Jennings recalls walking into Caird Hall in 1978 and "seeing a sea of denim jackets and black AC/DC T-shirts".
"That was the uniform all fans wore including myself," he says.
"I was 17 and was there with a group of pals from Craigiebank. We were all big fans and we were excited they were coming to Dundee.  The concert ticket was £2.50."
Gareth remembers the gig being packed, hot and sweaty and a brilliant atmosphere.
"A big highlight was Angus Young coming into the crowd playing his guitar and they played all their great songs," he adds.
---
The tunes played at the 1978 Caird Hall gig
Riff Raff
Problem Child
Hell Ain't A Bad Place To Be
Rock 'n' Roll Damnation
Dog Eat Dog
Bad Boy Boogie
Down Payment Blues
The Jack
High Voltage
Whole Lotta Rosie
Let There Be Rock
Rocker
---
Band line-up
Angus Young – Lead Guitar
Malcolm Young – Rhythm Guitar
Bon Scott – Lead Vocals
Cliff Williams – Bass
Phil Rudd – Drums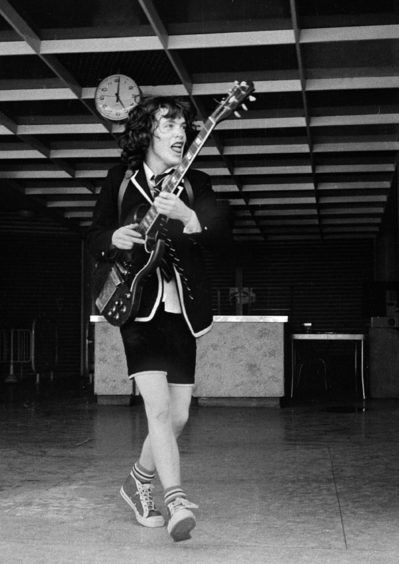 *Were you at the AC/DC Caird Hall concert in 1978? We would love to see your photos, if you have any! Email: gritchie@dctmedia.co.uk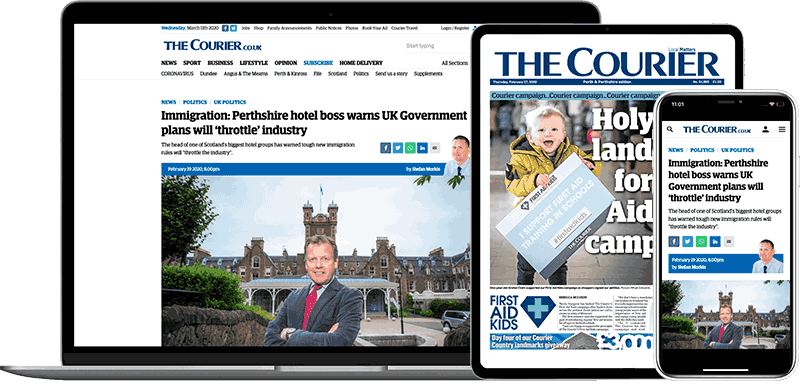 Help support quality local journalism … become a digital subscriber to The Courier
For as little as £5.99 a month you can access all of our content, including Premium articles.
Subscribe