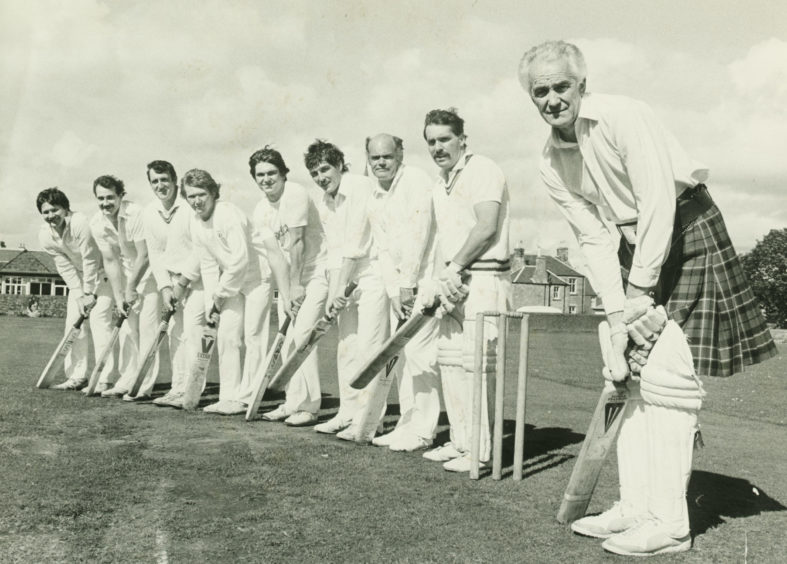 Dave Christie admits that he can't remember a time when he wasn't in love with cricket.
Even as a youngster, growing up in Freuchie in the 1940s, he found himself drawn to the local club, becoming captivated by the game as a child, and developing a passion which has never left him on his magical mystery tour round the far pavilions.
The Fifer's name is now inextricably linked with the greatest triumph achieved by any Scottish club – when he captained his team to victory in the National Village Cup final against Rowledge at Lord's in 1985.
And even as plans progress to turn that unprecedented success into a feature film, the blithe Christie, who is now 83, looks back on his early days and beams with the unfettered bliss of somebody a quarter his age.
---
'Cricket is not exactly a passing fad'
He recalled: "There is always the question: 'Why Freuchie?'
"Why has the game taken root here with such a vengeance that football is an activity the cricketers play to keep fit during the winter, rather than the other way round?
"But I always turn these inquiries the other way and ask: 'Why not?'
"I was born here in 1936 and brought up here and the gate out of the primary school led directly to the public park and, if the weather was fine, we were taught in the open air, and the kids grew up surrounded by people practising in the nets or rolling the pitch or cutting the wicket, so it was no huge mystery why so many of us got involved.
"From the age of five or six, I would have one eye on my Maths and English books and the other on the cricket.
"At the beginning, I just watched, because there was no junior team – this was during the Second World War – but from the age of 12 onwards, I started to keep the score book for the Second XI and I would pack my whites every weekend and patiently await my chance.
"One day, we travelled to Newburgh (a village on the banks of the Tay) and we were a man short and I was hooked forever in the space of a few hours.
"I was number 11, I didn't bat, I didn't bowl, I just made up the numbers and I even fell in a cowpat while I was chasing the ball and stunk the place out for the rest of the afternoon.
"But who cared, I returned home that evening with a smile on my face and the feeling it was the best game in the world.
"My parents weren't especially interested in cricket, but they were happy to encourage me and that definitely helped.
"Three of us, myself and my brothers, Bob and John, have all captained Freuchie at different stages, as has my son Brian, so you can't exactly describe it as a passing fad."
Life was a beach for Christie in the early days
By 1954, Christie's dedication and reverence for the game had allowed him to advance to the Firsts, but even then, he was the resident last man in, meriting a place solely on his athletic, never-say-die fielding, which became one of the most important features of the Freuchie ensemble he led to their date with destiny – and a marathon whisky session with Ian Botham – more than 30 years later.
This was cricket in the raw, with many matches staged around Fife and often on municipal parks, next to beaches – or in Elie, on the sand itself while the tide was out.
He was used to the contests being interrupted, and particularly during the holiday season when thousands of tourists thronged to places such as Burntisland and Leven.
Christie said: "I suppose it was a wee bit strange.
"You would be standing on the links at the sea front trying to keep your concentration, while women with prams walked across the pitch or Glasgow visitors strolled up to you and asked for an explanation of the rules in the middle of a match.
"Sometimes, a lad in a bunnet, who had enjoyed a wee bit too much hospitality in the Burntisland taverns, would wander erratically on to the field and, occasionally, there might be one or two spectators shouting abuse at us, but that was never very smart.
"After all, there were 22 of us, we had cricket bats and we knew how to use them if there was any danger of an altercation ever developing into something worse.
"It toughened us up and we got used to travelling to places where the atmosphere was intimidating or downright hostile.
"We loved our time in the Village Cup and I still look back on the 1985 campaign as something wonderful.
"But there were occasions where we travelled to villages in England and it was positively scary.
"You were just glad when you got on to the bus safely afterwards."
Christie told me later that the incredible events before, during and after the final at the home of cricket, were the stuff of which dreams are made.
He had never expected the Fifers to march to the trophy when they joined 638 other teams in the hat at the outset of the competition, but they had learned how to perform at a high level and were determined to make the most of the opportunity.
He said: "When the Village Cup started, it made us up our game.
"We were just playing friendly cricket at the time, but we joined the East League in 1980 and the squad were terrific.
"We went from being an ordinary team to something quite a bit better.
"We didn't think about making history or anything like that when the competition started in 1972. All we spoke about was wouldn't it be great to play at Lord's?
"There was never any mention of winning or anything like that. But our attitude was transformed after we had come through the semi-final. It changed from: 'We're just going there to enjoy ourselves' to 'we're going down there to try to win'.
"It was a fantastic occasion, something to be treasured.
"The whole village more or less travelled down with us – at least 10 coachloads, with others on the train or flying down.
"I remember walking out to Lord's to practise at the nursery end.
"Most of the Freuchie people were there and we got a huge cheer just for walking across the ground.
"There was something special to just being out on that hallowed turf where so many legends of the game had starred – it was an amazing feeling."
New film will bring Freuchie's golden moment to the silver screen
I was working in London in the mid-1980s and was surprised when I heard there was a Scottish cricket team appearing at Lord's.
I went along to the famous ground on Sunday September 1 and couldn't believe my eyes or ears at the tableau on display – there were bagpipes, raucous renditions of Flower of Scotland and even a pitch invasion towards the end of the tussle when the Freuchie fans prematurely thought their heroes had sealed the deal.
Christie recalled: "The climax was very tense.
"At one point, our supporters thought we had won, but the umpire ruled that it wasn't a run, so they had to get off the field. It eventually finished in a tie but we had lost fewer wickets, so we were the champions.
"It was something that none of us who were there will ever forget.
"Rowledge had champagne on their balcony – they must have imagined the whole afternoon was going to be a walk in the park.
"We had bottles of Irn-Bru. But we made up for it later."
Christie is now retired, but he can view the Freuchie ground from his house and he still wanders along to cheer on the team, which now includes his grandson Graeme.
And, as one of life's great enthusiasts, he is excited about his precious club's exploits making it to the cinema screen in the years ahead.
He said: "It's bringing it all back again for us.
"It will be good for cricket in Scotland as well, so we are delighted."
What a man.
And what a joy it is to be telling his story to a new generation.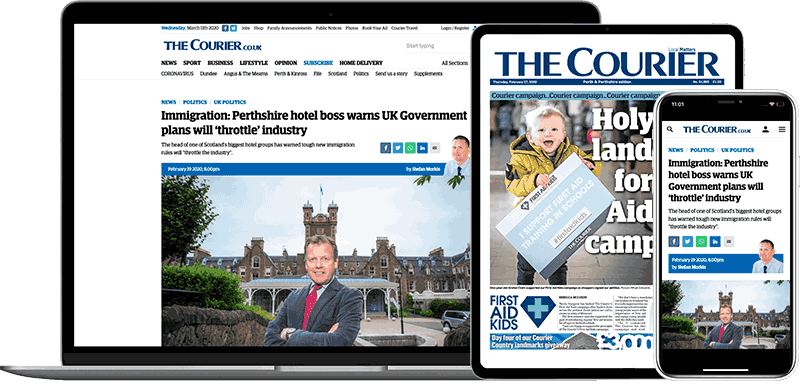 Help support quality local journalism … become a digital subscriber to The Courier
For as little as £5.99 a month you can access all of our content, including Premium articles.
Subscribe