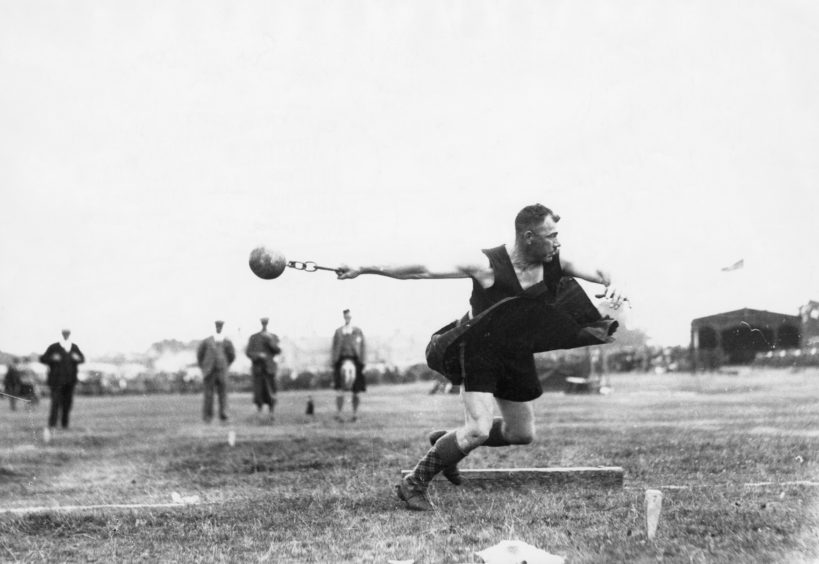 Stewart Eaton had little idea about the impact which his relatives made on the Highland Games circuit.
But when the Arbroath-born man, who now works with the Aberdeen FC Heritage Trust, started delving into his family tree during the current lockdown, he was both astounded and delighted by the way his predecessors – and one redoubtable competitor in particular – became feted in sporting circles.
The fellow in question, his great-uncle, Ed Anderson, was born on September 22 1903 at Bullion Farm in Invergowrie.
He was a strapping lad, a passionate devotee of athletics and heavy sports, and had exactly the right attributes to excel.
Indeed, such was the impression he made in a wide range of pursuits that Pathe film crews came to record his exploits, he was invited to appear at Pittodrie in the stadium's early days, and we have poignant film of this proud chap in his pomp.
They even christened him a "Highland Hercules".
Mr Eaton has grown accustomed to investigating the past, analysing evidence and finding clues in unlikely places.
So perhaps we shouldn't be unduly surprised that his ancestor enjoyed a successful career as part of the not-so-thin blue line.
He said: "Ed worked on the land and then joined the police in 1924.
"As a Constable, he served in the central, east, west and north districts.
"Then, after a spell of plain clothes duty, he was promoted to uniform sergeant in 1938.
"And, as time passed, I discovered that on June 15 1949, he was promoted to uniform Inspector.
"Ed retired from Dundee City Police on April 3 1957 with over 32 years of service, but he combined his work with the force with establishing a formidable reputation in sport.
"A noted heavy weight athlete, he won every honour which was open to him as a professional.
"In 1949, many of his ground records set up in 22 years of competitive events still stood and the films I have unearthed show him at the height of his powers.
"There is one report which tells of how Edward Anderson (Dundee) easily retained the world's heavyweight professional championship at Crieff Highland Gathering on Saturday 19 August 1933, with 23 points to 15 by George Easton Mitchell (Glasgow), and 12 points by James H Anderson (Dundee), the champion's younger brother.
"It continues: 'Anderson was first in putting the light stone (46ft 6ins), the heavy stone (38ft 5ins), throwing the 56lb weight over the bar (13ft 9ins), and in tossing the caber, while he was third in throwing the 22lb hammer and fourth with the 16lb hammer'.
"Even now, there is something very evocative about watching these old films and seeing him performing so well."
Sport loomed large in Mr Anderson's career and he flung himself into his various endeavours with the same wholehearted enthusiasm which he displayed on the Games stage.
Later on, he served as the assistant groundsman at Dens Park, helping Dundee during their halcyon period in the 1950s, while he was a talented golfer who became a regular participant at Downfield Golf Club and, unsurprisingly, was renowned for hitting the ball a very long way.
But while he was happy wherever there was a hammer to throw or a shot to be putted, he packed plenty of other activities into his multi-faceted life.
Mr Eaton said: "Ed married Mabel Elrick in 1926 and they had a son, also called Edward and a daughter, Joan.
"He lived at 45 Woodside Terrace in Dundee. And, from what I have so far uncovered, it is understood that he has three grandchildren.
"Ed died on April 9 1966 at Dundee Royal Infirmary. The cause of death was listed as a 'cerebral vascular accident'.
"My grandfather is William David Anderson and he sadly died in 1943 during the Second World War, aged just 33.
"I was born in 1962, so I never met my grandfather, but I have the memories of what my grandmother – Marion Anderson, the wife of William – shared with me as a child.
"And I can remember seeing photographs of William and his brothers, Ed, Jim and Stewart.
"I have no memory of meeting any of my grandfather's brothers, although I am named after my grandfather's brother Stewart.
"But I remember seeing newspaper clippings of the Anderson brothers competing in various Highland Games events and staring at the faces.
"At that stage, I never really realised how fantastic their achievements were, especially in the knowledge they all came from a hard farm labour and humble background."
Trip down memory lane to find Aboyne Games have been on the right track for more than 150 years
Mr Eaton has put considerable effort in unveiling his wider family story and said it had been one of the most positive aspects of what has been a frustrating period for everybody living under the current Covid-19 restrictions.
He added: "My mother gave me a few notes on my family history about 10 years ago but I never really looked into the details at the time.
"However, during lockdown, I have had time for reflection and I felt it was a good time to revisit my family history and document the family tree – I feel that this is important for me but also for my mother and uncle.
"During my investigation of the Anderson family tree, I discovered newspaper clippings and short films from the 1920s and 1930s, vividly highlighting Ed's achievements and I have been amazed and inspired that someone from such a humble background could achieve so much.
"I look at those films of Ed in action and I wish I could have been there to cheer him on, shake his hand and say well done.
"I hope that highlighting the achievements of Ed Anderson will allow my mother and uncle to remember their relatives with pride, and also other people who may also have fond memories of those fantastic Highland Games athletes.
"Once we are back out of lockdown, I will be visiting the grave of my grand-uncle Edward Anderson and paying my own respects to him – the boy from Angus did good!"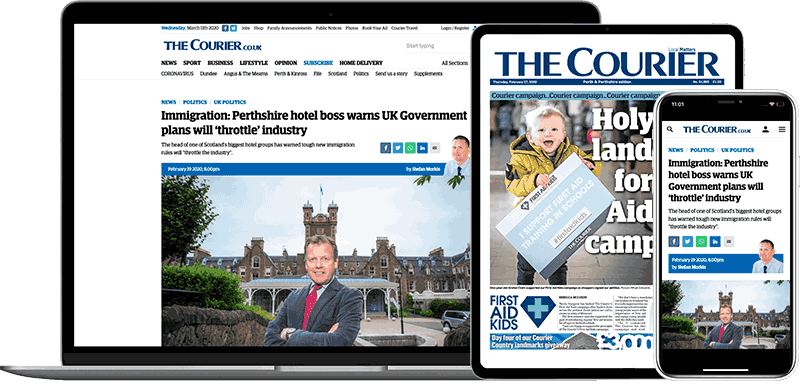 Help support quality local journalism … become a digital subscriber to The Courier
For as little as £5.99 a month you can access all of our content, including Premium articles.
Subscribe