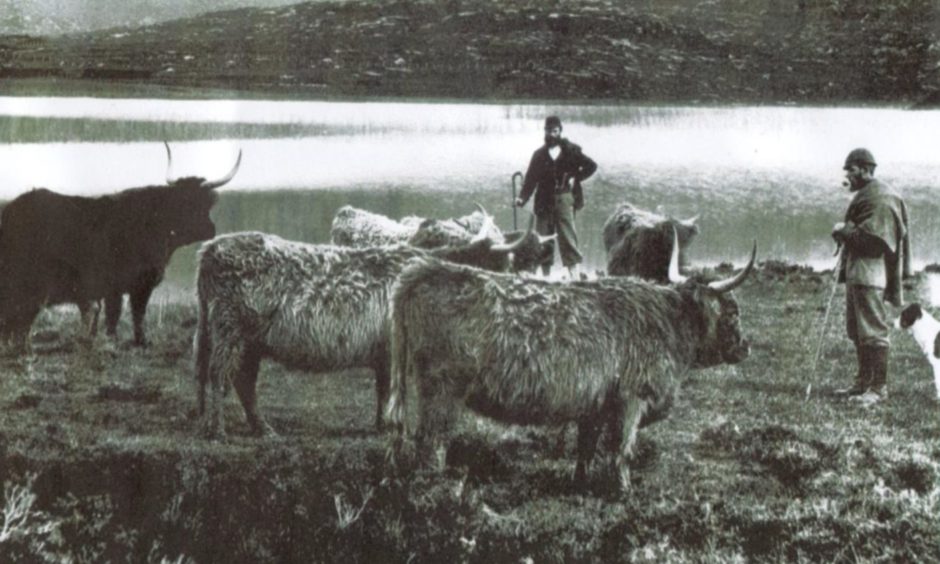 As a new film launches about drovers – men who moved cattle to market over long distances – Gayle Ritchie looks at the history and legacy of Scotland's ancient drove roads.
They were the 17th century cowboys who drove their cattle for miles – through the Cairngorms and Tay Valley to Crieff.
The drovers brought their beasts along pathways which traversed some of the trickiest terrain in the country as they headed to market.
Today, you're more likely to find hikers, cyclists and horse riders using these historic routes than men driving plodding herds.
But a new film from Bikepacking Scotland tells the story of the ancient drove roads and invites viewers to retrace the footsteps of the cattle drovers on their journey.
The film, titled Drovers, launched last night and is the brainchild of Bikepacking Scotland founder Markus Stitz.
It shows Markus, who filmed, narrated and edited it, cycling along old drove roads, setting up camp and exploring the stunning landscape.
It directs viewers to a new website – perthshiregravel.com – a guide to off-road cycling across Highland Perthshire.
"At the end of the 17th century, Crieff became the greatest cattle market in Scotland," said Markus.
"Three centuries later, history has run its course and drovers have disappeared but their spirit remains.
"The ancient drove roads provide inspiration for new adventures. And our own adventures inspire others to explore this beautiful part of Scotland."
Drovers' Trail
The film was made along a new 331km gravel bikepacking route spanning Highland Perthshire.
Markus, who has cycled round the world on a singlespeed bike, has called this new route the "Drovers' Trail".
"It tells the story of the ancient drove roads, an important part of Scottish history, which inspired Scotland's greatest writers like Robert Burns and Sir Walter Scott," he said.
The project was led by Highland Perthshire Cycling, a charity set up to promote, encourage and enable more cycling in Highland Perthshire, and delivered by Bikepacking Scotland.
The new gravel bikepacking route is one of 11 different itineraries, which are available to download for free at perthshiregravel.com
The lengths of the individual routes range from 12km to 120km, starting in Dunkeld, Pitlochry, Blair Atholl, Aberfeldy, and Comrie, as well as remote Rannoch Station.
"Designing the various routes made me aware of not only the rich history of Highland Perthshire and the Tay Valley, but also of the huge variety of landscapes that can be found across the area," said Markus.
"I sought to use the story of the cattle drovers to draw parallels with the adventurous spirit of bikepacking nowadays, while showcasing the immense beauty of the area, not just for cyclists.
"I hope the new film and the route network will encourage more people to explore the area and will inspire locals to experience their immediate surroundings."
The different routes are designed as day journeys for different ages and abilities, but can also be combined or shortened by using quiet roads or cycle paths.
They are graded as easy, straightforward, challenging or expert.
"For me, getting people to reconnect with nature and experience Scotland's rich past is the main drive, and this network of gravel trails delivers exactly this," said Markus.
"Hopefully this project will inspire other areas in Scotland to embrace the potential that bike tourism brings, but also opportunities for local people to ride their bikes off the beaten track."
Drovers is available to watch on YouTube, or here:
Life of a drover
From as early as the 14th century, and peaking in the 1800s, drovers brought their cattle to market.
In late spring, they would visit farms, bargaining for cattle often only one or two at a time, since many of the Highland farming tenants were very poor.
Gradually, they would have a herd of around 100 beasts, and in some cases, it would be up to 2,000 strong.
Ahead of them lay a long and dangerous journey.
Rivers in spate might have to be crossed, and journeys had to be made over pathless mountains, often in thick mist where the way might easily be lost.
And then there were the "reivers" – armed bandits who tried to steal cattle.
To get to market in Crieff, which was the biggest cattle market in Scotland at the end of the 17th century, drovers travelled for weeks and sometimes months.
"They slept under the stars, lived on basic food and rarely spent the night inside," said Markus.
"Their knowledge of the country had to be extensive and intimate while endurance and the ability to face great hardships were essential.
"The tracks they followed were ill-defined, with streams impassable after storms. They needed head, heart and body to survive."
October Tryst
Up until the end of the 17th century, the October Michealmas "tryst", as the market was known, was held in Crieff.
Here, dealers from the Lowlands and England came to buy the beef that was much in demand by growing urban populations.
Every year, the town swelled with the arrival of tens of thousands of cattle, drovers, dealers and a host of others, from pedlars to gamblers, singers and jugglers, all plying their different trades.
In his 1912 book, The History of Crieff, Alexander Porteous wrote: "All sorts of goods were for sale including boots, shoes, cloth, tin ware, pails and tubs while apple and pear carts and sweetie stands abounded.
"In addition, at this, as well as at other markets, there were shows of different kinds, exhibiting giants or dwarfs or other freaks which were usually well patronized as were also merry go rounds, jugglers and cheap jacks."
Noisy and riotous, but vital for the Perthshire economy, both the trysts and droving remained an annual feature of the local landscape until modern roads, steamships and railways meant that the English dealers could venture north to buy cattle directly.
Drovers would sell on their cattle to others who moved them to places like the grazing areas of Northumberland or the Yorkshire Dales in northern England. There they would be grazed and fattened after their long journey before being driven further south to the London markets.
All sorts of goods were for sale including boots, shoes, cloth, tin ware, pails and tubs while apple and pear carts and sweetie stands abounded."
Crieff was chosen as the venue for the yearly fair for largely geographic reasons.
The Sma' Glen was the traditional route from the north, while cattle from Aberdeenshire came down Strath Tay or from Blairgowrie and Alyth converging at Dunkeld and heading west up Strath Bran to Amulree and then down to Crieff.
The large numbers from Argyll and the islands made their way by Rannoch Moor, Glen Dochart and the lochs of Tay and Earn.
This, coupled with easy access for buyers from the south, promoted the town.
A wild west town
Some reports recall that Crieff transformed into a "wild west" town during the October Tryst, with thieves, bandits and drunken drovers in abundance.
According to the schoolmaster for Monzie in the Statistical Account of 1793, the good citizens of Crieff "went in fear of their lives from the Highland drovers who broke into their houses, forcibly billeting themselves and often carried off part of the household goods and removed the potatoes from their fields".
However, The Account for Crieff, written some 20 years after the demise of the Tryst, adopted a different, rather more romantic view.
It stated: "The old people here sometimes speak with deep regret of the glorious scene displayed to view when 30,000 black cattle in different droves overspread the whole adjacent country for several miles around the town."
Much of the trade was done by means of bills and by the second quarter of the 18th century Crieff came to be regarded as one of the main financial centres of Scotland.
In 1770 the Tryst was transferred to Falkirk by the Commissioners of the Forfeited Estates.
Strange and threatening?
Some Lowland dwellers regarded drovers strange and perhaps threatening, with one person at the time describing them as: "great stalwart hirsute men, shaggy and uncultured and wild, who look like bears as they lounge heavily along".
But they possessed a great many attributes ranging from an extensive, intimate knowledge of the country, endurance and ability to face great hardship, knowledge of cattle, enterprise, and honesty and reliability for the work entrusted to them.
They were also often skilled on the bagpipes or learned in other aspects of Gaelic culture.
For more details about bikepacking – basically off-road cycle touring – see bikepackingscotland.com
Check out the newly launched guide to off-road cycling in Highland Perthshire at perthshiregravel.com
A series of three podcasts about the Highland cattle drovers by Dr Nicky Small of Culture Perth and Kinross and Crieff and Strathearn Drovers' Tryst chairman Gil Martin will be broadcast at this weekend's Strathearn Online Festival of the Arts. It runs from July 17 to 19. strathearnarts.org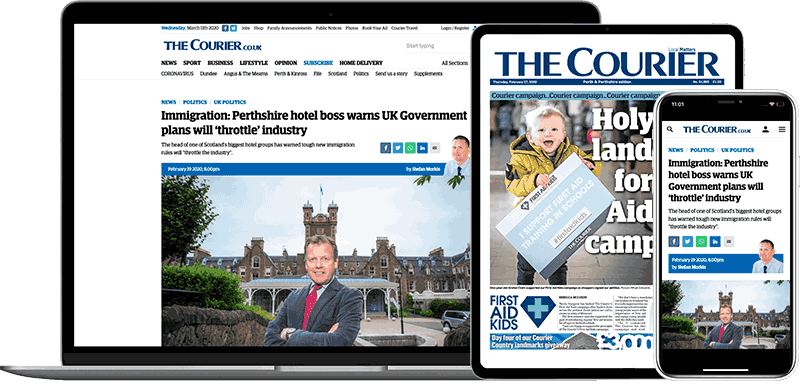 Help support quality local journalism … become a digital subscriber to The Courier
For as little as £5.99 a month you can access all of our content, including Premium articles.
Subscribe