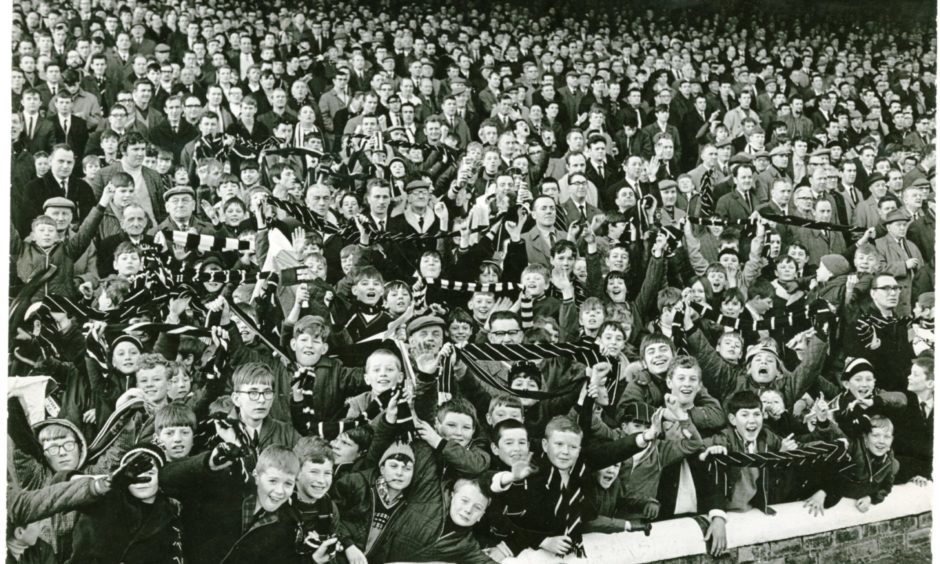 It seems almost unthinkable these days in the era of multi-million pound transfer deals and wages.
But back in 1905 some of the best footballers in Britain competed in Dundee in a 100 metre race to be crowned the fastest of all.
The Great Race at Dens Park on Saturday August 5 included 12 leading sprinters from some of the top clubs in England and Scotland with four heats and the winner in each to contest the final.
Great interest was being taken in the rivalry between England international winger John Cox from Liverpool and Aston Villa defender Michael Noon where the antagonism was described as "particularly keen".
The Evening Telegraph said "both have long been desirous of meeting each other" and Cox was taking the race extremely seriously having arrived in the city on Wednesday with T Crook from Blackpool to practice at Dens Park.
"Cox, through his association with the Liverpool club and international teams, is better known than Crook, but in Lancashire the latter has the reputation of being one of the fastest footballers in the country.
"Both have been training at Dens Park, and have given proof of being in splendid form.
"Indeed, so well is Cox running that he has the utmost confidence in his ability to beat his great rival, the Anglo-Irishman, M. Noon, of Aston Villa."
The 12 players competing were Michael Noon (Aston Villa), John Cox (Liverpool), Jack Parkinson (Liverpool), T Crook (Blackpool), William Dow (Bury), Richard Bond (Preston North End), Sam McClure (Blackburn Rovers), Charles Kirby (Fulham), John Scullion (Broxburn Shamrock), Andrew Potter (Dundee), Fred McDiarmid (Dundee), and Edward McIntyre (Newcastle United).
Noon, McClure, Parkinson and Bond arrived on Friday night.
The remaining competitors would arrive in Dundee early on the Saturday.
The top three prizes were £12, £5 and £3.
The final would take place at half-time in the junior match between Stobswell and Arnot.
The Dundee FC directors were already making plans for the Great Race to become an annual one with a future prize pot of £50.
Fred McDiarmid of Dundee knew all about winning a medal after being awarded one for scoring the first goal at Dens Park against St Bernard's in 1899.
Dundee FC leaving Dens Park? Here's how their last move in 1899 was reported
There were 12 entries but only eight would eventually toe the mark on Saturday in weather which was dull and threatening and had an adverse effect on the attendance which did not exceed 1,500.
Michael Noon (Aston Villa) and T Crook (Blackpool) turned out in the first heat.
Thirty yards from the starting mark the Villa defender got ahead and running in easy fashion got home by a yard and a half.
Noon finished with a time of 10.25 seconds.
The second round was more briskly contested between John Cox (Liverpool) and Andrew Potter (Dundee).
The Dundee lad made a gallant effort against his more noted opponent, but half-way down the course Cox got his nose ahead, and for the rest of the race he smiled.
His time was 10.35 seconds.
The best contest took place in the third heat, where Sam McLure (Blackburn Rovers) and Fred McDiarmid (Dundee) went up against each other.
It was a race to the tape.
The men ran neck and neck three quarters of the distance, but then McLure began to forge ahead.
McDiarmid tried hard to respond to the challenge, but only managed to chase McLure right to the tape.
His time was 10.25 seconds.
Jack Parkinson (Liverpool) and Richard Bond (Preston North End) wound up the heats, and supplied a spirited finish.
It was a stiff race all the way.
Parkinson maintained the pace, and got there ultimately without much of a struggle.
The time was 10.25 seconds.
On this day in 1907, Jack Parkinson scored a hat-trick in Liverpool's 5-5 First Division draw with Sunderland.
Parkinson went on to score 128 goals for the club and was the league's top goalscorer during the 1909/10 season. #LFC pic.twitter.com/v19rMmCWX6

— LFChistory.net (@LFChistory) January 19, 2018
The Evening Telegraph said: "When the men lined out for the final there was great excitement.
"It got out that Cox and Noon had private reasons for trying to beat one another.
"The pair had never faced each other before, and as both were known far and wide a desperate tussle was looked for.
"And a desperate struggle it was.
"The race was positively the finest ever seen in Dundee.
"After some manoeuvring, the men got off to a cracking start.
"Cox and Noon at once led the field at a tremendous pace, the pair going shoulder to shoulder down the race.
"Parkinson hung on to the rear like a terrier, and while Cox and Noon watched each other's every move Parkinson crept up.
"With thirty yards to go the three were abreast, tearing down for all they were worth.
"Less than twenty yards from home Parkinson shot out with a tremendous bound.
"He simply flew along. Cox and Noon seemed to be quite taken by surprise at the opposition. Both made heroic efforts to catch Parkinson, and all three almost bundled into the tape together. Parkinson had the judges' verdict, with Cox second, and Noon third. The time was naturally exceptionally good, being returned at a dead ten seconds."
The Great Race did not return to Dens Park but what did emerge however was an ill-fated greyhound track around the pitch.
Racing took place at Dens from 1932 to 1936 and it started up again in October 1994 before ending just as quickly in December 1996 as gates dried up.
A group of TV executives then came up with an idea built on the concept of the Dens Great Race by getting players from all 92 England league clubs to sprint for a £10,000 prize.
The Rumbelows Sprint Challenge was dreamt up by the producers of Saint and Greavsie and the final was held over 100 yards at Wembley Stadium before the 1992 League Cup Final following a series of regional heats.
John Williams of Swansea crossed in 11.49 seconds and collected £10,000; Kevin Bartlett of Notts County came second to win £2,000; and Michael Gilkes of Reading took third and £1,000.
Football writer Alan Pattullo said: "This is a wonderful tale which prompts one to conjure up images of Mo Salah and Raheem Sterling cleaning the Dens Park turf from their spikes before a modern day version of the Great Race.
"It is incredible to think that Dens once hosted such an event and one that caught the imagination of prominent players in English football.
"There have been plenty of speed merchants seen at Dens over the years – and plenty of podders – but this is something else entirely.
"What a tale.
"It's just a shame the concept of judging the fastest footballer in the land lasted even less time than the ill-fated greyhounds idea that was revived by former Dundee owner Ron Dixon as recently as the mid-1990s.
"Looking back at that colourful time, I am sure he would have had players emerging from the traps if he could…"
---
Great Race winner was a Liverpool legend and prolific goalscorer
A star of Liverpool FC's early history, Jack Parkinson was a prolific goalscorer at the start of the 20th century.
He was given his debut in October 1903 and enjoyed a run of 17 consecutive league matches, hitting the back of the net six times.
The following season he scored 21 times in just 23 games in league and cup and his goals-per-game ratio remained exceptional throughout his Reds career.
In 1909-10 he reached the milestone of 30 First Division goals and scored another 43 in the top division over the next three seasons.
By 1913-14 he could no longer be sure of his place in the side and only made a further six football league appearances for Liverpool.
Parkinson died in 1942 and he will forever be immortalised in verse after a poem was published about him in 1910.
"Many forwards I admire –
There's the winger who's a flier.
An antelope for speed, I like him much;
But the artist, on the whole,
is the one who can control
The leather near the goal with subtle touch.
Who, when centres whip across,
Ne'er appeareth at a loss;
His head is thereabouts, or else his boot.
Whilst the ball is coolly met,
And deflected in the net:
The forward who, like Parkinson, can shoot.
Fancy dribbling in midfield,
Satisfaction great may yield –
You'll hear the crowd applaud and make
a din:
But I like the player best.
Who displays the greatest zest.
To trap the ball near goal and bang it in.
Here's a forward calm and cool –
He's the joy of Liverpool –
Whose exploits as a shot create furores;
He's a demon keen who shoots
With a brace of magic boots,
And 10 to one with half a chance, he scores.
Be the distance short or great,
He can seal a keeper's fate
With volley or with grounder, swift and hard;
May his zeal and skill ne'er flag.
May he add unto his bag –
His heavy bag – of goals, thus hopes your
bard."
(Athletic News: January 10, 1910).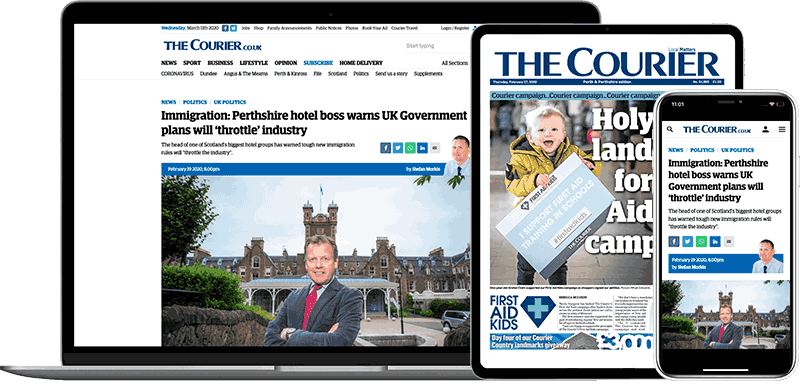 Help support quality local journalism … become a digital subscriber to The Courier
For as little as £5.99 a month you can access all of our content, including Premium articles.
Subscribe