It was the day Hercules the grizzly bear went on the run and became the stuff of international folklore.
Hercules slipped his lead 40 years ago today during filming for an advert for Kleenex and disappeared on the island of Benbecula in the Outer Hebrides.
After he had been missing for more than a week the police called off the search, presuming he had drowned.
Owners Andy and Maggie Robin returned home but Andy knew in his heart that "his big man was still out there" and returned to search the island by helicopter.
Hercules was finally spotted at the side of a loch and recaptured.
The bear's three week spell on the loose on the Outer Hebrides came to end when he was shot with a tranquilliser dart and fell unconscious.
He was given an antidote and a massage to revive him.
Accustomed to Maggie's cooked food, he'd gone off the raw variety a bear would normally tuck into.
Hercules had lost 13 stone on his adventure but quickly recovered, gaining 10 stones in three weeks.
The fact that he hadn't harmed a single living creature while starving to death endeared him to the world.
Andy and Maggie paid £50 for the world's most dangerous land mammal in 1976 and he quickly became an international sensation.
Andy, who was a British Commonwealth wrestling champion, initially bought Hercules from Kincraig Wildlife Park as a nine-month-old cub with the dream of domesticating him and turning him into a unique sparring partner.
It all started when Andy had performed a wrestling bout in Canada with an eight-foot black bear called Terrible Ted which sparked an obsession in him to have a bear of his own.
The couple heard about three bear cubs who had been born in Kincraig Wildlife Park – Hercules was born with two brothers, Samson and Atlas – and although they were seen as an attraction for the wildlife park as cubs once they were over 12 months old it was very difficult to keep them as they needed to have separate cages and were expensive to feed.
Very few parks in the UK were taking grizzly bears at the time and Hercules would almost certainly have been put to sleep had Andy and Maggie not taken him when they did.
Hercules needed to be tamed and 18 months of rigorous training followed.
During one training session Hercules deliberately tripped Andy up and pinned him to the ground.
"I couldn't move at all," said Andy at the time.
"But then he just stood back and looked at me as if to say 'I'm your friend, I'm not going to hurt you.'"
It was then that Andy knew Hercules was tamed and they had a star in the making.
So, with no formal animal training, Andy and Maggie allowed a nine-foot 70-stone grizzly bear to share every inch of their lives, from the house they owned to the food they ate.
The tale of nature versus nurture astounded experts who couldn't believe that a grizzly bear – one of the most anti-social beasts, even with its own kin – was sharing his life with humans, almost as if he was their child.
For breakfast he'd tuck into coffee with evaporated milk and sugar, bread, eggs and beans and at night he'd have meat, soup, carrots and potatoes.
He loved a slug of beer and would join the locals in the pub for a pint of shandy.
Andy was soon living his dream as the crowds flocked to see him and Hercules wrestle.
He was featured on the cover of Time magazine and helped to promote the Miss World contest.
Hercules caddied for comedian Bob Hope at Gleneagles and was named "Personality of the Year" by the Scottish Tourist Board and received a telegram from US president Ronald Reagan.
He would go on to secure higher profile roles in films such as the James Bond movie Octopussy in 1983 in which he shared the screen with 007 Sir Roger Moore, and a documentary for the Disney company.
Hercules also moved to California for two years and starred in a number of other small film roles, children's documentaries, and chat shows.
Maggie said: "For 25 years I lived with a bear.
"That teddy bear we all had as a child became my everyday reality.
"With him I shared a charmed life full of adventure, love and laughter that still to this day makes me smile."
While filming a BBC television documentary, Eyewitness Bear in 1997, Hercules fell over and slipped a disc in his back, marking an abrupt end to his career.
Andy nursed him back to health over the next six months, with swimming exercises in Hercules' pool.
The determination paid off and he slowly started to walk again.
But the following winter he again lost the use of his legs.
Before entering hibernation, Hercules died of old age on February 4 2001, aged 25, which is around the natural lifespan of a grizzly.
The Robins and Hercules lived for many years on a ranch at Sheriffmuir, near Dunblane.
They built a new home at Glendevon, Perthshire, in 1986 to meet the bear's needs, and, when Hercules died, he was buried there.
Maggie said: "It was a funny thing – in the last two or three weeks before he died I'd wake up in the night and feel I needed to go and give him a cuddle.
"On February 4 I gave him a cuddle one morning and went to feed my horses.
"When I came back 20 minutes later Andy said: 'He's away, Maggie. That's him away'.
"Living with Hercules was the most special time.
"It was a gift, and he will always be embroidered into the folklore of Scotland.
"He touched so many people's lives and never let us down.
"He taught us to take the best out of people and out of life."
The couple decided to move into Auchterarder in later years and they took the emotional decision to rebury him where he once roamed free.
They wanted Hercules to be laid to rest near a life-sized statue of him that had been erected by the community in North Uist, looking down to the sea.
Maggie said: "It's a fitting place for him.
"He was such an extraordinary bear who gave us so much more than we could ever have expected.
"He touched the hearts of millions.
"It's appropriate now that he lives on in the folklore of the islands as he lies permanently sleeping in the woods.
"The myths and stories of his escapes will be forever entwined."
A memorial stone over Hercules's resting place reads: "Hercules the Bear lies sleeping here, watching over his beloved islands, resting in peace".
Andy passed away at the age of 84 in 2019 and was buried alongside his beloved bear in the Western Isles.
Heartbreak at death of Perthshire's Andy Robin, adopted father of Hercules the Bear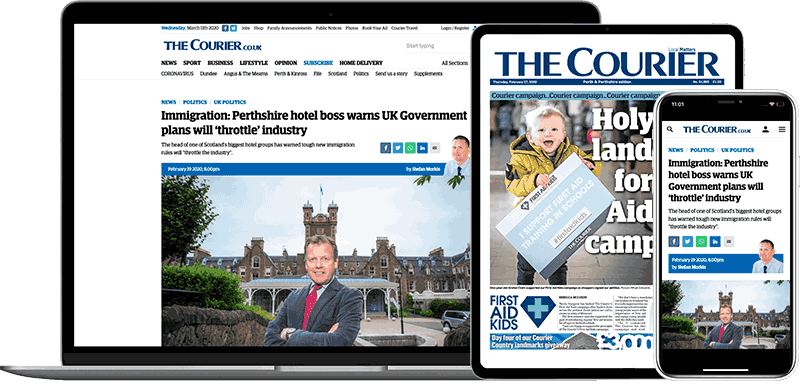 Help support quality local journalism … become a digital subscriber to The Courier
For as little as £5.99 a month you can access all of our content, including Premium articles.
Subscribe