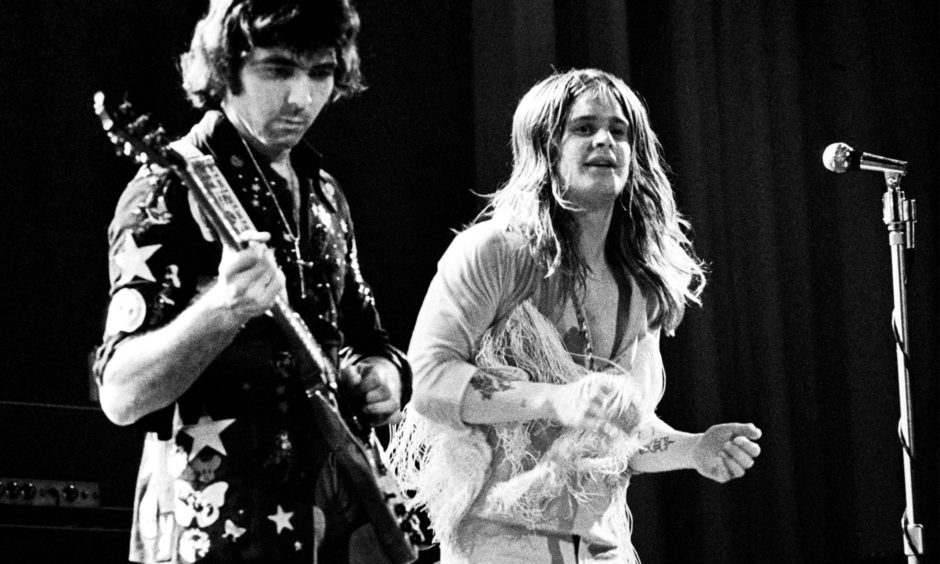 It's 40 years on Sunday since Ozzy Osbourne burst onto the stage of Dundee's Caird Hall squeezed into a white, fringed catsuit. Gayle Ritchie looks back at the £2.50 gig that defined heavy metal menace.
September the 13th, 1980. It's a date Ozzy Osbourne fans who flocked to Dundee will never forget.
Fresh from being kicked out of Black Sabbath, Ozzy was due to play the city's Caird Hall.
The hotly-anticipated gig was a sell-out and crowds of fans queued outside the venue hours ahead of the rock legend's appearance.
When Ozzy, then aged 32, finally appeared on stage, many were stunned – both by his flamboyant outfit and by how much weight he had gained.
Dundee musician and guitar tutor Bob Smith said while the gig went down a storm, Ozzy's appearance was startling.
Bob, 56, who plays in Buck Rogers and Cherry Bombz, said: "He had squeezed himself into his tight, white, fringed, spaghetti catsuit – his Sabbath trademark. It wasn't a pretty sight. But it was great fun. And of course, we were all in awe of Ozzy being in Dundee."
Bob remembers a massive amount of anticipation before Ozzy got into the swing of things.
"The second the lights went down and Ozzy's classical intro – O'Fortuna from Carmina Burana as used in The Omen – spat from the speakers, everyone knew this was going to be special," he recalled.
"Ozzy's first utterance was 'let's go f-ing crazy', and the iconic double-peace signs were thrown in the air and immediately mimicked by his 2,000 worshippers.
"Everyone rushed forward to the front of the stage – down the aisle and over seats, skitteling the bouncers at the front who quickly withdrew their services."
Bob said that due to a "lack of material", the show included a few Sabbath numbers including Iron Man and Children of the Grave.
"That got the entire crowd leaping in ecstatic unison and drew screams of delight," he said.
"A ballad called Goodbye To Romance had a few fans groaning as Ozzy wasn't a ballad type of guy back then.
"But when the satanic keyboard intro of Mr Crowley rose from the PA with guitarist Randy Rhoads sizzling across the fretboard, everyone went crazy."
Bob said the set lasted for a "meagre" 40 minutes with Ozzy returning for one encore of the anthem Paranoid.
"Cue absolute mayhem, and every word sung at maximum throat-bleeding volume!
"Then, with a final fling of the arms in the air, Ozzy gave his iconic double-peace sign again and thanked everyone, told us we were f-ing amazing, that he'd return and that he loved us. Then he was gone. Of course, he never did return."
Super-fan Bob had the poster for the gig on his bedroom wall for years as a reminder of the one-off experience.
He got this from my pal's mum who worked in the ticket office.
Bob recalls the early 1980s as a fantastic era where it seemed big name rock bands graced the Caird Hall stage every month.
"It was an electric time – a great time for music in Dundee."
---
Paranoid
Another Ozzy fan who was at the 1980 Dundee gig was the man who runs the Retro Dundee website – who wishes only to be known as GG.
"I went along to the gig but don't recall too much of it because I wasn't familiar with the material of Ozzy's new band," he admitted.
"I had previously seen Black Sabbath twice at Glasgow Apollo in 1977 and 78, so I popped along to Ozzy's Dundee show for old time's sake really, hoping they'd play some Sabbath tracks.
"They did blast out a few Black Sabbath classics – and it was tremendous that they ended the night with Paranoid, so I was happy!
"And of course, I'll never forget what was Ozzy was wearing – the white catsuit with the tassels!"
---
Black Sabbath
The Black Sabbath story began in Birmingham where Ozzy Osbourne, Tony Iommi, Geezer Butler and Bill Ward were looking to escape a life of factory work through music.
The four musicians got their start in such psychedelic outfits as the Rare Breed and Mythology, although Ozzy had originally been a short-haired mod who loved soul music.
Influenced by the reigning British blues bands – Led Zeppelin, Cream, John Mayall's Bluesbreakers – the four lads formed Earth Blues Company, shortened to Earth, in 1968.
Everything changed when Butler had an idea for a song inspired by a disturbing apparition.
A fan of horror films and the black magic-themed novels of Dennis Wheatley, he flirted briefly with the black arts.
But when he saw what he believed to be a figure from the dark side at the foot of his bed one night, he ceased his dabblings.
With lyrics by Ozzy, the group composed a song about the visitation, entitling it Black Sabbath after the 1963 Boris Karloff film.
It provoked a reaction in audiences unlike anything else, and they knew they'd stumbled onto something unique.
Forced to change their name because there was already another band named Earth, they made an obvious choice: Black Sabbath.
They recorded their self-titled first album in a single session in November 1969, setting up gear in a small studio and running through their live set.
It's thanks to Black Sabbath that the term "heavy metal" entered popular vocabulary to describe the more dense, thunderous offshoot of rock over which they presided.
Yet in their own words, Black Sabbath saw themselves as a "heavy underground" band.
---
Kicked out
The cracks in Black Sabbath's facade opened when Ozzy was kicked out in 1979.
After a decade in the band, where his offstage hobbies consisted largely of drinking and doing drugs, his bandmates decided he'd become too much to handle.
Ozzy's manager's daughter, known then as Sharon Arden, helped him manage his addictions and assemble a band of his own.
He found a kindred spirit in a young guitarist named Randy Rhoads, who would help him develop his musical ideas, and they recorded his solo debut in 1980, Blizzard of Ozz.
The music was harder-hitting and more classically-inspired than anything he'd done with Sabbath, and boasted flashy hits like Crazy Train and the gothic-sounding Mr Crowley.
Meanwhile, Black Sabbath carried on with former Rainbow frontman Ronnie James Dio as lead vocalist.
Ozzy's band headed back into the studio and recorded 1981's Diary of a Madman, a darker and heavier album than its predecessor, and went out with a bigger, more theatrical stage production.
At one point, Ozzy dressed in red chain mail and a codpiece, and drummer Tommy Aldridge sat on top of a pyramid.
During one show, they tried shocking the audience by using a catapult to fling rotting meat at them.
Sadly, the stunt went wrong and Ozzy ended up covered, in his own words, in "eight tones of testicles and guts".
Around this time, he developed the reputation of being a wild card after news got out that he'd bitten the head off a dove at a record company meeting and then did the same with a bat on tour. It was great for publicity.
However, the fun ended on March 19 1982 when Rhoads died in a freak plane crash.
This proved tough for Ozzy who sank into a depression and it's an event that still haunts the singer.
---
Ozzy – a metal legend in his own right
As a solo artist, Ozzy became a major concert draw and was a major influence for rock bands galore – from Metallica to Korn – in their infancies.
Ozzy married Sharon in July 1982 and the couple went on to have three children, Aimee, Jack and Kelly.
In the mid-1990s, he concocted Ozzfest, hard rock's answer to Lollapalooza.
All but two of his studio albums – which contain anthems like Crazy Train, Flying High Again and Shot in the Dark – have been certified gold or platinum, and he's won a Grammy for I Don't Want to Change the World.
When Rolling Stone picked the 100 Greatest Metal Albums of All Time in 2017, the list contained more recordings by Ozzy than any other artist.
And he was able to translate his success into reality television mega-stardom on The Osbournes.
While he has reunited with Black Sabbath for various gigs and tours over the decades, Ozzy recently ruled out future plans to join up with the band.
Earlier this month, responding to comments made by his former Sabbath bandmate Tony Iommi about wanting to see the band reunite after their farewell shows in 2017, Ozzy declared: "Not for me. It's done. I don't have any of the slightest interest in doing another gig."
Although he's against a reunion, Ozzy called his former bandmates his "brothers" while noting the 50th anniversary of their self-titled album and Paranoid – released in September 1970.
"It's more than a friendship with me and them guys; it's a family," he said.
The 71-year-old rocker was diagnosed with Parkinson's disease in 2019 and was seen this month looking rather frail and walking with a cane in Santa Barbara in California.
Talking of retirement, he has said: "You know the time I'll retire?
"When I can hear them nail a lid on my box. Then I'll f-ing do an encore."
---
Setlist: Ozzy Osbourne, Caird Hall, September 13 1980
• Intro song: O Fortuna
• I Don't Know
• You Lookin' at Me Lookin' at You
• Crazy Train
• Goodbye to Romance
• Mr. Crowley
• Suicide Solution
• Guitar Solo by Randy Rhoads
• Iron Man
• Children of the Grave
• Steal Away (The Night)
• Encore: Paranoid